Toxic Algae Hospitalized at Least 15 People in Florida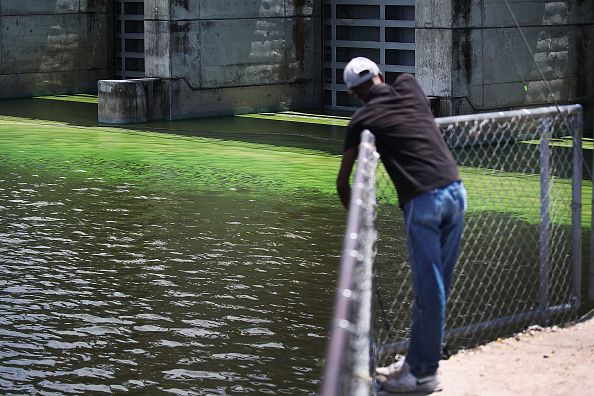 The worst red tide in more than a decade has left Florida's southwestern shoreline littered with dead fish and sea turtles, but now humans are getting sick too.
Exposure to algae sent at least 15 people to the hospital last week for symptoms related to contact with toxic algae, but the number of people who have actually gotten sick could be higher, TCPalm reported.
An algae bloom, known as the red tide, has wreaked havoc on coastal wildlife. Red tide season typically lasts from October to around February, but this red tide has persisted along the coast for 10 months. Some rivers and lakes in Florida are also seeing a rise in harmful algae, forcing the U.S. Army Corps of Engineers to release water from Lake Okeechobee to keep lake levels down, Sun Sentinel reported.
Images from beachgoers shared on social media show piles of dead fish lining a popular beach destination in Sanibel, a small city in northwest Florida. The News-Press reported nearly 4,000 dead fish washed up on Sanibel-area beaches and parks over the weekend.
"The water was cloudy and brown, and there were fish jumping out of the water trying to get out," Rick Bartleson, a water-quality expert for the Sanibel-Captiva Conservation Foundation, told The News-Press.
Staffers at Florida Sportsman magazine closed the office in Stuart because a nearby algae bloom seemed to be making them feel ill, TCPalm reported.
"It smells like death," publisher Blair Wickstrom said.
Blue-green algae has also washed up in yards in a Palm City neighborhood, WPTV-Channel 5 reported.
The Florida Fish and Wildlife Conservation Commission (FWC) warned residents that water contaminated with toxic blue-green algae can cause nausea, vomiting and, in severe cases, acute liver failure.
Direct contact with algae can also result in a rash, the Centers for Disease Control reported. Some research indicates a connection between long-term inhalation of toxic algae fumes and neurological disorders like Parkinson's and Lou Gehrig's diseases.
Algae blooms can originate from runoff containing human waste and fertilizers from nearby farms and neighborhoods, according to the FWC. Nitrogen and phosphorus, as well as other nutrients in the runoff, can act like fertilizer, creating the perfect environment for algae to thrive.
The National Weather Service issued a red tide beach hazard advisory last week for Lee, Charlotte and Sarasota counties. The advisory was extended through Monday because of offshore winds that pushed the algae onto area beaches.
Earlier in July, Florida Governor Rick Scott declared a state of emergency for Palm Beach, Martin, St. Lucie, Glades, Hendry, Lee and Okeechobee counties because of the red tide.