'Toxic Leadership': Concern Among Senators Lingers as Trump Nominee Denies Sexual Assault Claim
On Tuesday, Air Force General John E. Hyten walked into the Dirksen Senate Office Building, with his family in tow, to be considered for the nation's second-highest position in the Defense Department amid allegations of sexual assault from a fellow U.S. military officer.
"Nothing happened, ever," General Hyten said during his opening statement to the Senate Armed Services Committee. Those were his first public comments about the allegations.
Sitting in attendance at the hearing was his accuser, U.S. Army Colonel Kathryn Spletstoser, a former White House fellow under President George W. Bush and a veteran of both Iraq and Afghanistan.
The hearing came days after a damning exposé in The New York Times last week, in which Spletstoser described several instances of unwanted physical contact with Hyten, as well as the night he allegedly sexually assaulted her in a hotel room in December 2017.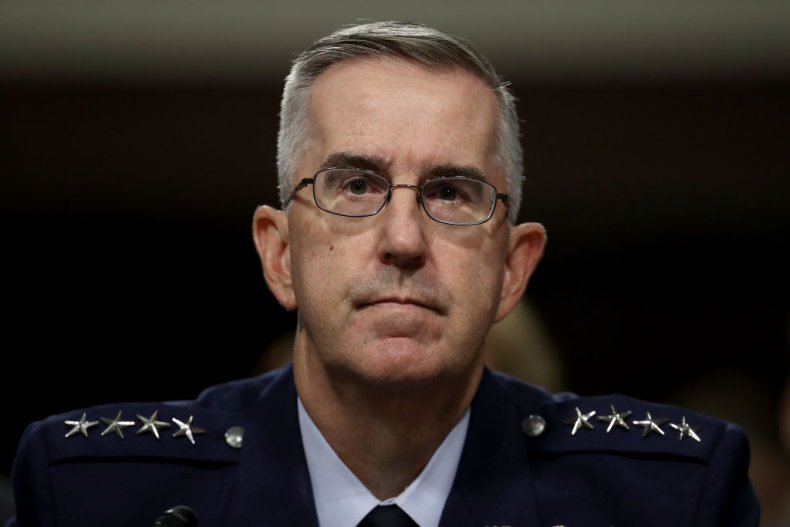 The Trump nominee was investigated and reportedly cleared of any wrongdoing by the Air Force Office of Special Investigations earlier this month, citing insufficient evidence to support any finding of misconduct on the part of General Hyten. The report has remained sealed and only been made available to members of the Senate Armed Services Committee, the congressional panel charged with questioning the four-star general at Tuesday's confirmation hearing.
But despite the conclusions from the report, bipartisan concerns remain — even after Hyten received an endorsement from Republican Senator Martha McSally of Arizona, a former U.S. Air Force colonel who came forward earlier this year about the time she was raped during her military tenure. Some lawmakers levied strong criticism against General Hyten for overseeing alleged "toxic leadership" beneath him, a reference to a separate internal report about Colonel Spletstoser's time working under General Hyten.
"This position demands the highest levels of trust, responsibility and an impeccable moral compass," Senator Joni Ernst, Republican of Iowa and a military veteran, said during the hearing. "You have been accused of sexual misconduct by a subordinate officer... The facts have left me with concerns regarding your judgment, leadership and fitness to serve as the next vice-chair of the Joint Chiefs of Staff."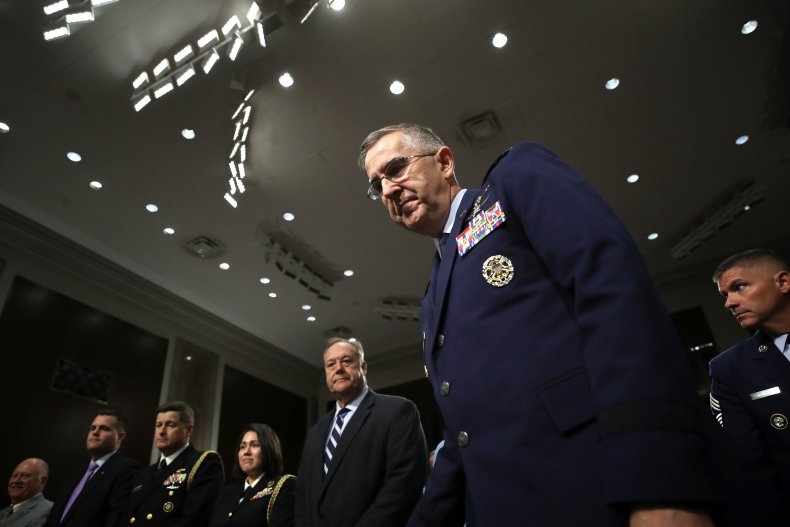 The criticism from Ernst, a member of GOP Senate leadership, throughout her questioning served as a stark reminder that General Hyten's nomination will need to be approved by the committee before heading to the full chamber for final approval. She revealed earlier this year that she was raped in college.
Chairman James Inhofe, a Republican, was unaware when they would schedule a committee vote.
Colonel Spletstoser sat silently as former Air Force Secretary Heather Wilson supported General Hyten's nomination and lauded the conclusions of the investigative findings — at one point, suggesting Spletstoser may have a mental illness commonly seen in soldiers with post-traumatic stress.
"I believe the Senate will come to the same conclusion I did. General Hyten was falsely accused and this matter should be set aside as you consider his nomination. I accept that it is entirely possible that his accuser is a wounded soldier who believes what she is saying is true, even if it's not," said Wilson. "That possibility makes this whole situation very sad."
A team of 53 investigators interviewed 63 people in three countries and 14 states, reviewed more than 196,000 emails, 4,000 pages of documents and 152 travel records and portions of phone records dating back to 2015, according to Wilson, who oversaw the investigation.
Senators on the committee heard from both Spletstoser and Hyten privately last week. But coupled with his public testimony on Tuesday, Hyten has, so far, failed to quell some members' concerns. He did, however, win over the endorsement of McSally, someone whose opinion other senators will likely use to make their own determinations.
"I've spent nearly all my time over the last two weeks solely focused on seeking the truth. And I landed where I have: I fully support him," McSally told Newsweek. "These are false accusations. He's innocent of these charges and he deserves to be our vice chairman."
In addition to Spletstoser's allegations, lawmakers questioned whether General Hyten may have failed to recognize a "toxic" leader beneath him. Colonel Spletstoser was ousted by General Hyten from his team after several colleagues at Strategic Command came forward with concerns and an internal probe last year determined she created a "toxic work environment." The report came just weeks after the alleged assault in 2017.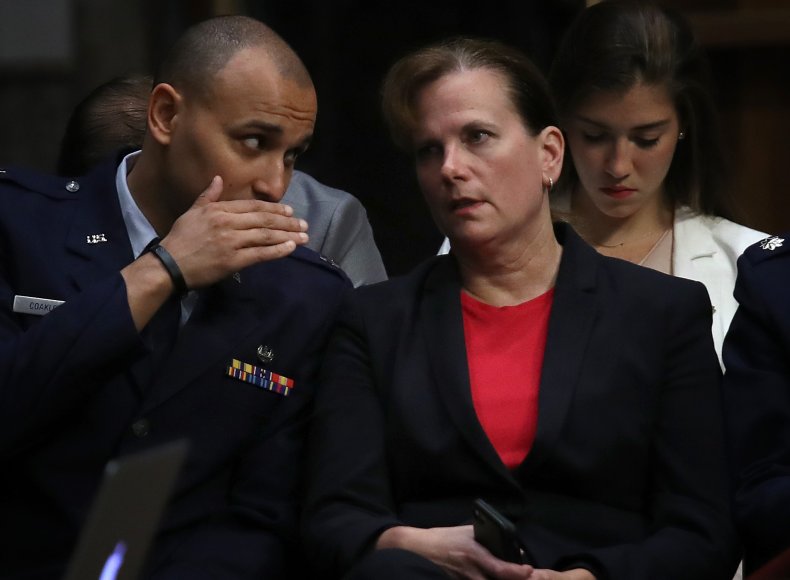 According to Ernst, the report cited Hyten "numerous times throughout the investigation as 'enabling' this alleged toxic leader" and offered high praise of Spletstoser in the past. But Hyten said that Spletstoser, who was present for the hearing, hid issues and her true leadership colors from him.
"You serve in one of the most important positions within our military overseeing our nuclear arsenal, yet you could not bring yourself to admit, or recognize, toxic leadership within your command," Ernst continued. "All of this suggests a conflict between your personal inclinations and your professional responsibilities."
Democratic Senator Tammy Duckworth of Illinois, a veteran that served as an Army lieutenant colonel, centered her focus around the sexual assault allegations and expressed a willingness to hear from Spletstoser publicly.
"When asked what he would do about sexual assault in the military, he said, 'I don't know.' He's had decades to think about this," Duckworth told reporters. "I think [Colonel Spletstoser] has every right to be heard. And if she wants to do that, I will certainly push to help her have that opportunity."
Colonel Spletstoser blasted the entire hearing afterward to reporters, labeling it a "political spectacle done at the expense of an innocent victim who has never lied on anything." Spletstoser also denied she was a "toxic leader."
"The bottom line is, he lied about sexually assaulting me. He did it. He did it multiple times," said Colonel Spletstoser. "If I was a 'toxic leader,' what does that make General Hyten? He knew about my leadership style, he participated in it and he encouraged it."
Ramsey Touchberry is a congressional correspondent for Newsweek and reported this story from Washington. James LaPorta reports on national security and the Defense Department for Newsweek and reported from South Florida.