'A Toy Store Near You' Brian Volk-Weiss Talks Impact Of COVID-19 On Vintage Toy Stores
Many small businesses are suffering right now due to the effects of COVID-19, including those in the world of vintage toy sales. To help this specific community out, The Nacelle Company is debuting A Toy Store Near You on Amazon Prime and other platforms like YouTube, on May 29. The docuseries traverses the globe to showcase 50 vintage toy stores and their owners and how they are dealing with the troubles of this time.
The show was created with all self-filmed footage from the actual store owners. This allows the owners to highlight their personalities while taking you on a personally curated journey through the history of their businesses. While these stores are operating under legal guidelines, be it curbside pick-up or delivery, they are still in need of help. A majority of the show's proceeds will be used to help support all the featured stores.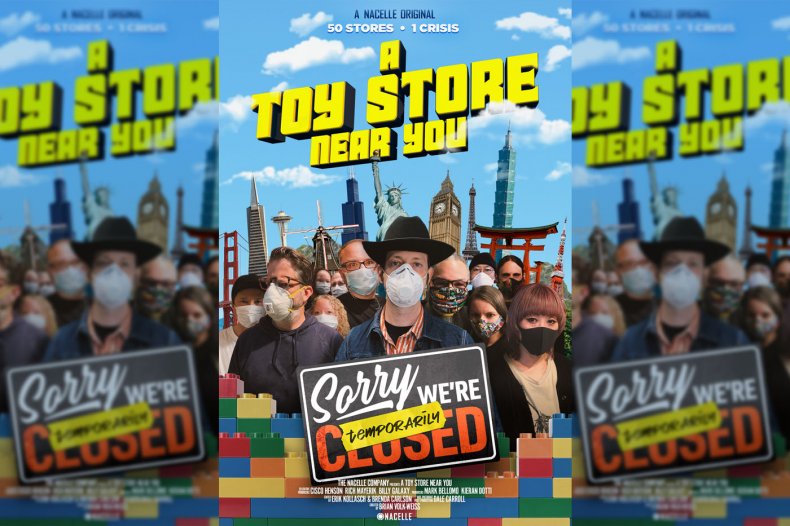 Newsweek spoke with show creator and director, Brian Volk-Weiss (The Toys That Made Us, and The Movies That Made Us) to discover what prompted this show idea and all the ways we can support our favorite vintage toy stores.
Timing is everything during this pandemic. After the release of the first episode, you will see a new one premiering every three weeks for a total of 50 episodes. "What I wanted to do is prioritize speed over anything else, because the whole point of the show was to raise money for the stores, and also get them a lot more exposure than they would have had otherwise," says Volk-Weiss. If Brian's team waited to release all the shows at once, it would have taken until August for people to learn about these stores in need. "That kind of defeats the purpose," Volk-Weiss confirms.
"Even though I have known for about a month that it would work, I am still constantly shocked that it worked," laughs Volk-Weiss. "Because, you know, it's not just that people are shooting it with their own phones, it's so much more complicated than that." The process is almost like that of a Rube Goldberg machine. From the owners shooting on their phones, then professionally uploaded off to the editors, law firms, various hard drives messaged to color correction, audio correction, back to the delivery center and so forth until the episode is finally completed. Brian's team consists of almost 400 employees spread out over a 75-mile span, all working from home. "That's literally how this TV show is getting made, on top of the fact that we have not sent a crew anywhere," Volk-Weiss says. "I mean, it's absolutely bonkers."
"But I will tell you this, we really have not had any problems," confirms Volk-Weiss.
Brian has become very comfortable jumping into projects. "What I've learned in my life is, you know, you don't have to have a perfect plan," Volk-Weiss states. "In some cases, it's better to jump in without a plan, make mistakes, learn from the mistakes and keep moving than it is to waste a month or two coming up with the perfect plan."
Beyond these episodes being much needed exposure for these stores, the Nacelle company has teamed up with sponsors eBay, TriBeCa Film Festival, Death Wish Coffee, and Super 7 who've made donations to help keep these stores alive. Beyond that, help will come from the various outlets where the show will be released. "Every single place that we are putting the show generates money," Volk-Weiss states. You can find the show on Amazon Prime, YouTube, Tubi, Roku and many more. "So, it's one of these things where hopefully the show is popular, and it should be making a lot of money," hopes Volk-Weiss. Brian also anticipates to license the show on a network for added donations.
Due to COVID-19, a majority of these stores have been transitioning to a higher percentage of online sales. "You know, almost every single store, took between a 50-80% hit in income," informs Volk-Weiss. "But everybody's shifting to it (online sales) in a big way." With each episode you see, you may find yourself pausing the screen to inspect what that weird item is on the shelf in the background. Thanks to this transition to online sales, you now may be able to purchase that treasure. "I'm a victim of this," jokes Volk-Weiss. "That Megatron gun in the Billy Galaxy episode, that's on my shelf right now."
Brian Volk-Weiss knows that all these businesses are built with a foundation of very tough people. "They've seen it all," feels Volk-Weiss. "If I gave any advice it would be no matter what you're dealing with, just don't give up, but they already know that." If anything, he truly hopes that all 50 stores can work along with the show in promotion of each other. "Every time an episode premieres, the other 49 stores should be supporting that store and getting the word out," says Volk-Weiss. "So by the time it comes to your turn, the other 49 stores are supporting you."
As the show has morphed from its original idea, COVID-19 has really changed business plans for these stores. Brian hopes that other small businesses can relate to what they see in these episodes. "You'll be able to relate to the show, because you will be struggling with the same thing that the toy store owners are struggling with," says Volk-Weiss.
Be sure to watch the first episodes featuring Billy Galaxy in Portland, OR, and 1313 Mockingbird Lane in Lawrence, KS. Do you have a favorite vintage toy store in your area to support? Let us know in the comments below and be sure to subscribe to the Nacelle Company YouTube channel to watch episodes for
free.