One Million Moms Protests 'Toy Story 4' Over 'Dangerous' Lesbian Scene
One Million Moms is calling for a boycott of Pixar's Toy Story 4 over what the conservative culture group admits is a "subtle" nod to the LGBTQ community.
In one scene Bonnie, Woody's new owner, is dropped off at school for her first day of kindergarten. In the background, two women are shown dropping off another girl—and then later picking her up and giving her a hug.
No other clues are given about the women's relationship.
"The scene is subtle in order ... to desensitize children," One Million Moms wrote in a statement on its website. "But it is obvious that the child has two mothers, and they are parenting together."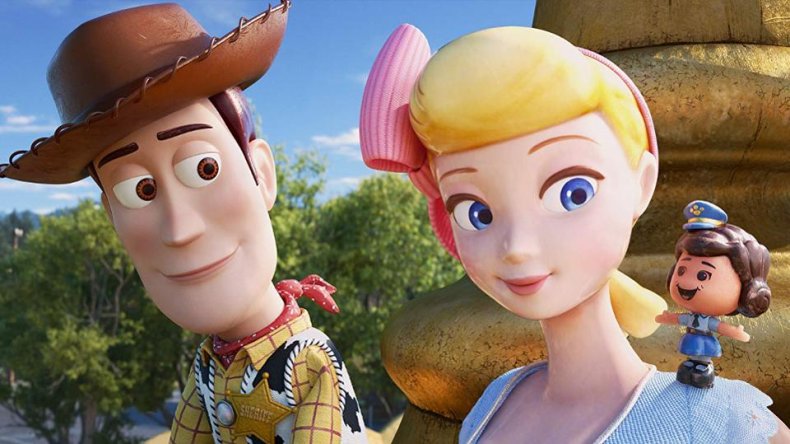 The group called the scene "dangerous" and warns that parents may be "blindsided" by the "subtle but obvious promotion of the LGBTQ lifestyle."
"It has not been mentioned much in mainstream media, which could appear as acceptance when really it was because it happened so fast," the petition adds. "But the scene was included and intentionally not announced prior to the movie release in hopes it would be kept quiet to expose as many children as possible."
It also balked at a line in the film about not hiding in a closet. "Some children may not catch this reference, but it was extremely unnecessary,"
OMM says the scenes were included "strictly to push an agenda."
"Toy Story 4 is the last place parents would expect their children to be confronted with content regarding sexual orientation. Issues of this nature are being introduced too early and too soon. It is extremely common yet unnecessary."
The organization—which has also protested Steven Universe, The Powerpuff Girls and PBS's Arthur for showing support for the LGBT community—lashed out at Disney for insinuating political correctness into "family-friendly entertainment."
"Disney should stick to entertaining instead of pushing an agenda and exposing children to controversial topics."
The House of Mouse has snuck queer nods into other family blockbusters, though those scenes have been equally vague: In Frozen, a blink-and-you'll-miss-it scene flashes on innkeeper Oaken's family, which includes another man and several kids. And in the live-action Beauty and the Beast, Gaston's flunky LeFou is seen dancing with another man in a scene director Bill Condon described as a "exclusively gay moment."
Jack Whitehall will play Disney's first openly gay character in the upcoming movie Jungle Cruise, based on the popular theme park ride. The character, McGregor Houghton, is described as a "fun, effete" young man who "has no interest in women."