New 'Toy Story 4' Trailer Brings Forky's Character to Life as Bo and Woody's Love Story Continues
A new Toy Story 4 trailer brings a ton of spoilers about the upcoming Pixar film and its characters.
On Tuesday, Pixar released an official Toy Story 4 trailer that not only brings into focus the film's newest toy, Forky, it also offers plenty of spoilers for piecing together the upcoming film's plot.
The trailer picks where Toy Story 3 left off as Woody and the rest of the toys have found a new home with a young girl named Bonnie after grown-up Andy heads off to college. With their purpose renewed, Woody and the gang seek to be the best friends a kid could have. Things become challenging though when Bonnie suddenly develops an inseparable bond with a new toy she created from a spork and some craft supplies. Dubbed "Forky" the new toy is Bonnie's prized possession. Despite playing second fiddle to a disposable utensil, Woody remains as loyal as ever. He charges the toys with protecting Forky at all costs. Forky — voice by actor Tony Hale — makes this mission difficult, however, as the trailer reveals he never wanted to be a child's plaything.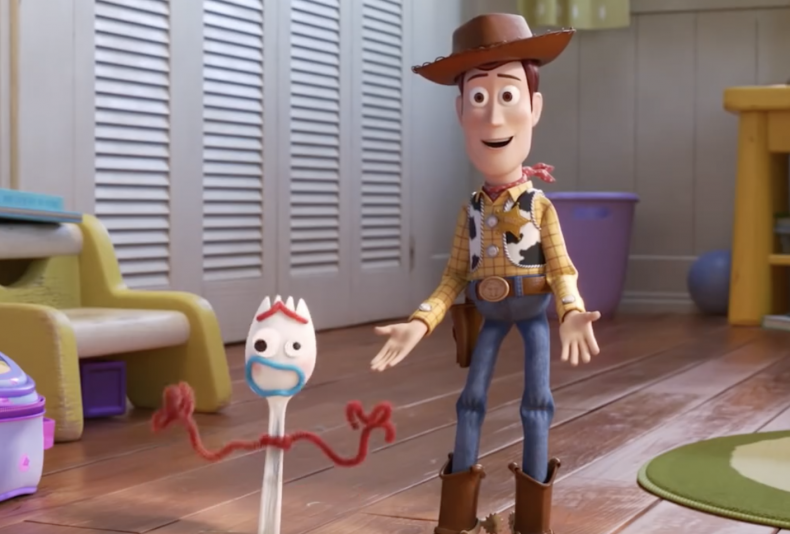 "I am not a toy! I was made for soup, salad, maybe chili and then the trash," says Forky, just before hopping out the window of the moving RV in which Bonnie and her family are traveling.
Woody's pursuit of the identity crisis-ridden Forky, lands him in the town of Grand Basin where he's unexpectedly reunited with his long lost love, Bo Peep. Bo was lost or given away somewhere between the plots of Toy Story 2 and Toy Story 3 but Woody has never forgotten her. He implores her to return with him, saying they have a kid to take care of, but Bo isn't budging. "Sometimes change is a good thing," says Bo.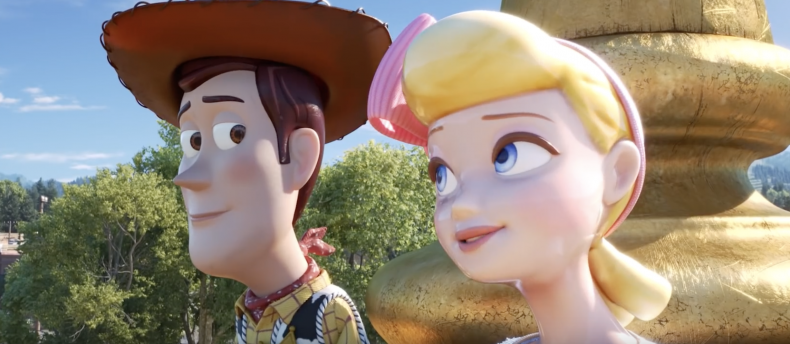 The trailer suggests the Woody has a hard choice ahead of him — stay with Bo or return to Bonnie. It looks as though he may abandon his duty to Bonnie for his rekindled relationship with Bo, until Forky reveals a dynamic change of heart that reminds Woody of what a toy's true job is: to love and be loved by a child.
Besides the heavy plot spoilers, the new Toy Story 4 trailer also gives us a sneak peek at the character Keanu Reeves will voice. Reeves plays the character of Duke Caboom, a vintage 1970s toy that is modeled after a famous Canadian stuntman by the same name.
The entire two and a half minute trailer is jam-packed with emotional moments, music and visuals that are sure to build viewers' anticipation for the release.
Toy Story 4 will release in theatres on June 21, 2019.
​