Twitter Users Question Woody's Sexuality in 'Toy Story 4'
Is Woody from Toy Story 4 bisexual? Twitter users are in a fierce debate about this rumor—with many hoping it's true. (Spoiler alert: it's probably a hoax.)
The rumor started when the website NPC Daily posted an article with the headline, "Disney announces that Woody will be 'openly bisexual' in Toy Story 4," claiming that "Toy Story 4 will be the most inclusive installment of the franchise yet!"
The article, now archived, featured a screenshot of a tweet from Disney's verified Twitter account that read, "Great news for the LGBTQAIP community. A little bird told us that Woody will be openly bisexual in Toy Story 4! He's got a friend in him!"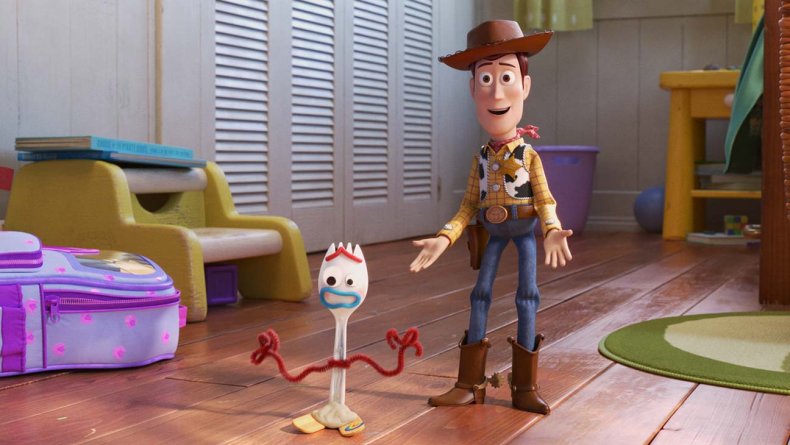 That tweet should have been the first tip-off that this story is a hoax. Does a "little bird" need to tell Disney something about one of its own movies? Also, the tweet is nowhere to be found on Disney's Twitter feed.
Still not convinced? Just click the "About" section of NPC Daily to find the site's description. "NPC Daily is a satire site, providing political and cultural commentary with wanton sarcasm. NPC Daily pokes fun of modern journalism and liberalism. If you believe one of our articles is real, it's because the content is not too far adrift from what is published by mainstream news outlets. But, alas, our content is totally fictitious and is created to elicit laughs and bemusement."
And some really don't want Woody to be bisexual.
Of course, if this were true, it wouldn't be the first time Disney featured queer characters in its films. The Little Mermaid's Ursula is said to be based on the iconic drag queen Divine, star of the original Hairspray and Pink Flamingos. More recently, the live-action Beauty and the Beast includes a scene in which Gaston's buddy LeFou (played by Josh Gad) dances with a man.
"LeFou is somebody who on one day wants to be Gaston and on another day wants to kiss Gaston," Gad told People magazine. "He's confused about what he wants. It's somebody who's just realizing that he has these feelings."
Still, it's important to keep in mind: if a character doesn't have a romantic storyline in a film, they could be queer. That means Elsa from Frozen might be a lesbian, Timon and Pumbaa from The Lion King could actually be gay lovers and yes, who's to say Woody isn't bisexual? So even though the report is a hoax, Disney hasn't said one way or another if Woody is bisexual.
Newsweek reached out to Woody for a response, but he's locked in a toy box and currently unavailable to comment.