'Toy Story' Fans Shocked By Buzz Lightyear's Hair in New Trailer
Toy Story fans enjoyed quite the treat on Wednesday, when a teaser trailer for the upcoming Buzz Lightyear origin movie was released.
Chris Evans has stepped in to voice the iconic animated character in the Pixar movie, Lightyear, which is set to hit screens in summer 2022.
However, while fans lapped up the captivating visuals, they were also taken aback by the sight of the character sporting a full head of hair.
Lightyear has consistently been seen with his head covered over the years since he first emerged in the original Toy Story movie in 1995, voiced by Tim Allen.
And with the character's features having undergone a tweak or two and modernized, fans took to Twitter to share their reactions to Lightyear's mane.
James Viscardi, editorial director at ComicBook.com, wrote: "Buzz Lightyear has hair and I don't know how to feel."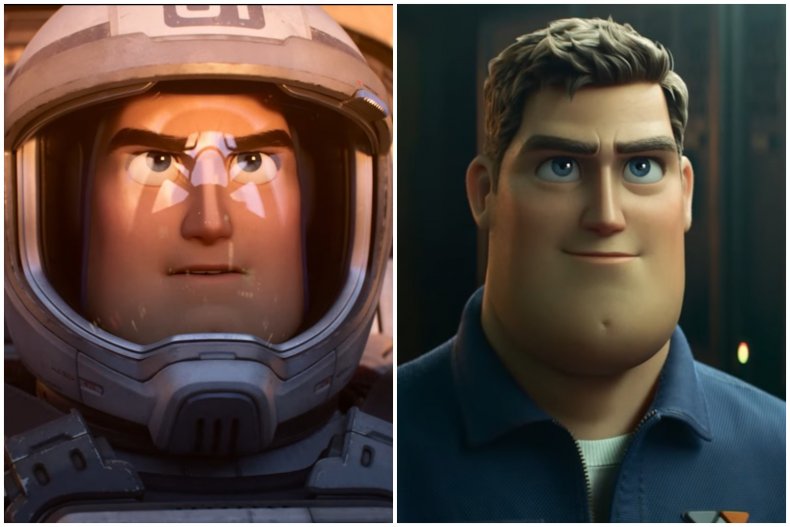 Social producer Ashley Oh shared a stronger reaction, stating: "just saw buzz lightyear with hair and screamed NO so loud that all my cups and glasses just shook."
"Things that should not exist in 2021:1) Buzz Lightyear with hair 2) Pixar's Lightyear," read an even more damning assessment from GGRecon's trending news editor Tom Chapman.
While a wave of Twitter users were thrilled to see Evans involved in the film, Lightyear's tresses remained a major talking point.
Another Toy Story fan wrote: "finding out Buzz Lightyear has had hair this whole time is the root of today's downward spiral... he kinda cute tho."
"The weirdest thing about the new Buzz Lightyear trailer is learning he has a FULL head of hair under that cap thingy," tweeted another.
Lightyear follows the titular character as he embarks on his journey to becoming an astronaut. Evans is barely heard speaking in the trailer, which has a rendition of David Bowie's classic hit "Starman" serving as the soundtrack.
However, one of his fellow astronauts is seen kicking off Lightyear's famous catchphrase, as he says to the movie's star: "To infinity..."
Lightyear comes close to completing the phrase by adding "and," though the trailer ends before either of them say "beyond."
In a statement released on Wednesday, Evans expressed his excitement at having landed the role, as he said: "The phrase 'a dream come true' gets thrown around a lot, but I've never meant it more in my life.
"Anyone who knows me knows that my love for animated films runs deep. I can't believe that I get to be a part of the Pixar family and work with these truly brilliant artists who tell stories unlike anyone else. Watching them work is nothing short of magic. I pinch myself every day."
As the trailer was released, Evans took to his Instagram account to share the full clip, also writing on his Instagram Story: "I'm overwhelmed (meaning I peed my pants)."
Captain America star Evans was announced as having taken over the role in December 2020, after Allen voiced Lightyear in the four Toy Story films from 1995 to 2019.
Also sharing the news on Instagram at the time, the actor wrote: "My team could barely contain their excitement when they told me that Pixar had a pitch for me.
"All they said was 'Buzz Lightyear.' I didn't know what that meant, since Tim Allen is Buzz Lightyear, and no one could ever touch his performance. I needed to know how this character was different and why this story was worth telling.
"I can say 2 things with absolute confidence: 1.. I didn't stop smiling through the ENTIRE pitch. Ear to ear. 2. Everyone can rest easy. And get very excited.
"Trust me when I say that they REALLY know what they're doing over there. This one is gonna special, and it doesn't step on a single thing. I can't even put my excitement into words. I smile every time I think about it."
Lightyear is set to be released on June 17, 2022.