Toyota and Mapbox Say Goodbye to Dumb Navigation
Goodbye CDs, jump drives and visiting a dealer for an update. The next era of in-car navigation is here.
Toyota is saying goodbye to the industry's dumb navigation maps, working alongside partners like Mapbox, allowing the company the flexibility to design the "look and feel" of navigation for its vehicles with its next-generation infotainment system. The technology can already be seen in the Toyota Tundra pickup and the Lexus NX crossover.
Owners see the app user experience and smartphone connectivity as two of the top three complaints about vehicles, as revealed in J.D. Power's 2021 U.S. Initial Quality Survey. Mapbox wants to eliminate both of those.
"Consumers come in, they buy a car, and when the novelty wears off they smash their phones right into that $3,000 screen and start using Waze or something," Mapbox CEO Peter Sirota told Newsweek. "And that's something a lot of OEMs want to avoid. So, they want to create immersive experiences. They want the accuracy and quality of the navigation experience that the phone provides, but with the safety and interactivity that the hardware can provide."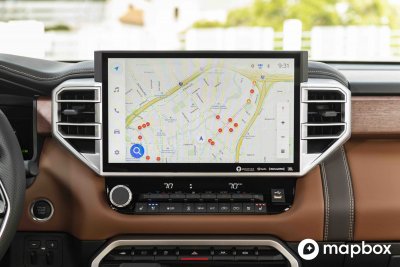 Usually, the look and feel of maps that arrive with your vehicle's nav system is static and dated. With the Mapbox system, the look and feel of maps can be updated quickly and delivered remotely without the need of making a trip to the dealer. And that means small updates, that come with an owner's Toyota Connect subscriptions, as opposed to a huge download every few years.
Mapbox can integrate with Toyota, or any other company's data, to build customizable mapping experiences. It currently has over 3.5 million registered developers, 650 million active users and 2.1 billion weekly miles of data.
"We have 10s of thousands of applications using Mapbox from folks like All Trails, Peloton, Polaris and The New York Times," said Sirota. "Our customers from the very beginning wanted to provide experiences and locations for their own specific use case. If you look at the different maps, they're all very different things, but they are on top of the same Mapbox platform."
One of the keys here is that the map can be redesigned for different seasons, drivers, brands, or even regions, like Japan, Europe and North America.
"Our implementation for North America has been a significant one. It's the first time North America was given the autonomy to design it our way. Historically a lot of the designs come from Japan. They design it in a way that they think is fit, then they deploy it to other markets," Toyota chief engineer Brian Inouye told Newsweek.
Each customer can choose the elements it wants in its map. There are layers and tools that some industries might need more than others. And they're chosen like options on a vehicle.
"Customers like Toyota can pick and choose the blocks they want for the entire stack," Sirota. "Some customers want the entire stack, some use components of it. Even different Toyota implementations use different parts of the stack. Toyota in Europe is using it more holistically. Toyota North America is different."
It's about bringing the speed of mobile to the car. And on mobile, things changed and get updated often.
"Obviously you don't want to put a navigation system in front of customers that never changes. You want to evolve over time, based on learnings from the customer, that's what we're speeding up," Alex Barth, VP Automotive and Mobility at Mapbox told Newsweek. "We can deliver updates and enhancements on a weekly basis instead of just during a model year changeover."