Toyota Recall: Prius Cars Recalled Over Stalling Trouble and Power Failure
A safety recall is underway for about nearly 267,000 Toyota Prius hybrid vehicles. Car owners behind these models, 2013-2015 Model Year Prius and 2014 – 2017 Model Year Prius v, might discover power loss with their engine or find themselves in a dangerous stall while in motion.
According to Toyota Newsroom, the automotive manufacturer discovered a flaw in the failsafe driving mode. When the failsafe driving mode doesn't properly function, the car starts to experience power problems. Although drivers are still in control of the steering wheels and brakes, there is more of a risk of crashing when the Prius vehicle speeds up.
Due to the problems with the driving mode, the hybrid system software will have to be updated as well. The vehicle might suffer from an inverter failure as well. Car owners will not be charged extra for the software update and the inverter replacement.
Owners will be contacted sometime in late August if their vehicles are part of the recall. If drivers are already concerned about their hybrids and don't want to wait two months to find out, they should head on over to Toyota.com/recall. They should have their Vehicle Identification Number (VIN) and their license plate information on hand.
When asked what other precautions drivers should take, Tania Saldaña, Manager of Mobility Communications at Toyota Motor North America, told Newsweek, "If owners have additional questions, they can contact the Toyota Customer Experience Center at 1-800-331-4331."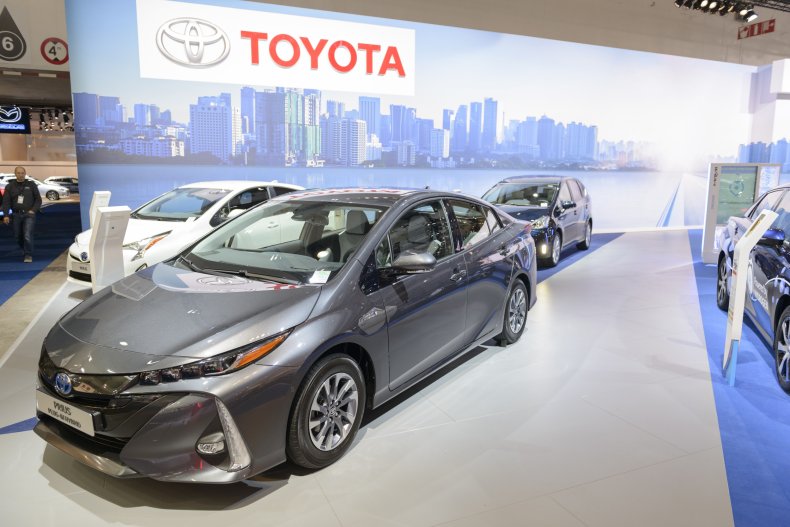 About a year ago, Toyota conducted a massive recall of over "tens of millions of airbags." When the Takata airbags deployed, the inflator would explode and fire off sharp metal fragments which could lead to injury or death.
Car owners with a Toyota, Scion or Lexus, that were specifically manufactured between 2002 and 2017, were recalled. About 16 deaths in the U.S. were linked to the faulty Takata airbag inflators. These exploding airbags were then replaced during the recall for free.
Last year, Toyota described the unfortunate Takata Airbag recall as "the largest automotive recall in United States history," on social media. @Toyota tweeted, "A properly functioning airbag could be the difference between life and death, and we need your help getting defective air bags [sic] off the road!"