Toyota Shares First Video Teaser Footage of 2022 Tundra Showing Interior Features
The next-generation 2022 Toyota Tundra is expected to be fully revealed this autumn. Ahead of that debut, the automaker has put out a number of teaser images giving away clues as to what the entire package will look like. Today the company released the first video.
In June, the company's hand was forced into confirming the vehicle's exterior design after a dealership representative leaked photos of the truck taken during a meeting that was supposed to stay secret. Its outward appearance is marked by several design nods to Toyota's hot-selling Tacoma mid-size truck.
In addition to the exterior design, Toyota has offered a glimpse at the truck's engine. Many in the media and on enthusiast forums are suggesting that the blue outline of the engine name's logo is an indication that it will be a hybrid.
A previously released photo of the truck's interior, shows a large infotainment screen that features Toyota's new infotainment operating system.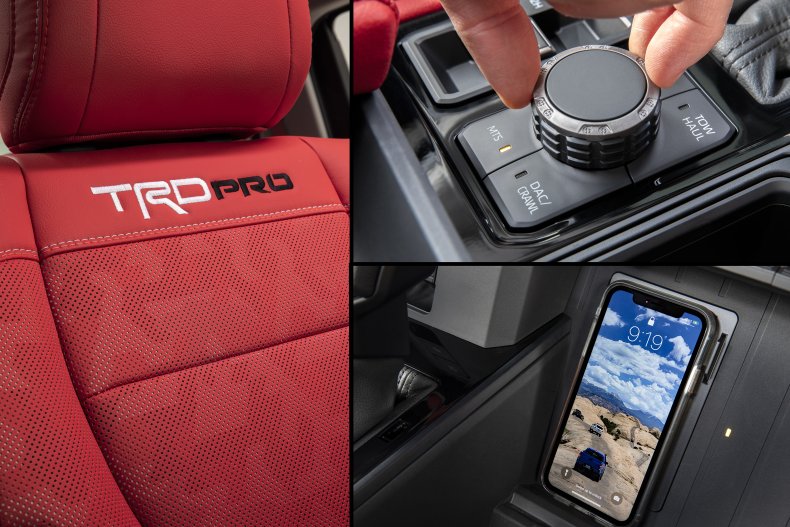 Today's video footage reveals further interior details, including some from the 2022 Toyota Tundra TRD Pro. The video starts out by showing the image of the red perforated leather/leatherette seat in the Tundra TRD Pro that features a unique camouflage-like design with the TRD Pro logo stitched into it. The perforations suggest that the seat could feature ventilation/cooling functionality.
Next, the video shows a drive mode selector similar to what is found in other Toyota vehicles with four buttons, individually labeled MTS, DAC/Crawl, Drive Mode and Tow/Haul. Each button features an illuminated area that presumably lets the driver know that the particular button's settings are active. A push of the DAC/Crawl button illuminates an area of the all-digital dashboard to show that the mode is functional.
The video closes with imagery of a wireless smartphone charging pad that looks like it magnetically holds the phone in place, upright on a lower section of the dashboard, where a driver can see it during travel.
Toyota is likely to release more teasers showing the improvements to the truck in the days and weeks leading up to its debut. The 2022 Tundra will mark the start of the truck's third generation, the first of which came to market in 2000. The Tundra has not been fully redesigned since 2007 though it has undergone numerous updates throughout its second generation lifecycle.