Toyota Wants to Triple the Sales of the Sequoia SUV with Brand New Model
The 2023 Toyota Sequoia has undergone a major refresh for its third generation, resulting in a sleeker three-row SUV that shirks its previously bulbous image.
Toyota executives say that despite the stiffer competition in the segment (from the Chevrolet Suburban, Ford Expedition, Jeep Wagoneer and others), the company is confident that it can triple the sales of the Sequoia in the years to come.
In 2021, about 8,000 units were sold making the Sequoia one of the company's lowest-selling products.
David Christ, group vice president and general manager of the Toyota division at Toyota Motor North America, told Newsweek that the decline in sales is due to the current market conditions that have plagued the industry for over a year now.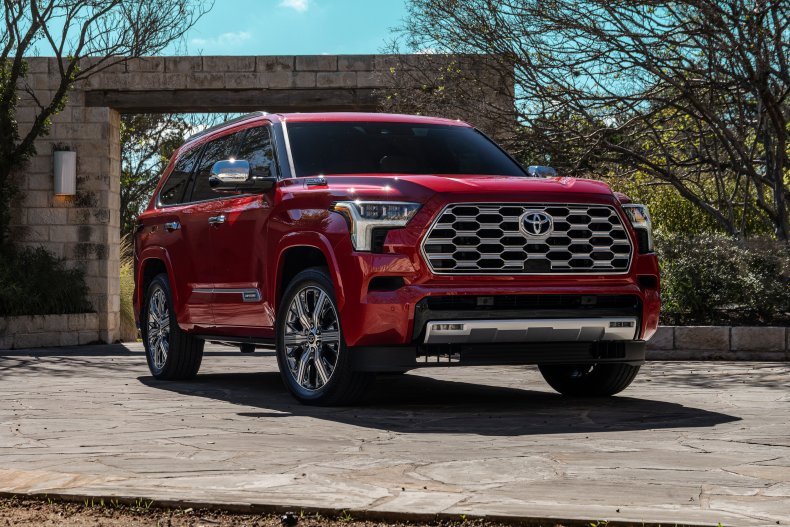 "We expect to triple volume in a normal, non-supply constrained environment," he said.
He added that before Covid, sales were running above 10,000 a year. In the coming years, the company expects that to reach 25,000 to 30,000 sales a year.
But Robby DeGraff, analyst at AutoPacific, says that the slow sales decline was more a case of Toyota letting the Sequoia sit for 14 model years without any major updates to keep up with the rest of the pack.
"Over the past few years especially, demand for large three-row crossovers and body-on-frame SUVs surged," DeGraff told Newsweek. "Families wanted and were willing to pay for modern infotainment systems, key standard ADAS safety features, more efficient powertrains, nicer interiors, plus fresher, sharper styling - all of which the Sequoia lacked until now."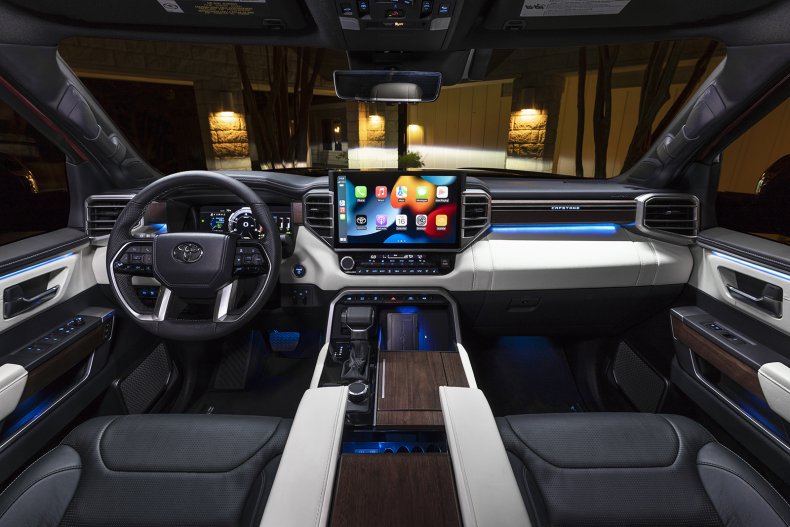 For Lisa Materazzo, group vice president of Toyota Division Marketing, the stiffer competition in the segment means that it's the perfect time to release the refreshed Sequoia.
"I think there's a lot of opportunity, not only for existing Sequoia buyers who have been waiting for something new from us, but also the opportunity to get sales from some of the competitors."
She also said that while the company saw a 27.3-percent dip in year-over-year sales last month, the market remains strong. May finished with about 175,000 Toyota and Lexus sales, which were over internal projections.
"I think that market conditions are good," she said. "We have very, very low dealer stock. If our dealers had more vehicles, there is no doubt in our mind that they could sell them."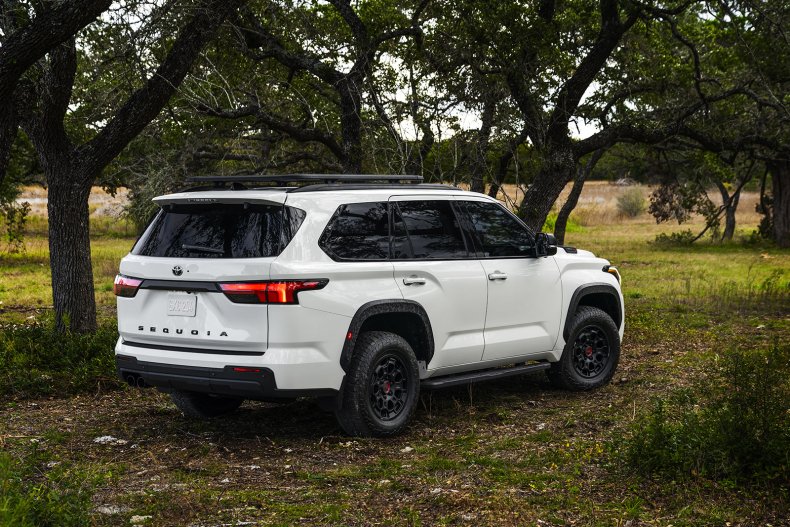 Toyota currently has 1.4 days, or about 30 hours, of vehicle turnover, according to Jack Hollis, senior vice president of automotive operations. He told Newsweek that Toyota is right where they want to be right now in terms of sales.
"Demand is still high and supply is still low, but the fact is we're still maintaining that above 50 percent market share on a monthly basis and we're really proud of the team for being able to do that." he said. "While all of the other manufacturers have significantly more inventory availability, we're churning at the highest rates in the industry with no incentive."
DeGraff thinks that the new Sequoia will cast a wider net for buyers, especially in the older millennial demographic. From luxury-focused buyers looking at the Capstone trim to off-roaders checking out the TRD Pro variant, he sees the three-row SUV jumping to the forefront of customer minds.
"Being Toyota is synonymous with and the king when it comes to hybridization, I think the fact that a standard hybrid drivetrain will be a nice incentive for curious shoppers to come check out the Sequoia," he said.
The competition will be tough though, he pointed out, in a segment that keeps expanding. He pointed to the 2022 Jeep Wagoneer, which starts at $58,995, as a newer entrant. It'll also have to cut into the sales of the 2022 Chevrolet Suburban. With a starting MSRP of $54,700 and an available V8 engine, it'll be a tough cross shop.
The 2023 Toyota Sequoia comes standard with a 3.5-liter twin-turbocharged V6 hybrid, which combines with a ten-speed automatic transmission to put out 437 horsepower and 583 pound-feet of torque. The SUV slated for release later this year, beginning at $59,795.