Toys R Us Employees Fight for Severance Pay as Stores Close, Executives Get Bonuses
Toys R Us employees are fighting the company to pay them severance as it continues closing all of its stores.
While the former toy giant's mascot, Geoffrey the Giraffe, is headed off to retirement, employees throughout the United States are speaking out after finding themselves out of a job with no severance.
Employees at the Boynton Beach, Florida, store made their frustrations known by hanging signs around the store and protesting outside, WPTV reported.
Tracey Mobley, who worked at Toys R Us for 25 years, said not providing severance to employees was "heartbreaking" during an interview with WPTV.
Thursday was her last day of work, and to mark the occasion, WPTV reported her co-workers hung signs in the store that informed customers employees wouldn't be receiving severance pay.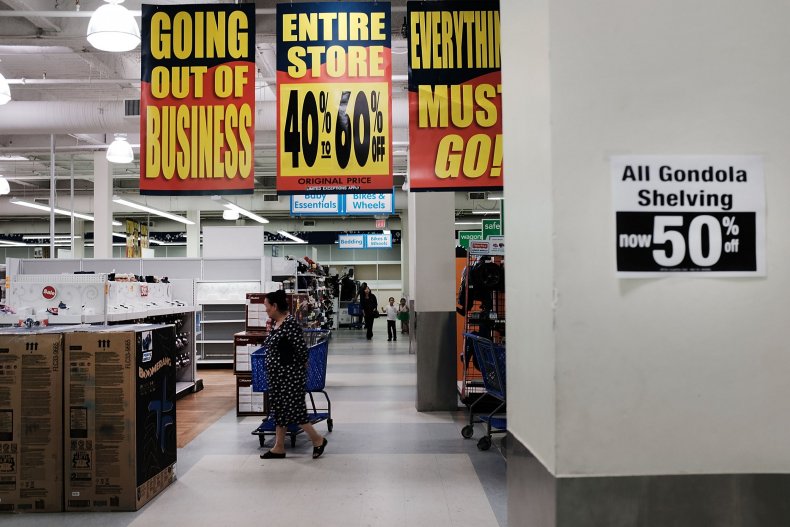 Madelyn Garcia, who has worked at Toys R Us for 30 years and became a manager at the Boynton Beach store in September, told The Palm Beach Post that the Toys R Us team is a "family" and therefore should be compensated properly.
"We gave up time with our families on holidays. We've been here and we're the foundation of the company, and we deserve something," she explained.
However, paying employees who lost their jobs may not be entirely up to the company. The Post reported that bankruptcy laws prevent companies from giving employees severance pay if they're in the liquidation process.
On the other hand, receiving a paycheck for time served isn't the only source of contention between employees and Toys R Us executives. The workers are upset that executives received big bonuses before the company declared bankruptcy, while they're walking away empty-handed.
Five former Toys R Us executives, including former CEO David Brandon, shared $8.2 million in retention bonuses, which were approved only a week before the company declared bankruptcy, according to the New York Post. Newsweek reached out to Toys R Us for comment but did not receive a response in time for publication.
Giving large bonuses to executives and not paying severance to employees may seem like an odd move for a company to make, but The Palm Beach Post called it a "well-worn playbook."
"This is the story of a company, one of the most iconic in America, that was saddled with so much debt that it could not succeed," Democratic Senator Cory Booker of New Jersey said, according to The Washington Post. "And now the big guys are walking away, and the workers are left with nothing."
Booker signed a letter to Bain Capital, KKR & Co. and Vornado Realty Trust— the private equity firms that bought out Toys R Us in 2005—urging the companies to "support" the employees who lost their jobs "through no fault of their own."
Melissa Cajigas, an employee, told WPTV that the situation didn't have to come to this, but it shows a lack of caring for the company's workers.
"That they can fill their pockets with millions of dollars, and we leave here today, our last day, as a family with no money in our pocket 'cause of Wall Street greed," she said.
Employees have previously protested the lack of severance pay outside Brandon's New York City apartment building and the offices of Bain Capital, KKR & Co. and Vornado.
Garcia acknowledged that the employees are fighting an uphill battle but told CNN Money that if they can't get severance themselves, they're hoping to help change the laws so other workers don't have the same trouble.