T-Pain Called Racial Slur Playing 'Call of Duty,' Proceeds to Wipe Out Entire Team
T-Pain wiped out an entire Call of Duty team after they harassed him using racial slurs. The rapper posted a video of the team harassing him and his subsequent victory on TikTok, where it has been viewed more than a million times.
In the video, which T-Pain captioned: "Shutting down some racists in Call of Duty," someone can be heard cursing and dismissing the Black Lives Matter movement, before repeatedly saying the n-word.
When they start playing the game, T-Pain, whose real name is Faheem Rasheed Najm, says: "I want all of them," and while shooting the opposing team, he says: "I want every single f****** of them" before shouting: "I want it all, I want it all, I want every part of it! I want the whole thing!"
The rapper continues to shoot every member of the team and says: "I want you to delete the black skins from your m************ CoD, I want the whole thing, I want it all!"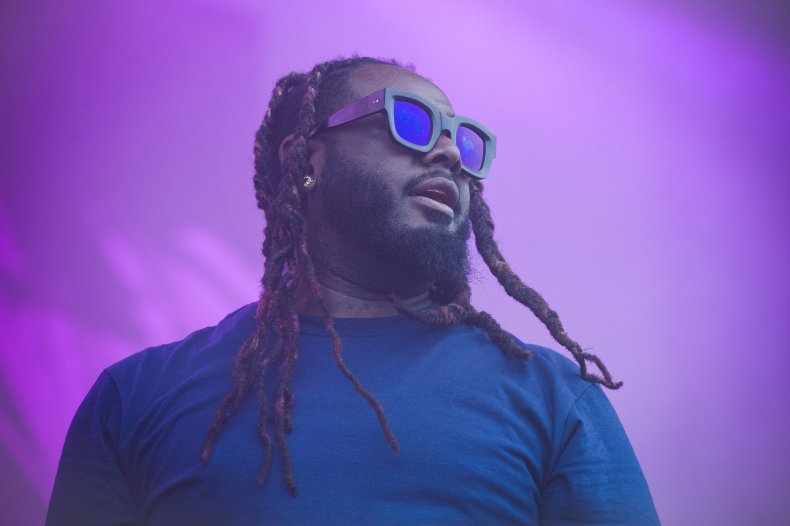 When the game is over, T-Pain laughs and says: "Ladies and gentlemen, looks like the [n-word] wins." He then calls them "stupid idiots" before taking a sip of water.
The video was shared on Reddit, where T-Pain fans expressed their disgust at the language used by the Call of Duty players and shared how much they enjoyed watching the rapper put the racists in the place.
One Reddit user said: "Imagine actually getting into a match with T-Pain and the first thing you do is call him the n-word. Straight up trash," and another replied: "Then losing said match to him so damn badly because their skills are straight up trash and being straight up trash for calling him the n-word. 'Stupid idiots' indeed."
T-Pain himself commented on the Reddit thread and thanked his fans for their support, saying: "You guys are f****** awesome. Love you all. Just doing my duties (ha..... dootie) as a citizen. Thank you guys."
The Call of Duty video is not T-Pain's only TikTok to have gone viral in the past day. The rapper revealed in a video that he just found out about the request folder on Instagram, discovering that he has accidentally been ignoring dozens of celebrities for the past two years.
Scrolling through his request folder shows that celebrities including Viola Davis, Diplo, and Fergie had either messaged T-Pain or mentioned him in their Instagram stories, but received no response. This video has been watched four million times and has received around a million likes.