TPUSA Member Tells Fox News He 'Came Out' as Conservative and Acquaintances 'Disowned' Him
Turning Point USA member, Rob Smith, a black, gay veteran of New York, has broken the mold of what makes a conservative; as a result, some of his acquaintances have 'disowned' him due to his uncommon political viewpoints as a minority.
He has spoken about "coming out" as a Republican and why he supports "Blexit." Blexit, the Black Exit movement, founded by Candace Owens wants to "free" black voters from the trite marriage of blacks and the Democratic party. Along with the help of Kanye West, among other black conservatives, Blexit hopes to focus on the 2020 elections and hold rallies in every major American city that has been "hurt" by Democratic policies.
In spite of being a black conservative, Rob Smith, says he is aiming to open the mindsets of black voters, though his detractors have said he has aligned himself with white supremacists.
"Most Americans are really into coming together as Americans and not knowing politics should not divide us the way it does," Smith said.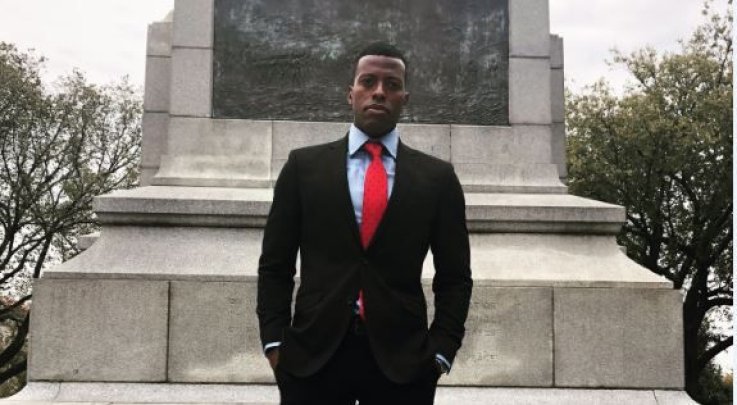 Smith is a product of a liberal working-class family of Ohio, but after he serving five years in the United States Army, as an Infantryman and deployed to both Kuwait and Iraq, he found himself pushed away from "left-wing outrage." He announced his #WalkAway moment in May.
Rob Smith tweeted, "Democrats want me to find empowerment in victimhood, but as a veteran, I was NEVER a victim. It is time for me to #WalkAway."
Since his declaration of Blexit, he has turned his identity into a brand, contributes commentary for Turning Point USA, and appears as a guest on Fox News periodically.
He did not vote in the 2016 election and prior to the mass shooting of the Pulse Nightclub in Orlando was a member of the Democratic Party. His change of heart trickled down to the strategy of encouraging political parties to "work" for the black vote. By ditching the stereotypical political paths of African Americans and LGBTQ people, he desired to change or at least question the way minorities vote and think.
Smith told Newsweek in December 2018, "I know that five, 10, 20, 25 years from now, me being out as an openly gay conservative, an openly gay and black conservative will open doors for this to not be as shocking and surprising to people. It will open doors to people being unafraid to be open about their political beliefs in their own lives regardless of their skin color or their sexual orientation."
TPUSA Member Tells Fox News He 'Came Out' as Conservative and Acquaintances 'Disowned' Him | Politics