Tracee Ellis Ross, Chance the Rapper and More Celebs Speak Out After Riots Over George Floyd's Death
Tracee Ellis Ross was one of the many celebrities offering words of encouragement this week, in the wake of mass protests that erupted into riots in Minneapolis, Minnesota. People in the city took to the streets in outrage over the killing of George Floyd, a black man who died after a white police officer pressed his knee onto Floyd's neck—an act of brutality that was caught on video by onlookers.
Ross, speaking directly to her fellow black Americans, extended her support to the community through social media on Thursday, as people all across the country flooded the streets demanding justice for Floyd's death.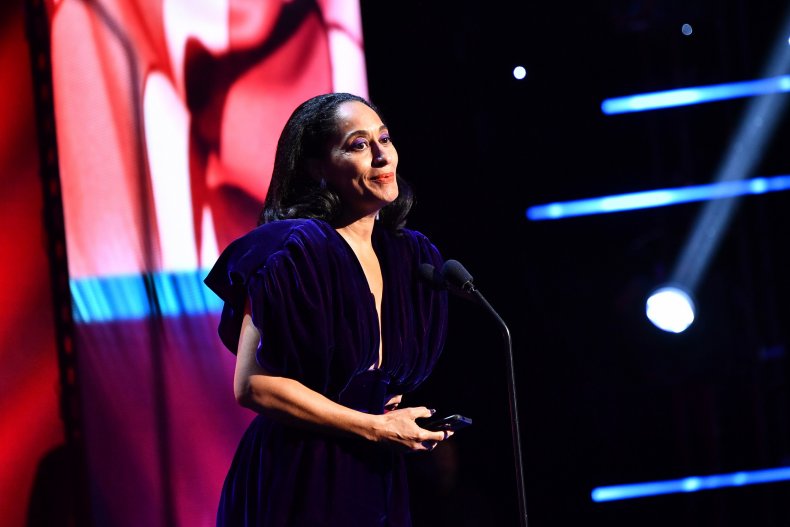 "Dear Black People, I love us. I love you. I want to be with you today, connected to us," Ross wrote. "I am reaching out through the air to hold your hands right now. I am imagining myself looking into your eyes, into your brightness, your power, your hearts and your souls. Please seek comfort & support. Be gentle with yourself even though the world isn't gentle with us. We have yet again witnessed disgusting brutality; a disregard for our humanity. This brutality is not new. I waver between being broken-hearted and full of rage. I am looking for the light. I know I would see it in your eyes, so I'm imagining our collective light. I am imagining your eyes. I love us."
Chance the Rapper, meanwhile, has called for the arrest of Derek Chauvin, the office seen in the video footage kneeling on Floyd's neck. (Chauvin has since been fired from his post with the Minneapolis police.) The rapper also shared a Twitter post on Thursday featuring the names of black Americans and people of color who have died at the hands of law enforcement. Chance's tribute post came just days after he organized a protest in honor of Floyd in his hometown of Chicago on Tuesday.
"CHARGE AND CONVICT THE MURDERERS RESPONSIBLE FOR GEORGE FLOYD'S DEATH," Chance wrote on Twitter. "SWIFT DRAMATIC CHANGE ONLY COMES VIA REVOLUTION."
Plenty of other artists and actors called for justice, including John Boyega, who wrote, "I really f**king hate racists," on Twitter on Wednesday.
"This just burns," Boyaga wrote alongside a tribute image of Floyd's last words. "Seems to be a never ending cycle. The murderers need to be charged severely. Even in the face of death this man was given zero empathy. #RIPGeorgeFloyd #BlackLivesMatter #JusticeForGeorgeFloyd."
Cardi B also called for action, writing on Instagram on Tuesday, "Enough is enough!"
"What will it take ? A civil war ? A new president? Violent riots ? It's tired ! I'm tired ! The country is tired !You don't put fear in people when you do this you just show how coward YOU ARE ! And how America is really not the land of the free!" the rapper wrote in her post.
Viola Davis shared in Cardi's sentiments, explaining that America will "never be great" until change arises.
"This is what it means to be Black in America. Tried. Convicted. Killed for being Black. We are dictated by hundreds of years of policies that have restricted our very existence and still have to continue to face modern day lynchings," the Oscar-winning actress wrote on Instagram. "Here's the thing......America will never be great until we can figure out a way for it to work for EVERYBODY!!! 'I define connection as the energy that exists between people when they feel seen, heard and valued'....... RIP George Floyd."