Tracy Morgan Is Spending Quarantine Doing Sexy Coronavirus Role-Playing — Seriously
While more and more people are trying to make the best of a bad situation while in quarantine due to the coronavirus, comedian Tracy Morgan has found a way to turn the quarantine into the basis for some sexy role-playing.
During an appearance on NBC's Today Show, host Hoda Kotb asked Morgan what he's been doing during the quarantine, and it quickly went from feeling like a real-life morning show interview to feeling like an episode of 30 Rock, the classic NBC sitcom Morgan starred in as the unpredictable comedian Tracy Jordan.
Morgan told Kotb that he and his wife have spent a lot of time in the bedroom while self-isolating. "Me and my wife have been quarantined in here for like three weeks. So, she's pregnant three times. Every week, she got pregnant," he said.
Morgan also let Kotb know some more intimate details about what exactly he and his wife are doing in their bedroom. "We're roleplaying a lot now. She's playing a young maiden whose grandfather was infected with coronavirus, and I'm the scientist who discovered the cure," he told Kotb. "And, she'll do anything to save her grandfather's life, and I mean anything."
One can only imagine Liz Lemon needing to confront Jack Donaghy about this via FaceTime.
Morgan made some other quips about the coronavirus throughout the interview. Speaking about a Bronx Zoo tiger that was diagnosed with coronavirus, Morgan said that he wants to get all of his pets tested now too. "I'm going to get all my pets tested. I'm getting my sharks tested. I'm getting my moray eel tested. I just bought a 600-pound silverback gorilla. I'm gonna take him down to New York Presbyterian and get him tested," he said.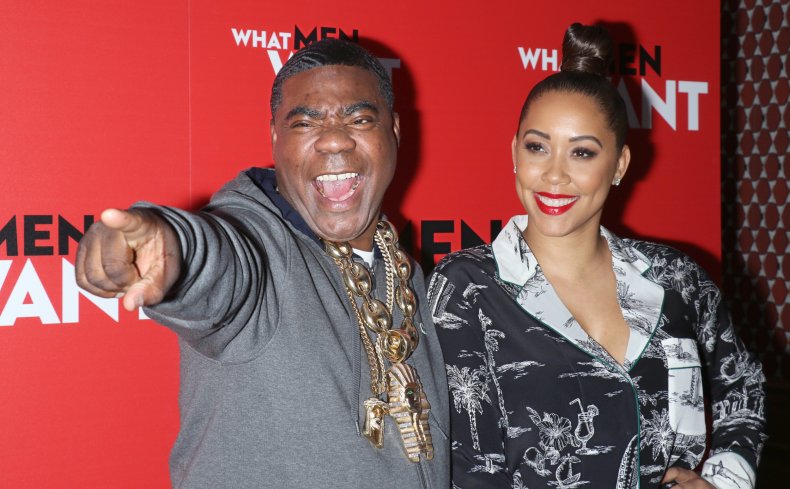 He also said that a woman pulled up next to him while driving and lectured him for not wearing a mask or gloves. "She said, 'You don't got your gloves on. You don't got your mask on. Ooh, I'm tellin'.'" He also said that with the mask and gloves he "finally feels like a real surgeon."
Towards the end of the interview, Morgan showed his admiration for the doctors and other first responders that continue to work during the pandemic in a serious moment. "My dad told me, 'When you was born, when the doctors pulled you out of your mom, the doctors could have dropped you on your head.' So, I give them respect from that day," he said. "They're fighting the frontline. I love them. I spent a lot of time in the hospital, and I know what goes on in there, and I know these people—they work hard to take care of you. I'm very proud of them. They're my heroes."