Donald Trump's Trade War Has Been Paid for Entirely by U.S. Businesses and Consumers, Says Goldman Sachs
While President Donald Trump continued to insist that China would pay for increased tariffs levied by the U.S., investment bank Goldman Sachs said the cost of tariffs imposed last year had "fallen entirely on U.S. businesses and households."
The bank also said that Chinese exporters had not lowered their prices to stay competitive in the U.S. market, but instead other producers raised their prices to benefit from the trade war between the world's two largest economies. "The effects of tariffs have spilled over noticeably to prices charged by non-Chinese producers of tariffed goods, who appear to have opportunistically raised their prices in response to the protection from Chinese competition," analysts wrote in a note.
The comments from Goldman Sachs cited a widely referenced study from the Federal Reserve Bank of New York and Columbia and Princeton universities, which found that U.S. companies were paying $3 billion more in taxes because of the tariffs.
The bank's analysis came after Trump's economic adviser, Larry Kudlow, contradicted the president's repeated claims that China was paying the cost of the tariffs. While speaking with Fox News host Chris Wallace on Sunday, Kudlow said "both sides will pay. Both sides will pay in these things." He also said that "the economic consequences are so small but the possible improvement in trade...this is worthwhile doing."
Oxford Economics said that the Trump administration's decision to raise tariffs from 10 percent to 25 percent on $200 billion of Chinese goods, which was announced last Friday, would cost the economy $62 billion in economic output.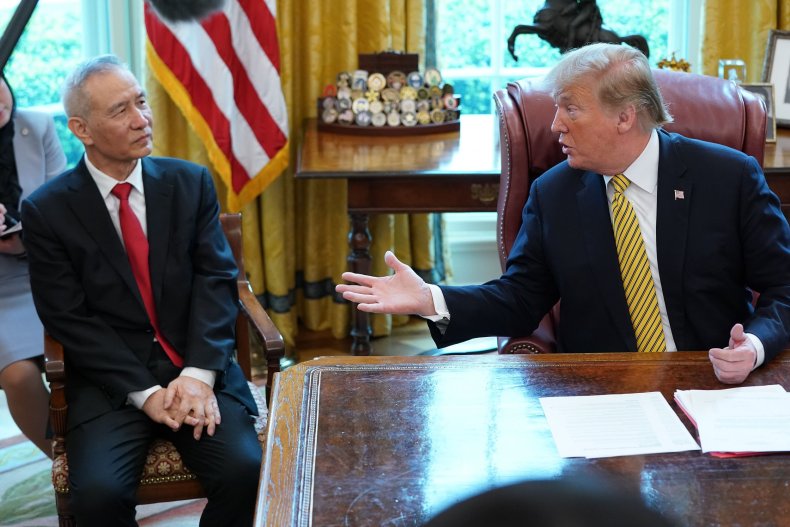 China announced on Monday that it would increase tariffs on 4,000 products in retaliation for the tariffs announced by the U.S. last week, according to The Guardian. The hikes declared by the Chinese would affect goods that were initially hit with tariffs last year after Trump levied 10 percent tariffs on $200 billion worth of goods.
The tariff increases would affect a range of U.S. products, including such commonly used items as coffee and batteries. Almost 2,500 items would be subject to 25 percent tariffs, while more than 2,000 others would have smaller tariff increases. The raised tariffs would not take effect until June 1.
World stocks fell quickly after China announced its retaliatory tariffs. The S&P 500 fell 1.5 percent as trading started, and the Dow was down 2.24 percent by midday. European markets endured losses, and the Shanghai Composite Index dropped 1.2 percent.