China hit back at President Donald Trump's trade tariffs on Friday with its own list of 128 U.S. products, worth $3 billion, as retaliation targets, according to a statement on the Chinese Ministry of Commerce website.
The ministry said Beijing would impose tariffs on American-made products in two stages unless a trade compensation agreement could be reached with the U.S.
Fresh fruit, dried fruit and nuts, wine, modified ethanol, ginseng and seamless steel pipes are among the U.S. goods that could see a 15 percent duty at stage one, while products such as pork and recycled aluminium face a proposed 25 percent tariff at stage two.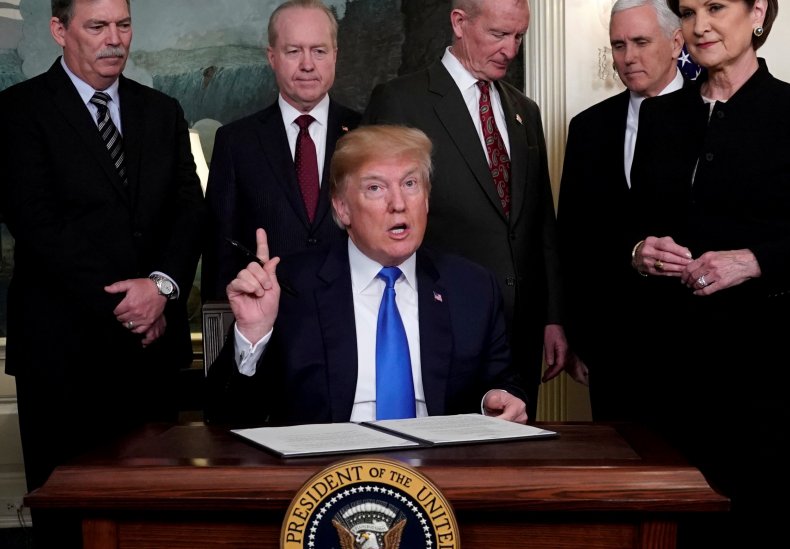 "China urges the United States to resolve China's concerns as soon as possible, resolve differences through dialogue and consultation, and avoid harming the overall situation of Sino-U.S. cooperation," a ministry spokesperson said in the statement.
The measures are to "balance out the loss sustained by China" through Washington's move to impose steel and aluminium tariffs on imports, the ministry continued. On Thursday, Trump also announced proposed tariffs of up to $60 billion worth of Chinese imports. That move was not mentioned in the statement issued by the Chinese Ministry of Commerce.
On Thursday, the Chinese Embassy in Washington said that Beijing would not hesitate to respond to the tariffs on $60 billion worth of goods.
"China does not want a trade war with anyone. But China is not afraid of and will not recoil from a trade war," it said in a statement. "If a trade war were initiated by the United States, China would fight to the end to defend its own legitimate interests with all necessary measures."
Eswar Prasad, a senior professor of trade policy at Cornell University, told The New York Times that the U.S. and China seemed to be entering a trade war.
"The U.S. has unsheathed its sword after an extended period of saber rattling, and the Chinese are now unsheathing their weapons. I hope this will not spiral into a very broad set of sanctions on both sides," Prasad said.
He added: "But I think, given Mr. Trump's instincts and his very keen desire to deliver a political win whatever the political fallout might be, I don't think it can be tamped down now."