Trader Joe's Faces Boycott Calls After Reportedly Firing Employee Who Sought Better COVID Protections
A Trader Joe's employee was reportedly fired after he wrote a letter to the grocery store's CEO, Dan Bane, asking for improved conditions to protect workers from the novel coronavirus, spurring calls to boycott the store and unionize workers.
"trader joe's just fired me for sending this letter to the ceo, saying i don't share the company values. i guess advocating for a safer workplace isn't a company value?" the man, Ben Bonnema, said in a Friday tweet.
Bonnema, who worked at a store New York City's Upper West Side, wrote the letter to Bane on behalf of himself and another store employee, or "Crew Member."
In his statement to Bane, Bonnema references a February 15 letter from 13 scientific experts to Jeffrey Zients, coordinator and counselor for Biden's COVID-19 response; Rochelle Walensky, director of the Centers for Disease Control and Prevention (CDC); and Anthony Fauci, director of the National Institute of Allergy and Infectious Diseases, demanding the Biden administration to update guidance on how COVID-19 is spread through aerosols.
Outdated guidelines from the Trump administration "have not been...strengthened to address and limit inhalation exposure to small aerosol particles," the medical experts argued.
Currently, the CDC's "outdated" use of the phrase "respiratory droplets" groups larger sprays and smaller particles into the same category, making it confusing for health care and non-health-care industries to determine guidance on control measures.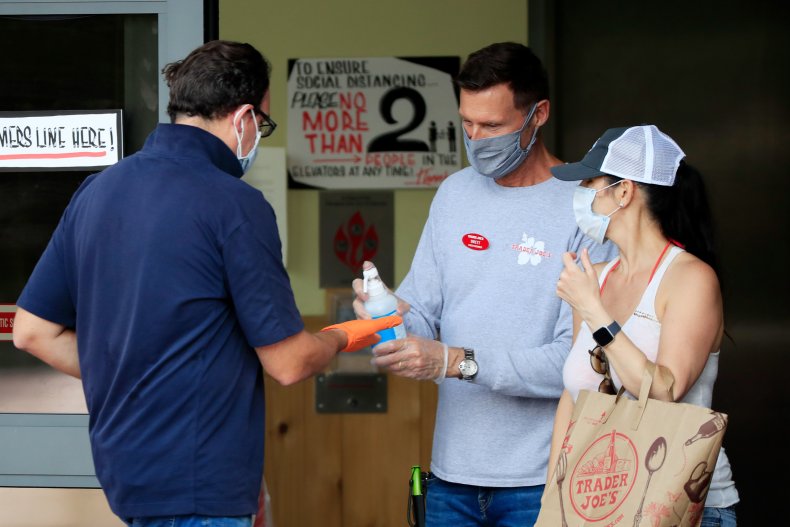 Bonnema wrote that that leadership's claim that Trader Joe's stores "exceed" CDC and Occupational Safety and Health Administration (OSHA) standards "isn't good enough."
"We should be following the guidelines of scientists who study respiratory transmission," Bonnema wrote.
Trader Joe's spokesperson Kenya Friend-Daniel said in an email to Newsweek that "nothing" is more important than customers and Crew Members' safety. She added that the company is open-minded to workers' insights: "We encourage all Crew Members to take an active role in store safety, and share their suggestions with leadership."
In his letter, Bonnema outlined five areas of improvement within the store he worked at to prevent airborne transmission of COVID-19 asked that the store improve filters; increase air change per hour; limit shopper capacity based on carbon dioxide levels in the store; prevent customers from entering if they are not wearing a mask; and adapt a "3 strikes policy" to support employees burdened with removing "uncooperative people" from store premises. "I was recently shouted and sworn at by a customer who would not wear his mask above his nose, despite Mates already asking him to do so," Bonnema wrote. "He was allowed to finish his shopping and check out."
He also suggested that under the American Disabilities Act, Crew Members are required to offer reasonable accommodation "which we do by offering to shop for them. If [customers] refuse [to wear a mask], we should not let them in.
In a February 26 incident report also shared by Bonnema on Twitter, Trader Joe's cited Bonnema's "suggestion" of a "3 strike policy" and "enforcing the same accommodation for every customer with a medical condition that precludes them from wearing a mask as "not in line with our core Values."
The company told Bonnema in the report that he did not have a "clear understanding" of their values so "as a result, we are no longer comfortable having you work for Trader Joe's."
"During his short tenure with Trader Joe's, this Crew Member's suggestions were listened to, and appropriately addressed," Friend-Daniel said. "Store leadership terminated this Crew Member's employment because of the disrespect he showed toward our customers. We have never, and would never, terminate a Crew Member's employment for raising safety concerns."
Bonnema further stated reasons for company leadership to adopt his recommendations, including a reportedly painted-over label disguising whether the store's system could handle the CDC-recommended MERV-13 air filter. He also said employees were told management was "working with the facilities manager" to improve HVAC capacity, "but no real information" had been provided.
"As the danger from COVID continues, grocery workers are among the most at risk to daily exposure to the virus," Marc Perrone, president of the United Food and Commercial Workers Union, said in an email to Newsweek. He added that amidst recent COVID-19 outbreaks at grocery stores, companies must "wake up to this threat" and bolster safety efforts, prioritize mask mandates and ensure workers receive paid time off in order to get the COVID-19 vaccine.
"We cannot afford to wait for the next outbreak or for more lives to be needlessly lost," Peronne said.
The reported firing of the New York City man was met with demands across Twitter to boycott stores and potentially organize Trader Joe's workers.
"another reason for @traderjoesunion," Bonnema tweeted, tagging the account that represents a coalition of workers who are advocating for better employee conditions at the California-based company.
The coalition said it had "unequivocal support and solidarity" for Bonnema in a tweet on Saturday. "This is retaliation, plain and simple, and we will be using every resource at our disposal to support and defend Ben and every worker whose needs have been silenced and gaslit in their pursuit of a safe and equitable workplace."
Trader Joe's employees, who have heightened risk of contracting the virus in their jobs, have historically faced a culture of fear of reprimand if they talk about worker conditions, Gothamist reported. Workers at other New York City Trader Joe's locations told the local news outlet of similar issues Bonnema experienced, especially poor ventilation in stores, struggles to implement mask-wearing, and difficulty figuring out if they've come in contact with someone who is positive for the virus.
In March, CEO Bane sent a letter discouraging Trader Joe's workers from forming "distracting" labor unions, The New York Times reported.
"Such actions by top retailers are part of a ruthless attempt to silence whistleblowers at a time when transparency is more important than ever to keeping Americans safe from COVID-19," Perrone said. "Frontline workers are terrified because their employers and our elected leaders are not doing enough to protect them."
Bonnema's complaint echoes a larger call from grocery store and other frontline workers for better protection from airborne transmission. On Tuesday, National Nurses United and 44 other organizations delivered a petition to the CDC demanding the agency to update its guidance. The organizations said grocery workers are a key group that haven't receive proper guidance to protect employees in customer-facing roles.
Updated 5:04 PM ET, with a statement from Marc Perrone, president of the United Food and Commercial Workers Union.
Updated 6:32 PM ET, with a statement from Trader Joe's.