Trading on Donald Trump's Twitter Tantrums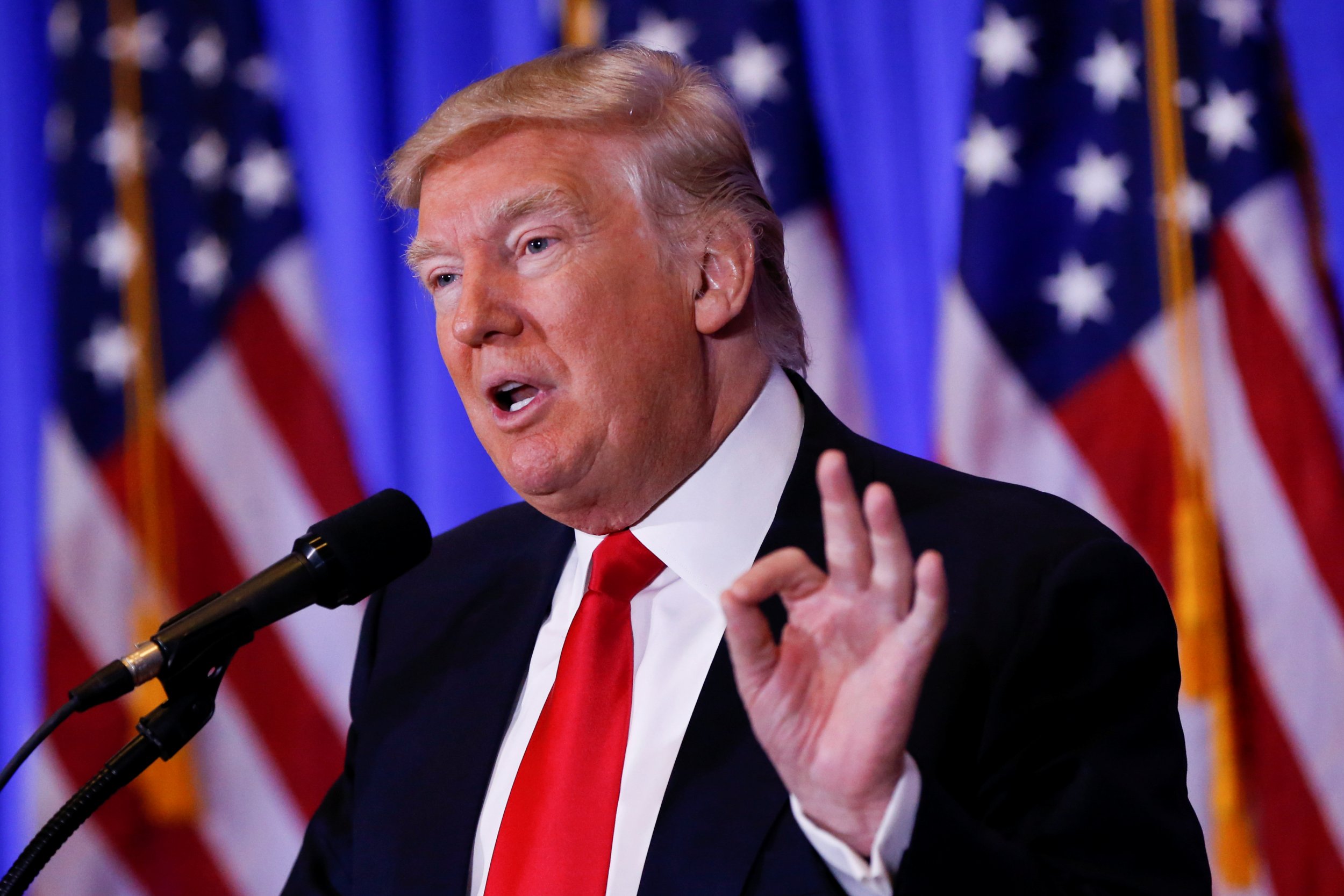 When Donald Trump this week gave his first press conference since winning the presidential election, he alternately lauded the press and shouted down reporters he didn't like with jeers such as: "Fake news!" He slipped into stream-of-consciousness rants about everything from Chinese hackers to hidden cameras in hotel rooms "all over the place." And he denounced pharmaceutical companies for committing "murder." To this, the Wall Street traders I spoke to had nearly the same reaction: "He's crazy."
They noted how pharmaceutical stocks, which initially received a boost after Trump's victory, got hammered after his one-off remarks Wednesday, which also targeted carmakers General Motors, Ford and Fiat Chrysler. Investors who had feared tough action on drug pricing under a Hillary Clinton presidency believed Trump would be the safer bet. Not so. At Trump's presser, he announced that "the drug industry has been disastrous," adding that he planned to create new bidding procedures for drugs to "save billions of dollars" for Americans and would do the same with other industries, sending stocks into a swoon.
"We are dealing with a completely unpredictable, absent-minded man who may wake up on any given day and just decide to attack a stock he hates—or praise one he loves—and then turn around and change his mind," says David Tawil, president of Maglan Capital, a New York event-driven hedge fund. "I don't like that. Those are 50-50 odds. I would never play that. No one would, unless they had some inside track. The one thing we hate is binary potential."
It's not so much that Wall Street investors necessarily object to Trump's plans per se. It's that the president-elect tends to announce them via highly nontraditional channels and without warning—more often than not, to his 19.7 million Twitter followers at all hours. As a result, major Wall Street traders and everyday investors are racing to find ways to stay on top of his constant tweets, from keywords to algorithms to analytics that track social media. While banks and hedge funds have invested millions of dollars in trading systems that can be tweaked to "Trump-proof" their portfolios, solutions for ordinary investors have been few and far between since Trump won the election. That changed this month.
One of the easiest tools to use (and it's free) is a new app called "Trump Trigger" from Trigger Finance Inc., which offers market information and trading alerts. The app will send a message to users whenever Trump tweets about a stock they own, with options to buy, sell or short. "While it's no surprise that Trump has been actively tweeting since the election, no one anticipated that a single tweet could potentially eradicate billions of dollars in market cap from large companies," the company wrote in a blog post last week, introducing the app.
Fidelity Investments also offers a feature called "Social Market Analytics" that investors can add to their trading dashboards to track trading signals via Twitter, Facebook and other social media. The analytics tool does this by measuring both positive and negative comments on social media versus the norm. Sentiment indicators culled from social media are increasingly pointing to events before they happen. This was true when Trump complained in a recent tweet about the high cost of F-35 fighter jets from Lockheed Martin, sending its stock price lower. In fact, Trump's Twitter followers goaded him into going after Lockheed after he tweeted in December that he wanted to "cancel" plans for a new Air Force One from Boeing, because "costs are out of control." Ever the crowd-pleaser, when his followers urged him to attack Lockheed too, that's exactly what he did.
Related: Trump business plan casts spotlight on law firm that worked for Russia
What's interesting is that Twitter sentiment indicators for Lockheed shot into negative territory and the company's trading volume spiked even before Trump's tweet, because social media had already gone negative on Lockheed hours earlier. Trump's tweet was just the coup de grace.
One big worry: What if Trump's tweet storms lead to a market that becomes hopelessly reactive to politics instead of economics? A former "bond king," Bill Gross, who runs the $1.7 billion Janus Global Unconstrained Bond Fund, alluded to just that. He compared Trump's penchant for singling out certain corporations and bullying them into changing their practices as redolent of the Italian dictator Mussolini. "Some of these pre-term policies, where [Trump's] cajoling companies to move production back into the United States, that's fine, but it reminds me to some extent of policies in Italy long ago associated with Mussolini and government control of corporate interests," Gross said in an interview with Bloomberg Radio. "I don't want it to go too far."
Of course, it could also go too far in the other direction. "At some point, Trump could lose all credibility, both domestically and internationally, where no one takes him seriously anymore," a London-based trader tells Newsweek on the condition of anonymity because the trader isn't authorized to talk to the press. "Being the president-elect might give his tweets weight now, but that won't necessarily last if he wears out his welcome."
On Thursday, Trump abruptly praised L.L. Bean in a tweet after hearing that the granddaughter of the Maine company's founder, Linda Bean, had donated thousands of dollars to a political action committee that supported his presidential campaign. Most of Trump's tweets since winning November's election, however, have been negative. Among the companies he's tweet-bombed in addition to Boeing, Lockheed Martin and General Motors are Amazon, Apple and Carrier, a unit of United Technologies. With this week's presser, Big Pharma is now on his hit list.
Attention from Trump has not been beneficial for most companies, so many investors are actively shirking the stocks he obsesses over. "I am staying as far away as I can from any sectors that Trump seems to be focused on—financials, pharma and the auto industry's biggest carmakers, I am staying away from it, consciously, yes," says Tawil.
Karen Finerman, co-founder and chief executive of New York investment management firm Metropolitan Capital, says she's invested in a number of stocks that could be affected by Trump's running commentary, including tech issues like Facebook and Google's holding company, Alphabet Inc. (Silicon Valley largely favored a Clinton presidency over Trump) and financial stocks like Bank of America, JP Morgan Chase and Citigroup.
But the stock Finerman is most concerned about is GM, she says, even though the company's most recent earnings beat expectations. "That's the one where I am most tweet-vulnerable, so I guess I am a little nervous," she says.
Finerman did well with tech issues, which initially got crushed after Trump's victory but edged up after he met with Silicon Valley kingpins in the Trump Tower in December. "When the tech stocks fell, we kept buying as they kept getting cheaper," she says, "so we did well on that." In other words, when companies take a hit due to Trump that are otherwise healthy, it could be a good buying opportunity.
Even so, Wall Street will continue to be extremely wary of what traders are calling "the Trump Effect."
"The only way you can truly insulate yourself from any potential fallout," Finerman says, "is to not own any stocks. But it's my job."