3 Traditional Christmas Desserts to Serve Up to Family and Friends on Christmas Day
Abundance is a big part of the Christmas meal, whether you cook ham, turkey, roast beast or vegetarian options. And no meal is complete without desserts. The holidays are the time for home chefs to stretch their skills and prepare things outside of the everyday menu, and in that spirit, we have a trio of the author's family recipes for Christmas desserts that will dazzle.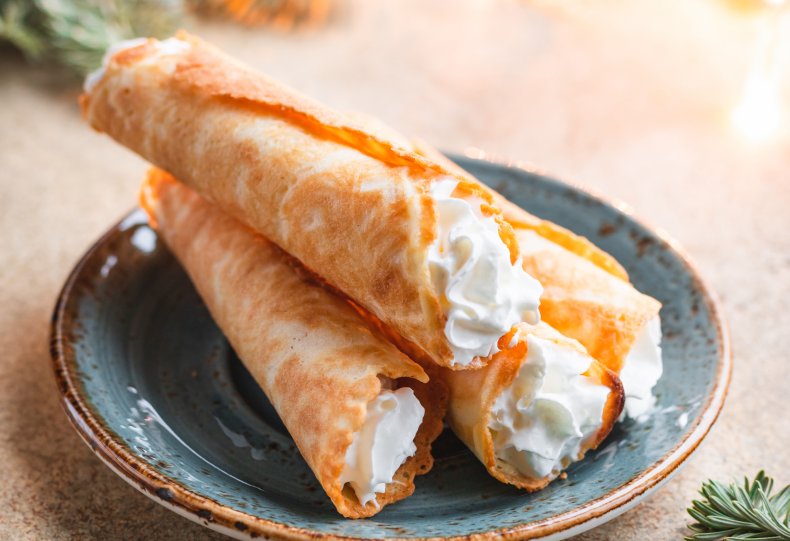 Krumkake
This traditional Norwegian treat does require a special tool — a krumkake iron, which is a bit like a waffle iron married a crepe pan. They're also sold as pizzelle pans, but krumkake makers come with the conical shaping instrument that lets you mold the hot cookie into a crispy cone. The recipe by Jensen's grandmother Margaret Jensen shows you how.
Ingredients:
1/2 cup butter
1 cup white sugar
2 eggs
1 cup whole milk
1 1/2 cup flour
1/2 teaspoon ground cardamom
1/2 teaspoon vanilla extract
Whipped cream
Steps:
Mix butter and sugar in a bowl until creamy, then add eggs one at a time and combine well.
Add the milk, flour, cardamom and vanilla and mix until it forms a batter.
Place a tablespoon of batter on the hot krumkake iron, then close the lid. Cook for 30 seconds, flip and cook for another 30 seconds. Remove the cookie and immediately roll it around the cone or the handle of a wooden spoon.
Fill the completed cookie with whipped cream and serve.
Serves 8 to 10 people.
Christmas Pudding
This British dish makes a big splash at the table, as it's doused in brandy and lit ablaze before serving. Making a classic pudding like Anglophile Jed Smith's version below takes some time, but the results are worth it.
Ingredients:
1/4 cup shortening
1/2 cup dark brown sugar
1/4 cup flour, sifted
1/2 cup breadcrumbs
1/4 teaspoon ground allspice
1/4 teaspoon ground clove
1/8 teaspoon ground nutmeg
1/4 teaspoon ground cinnamon
2 cups mixed dried fruit - raisins, sultanas, currants
1/4 cup candied fruit peel
1/4 cup almonds, chopped
1/2 of an apple, peeled, cored and minced
1/2 lemon, zested
1 tablespoon rum
2 1/2 ounces dark beer
2 eggs
Brandy
Steps:
The day before you plan to serve the pudding, mix the first eight dry ingredients in a large bowl.
Slowly mix in the fruits and almonds. In a separate bowl, mix the rum, beer and eggs. Pour the liquid over the dry mix and combine to a loose batter.
Refrigerate for 24 hours.
When ready to cook, butter the inside of a heat-proof bowl or pudding dish and cover with parchment or foil. Place the bowl in a covered steamer inside a saucepan of boiling water and steam for 8 hours.
Remove from heat and let cool in a dark room. When preparing to serve, fill a ladle with brandy and light it afire. Pour the flaming brandy over the pudding and wait for the alcohol to burn off before slicing and serving.
Serves 8 to 10.
Buche De Noël
Also known as a "yule log cake," rolled dessert is full of traditional flavors and can be decorated extensively if you have the time. This Buche de Noël by Jensen's grandmother Naomi Hochstatter also requires some prep time, so start now.
Ingredients:
2 cups heavy cream
1/2 cup powdered sugar, plus more for dusting
1 cup unsweetened cocoa powder
2 1/2 teaspoon vanilla extract
6 eggs
3/4 cup sugar
1/3 cup unsweetened cocoa powder
1/8 teaspoon salt
Steps:
Whip the cream, 1/2 cup of the confectioner's sugar, 1/2 cup of the cocoa powder and 1 teaspoon of the vanilla extract in a bowl until stiff peaks form, then refrigerate the mixture.
Separate the yolks from the eggs and make sure to save the whites. Mix the yolks with 1/2 cup of the sugar until thick, then add the remaining cocoa, vanilla and salt.
In a separate glass bowl, whip the egg whites until they form peaks. Slowly add in the remaining sugar and beat until the peaks stiffen, then fold the yolk mixture in to form a batter.
Spread batter evenly into a lined 10x15" pan and bake at 375° until the cake is springy, 12 to 15 minutes. Dust a dishtowel with powdered sugar and remove the cake from the pan on the surface. Roll the cake and towel up together and let cool.
When cool, unroll the cake, remove the towel, and spread the filling from Step 1 evenly on the surface, stopping an inch from the edge. Roll back up and refrigerate before serving, sprinkling additional powdered sugar over the cake after removing from the fridge.
Serves 8 to 10.