Traeger Ironwood 885: Technology Plus Wood-Pellet Grilling Is Delicious
The convergence of technology and unassuming products is always a risk, but when it goes right, it's a treat. Traeger, an immensely popular brand of barbecue smokers and grills, debuts the Ironwood 885 with WiFire tech to be able to control it anywhere. If you look through the list of recipes available from Traeger, you'll notice that some meats require 6 to 12 hours or more of smoking. The ability to control temperature and see the status of the grill on your phone, remotely and instantly becomes a clear victory for backyard chefs everywhere.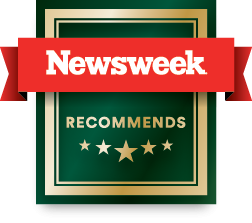 Wi-Fi connectivity enables monitoring all aspects of the grill from a distance: not just temperature but also a pellet sensor and a meat probe to keep tabs on status without cracking the lid. The Ironwood 885 is a tremendous grill option that should be able to accommodate beginners and pros alike. Traeger's latest wood-pellet grill is an outstanding option, but is it a perfect fit for your barbecue needs?
Traeger Ironwood 885 Assembly
If you can opt for (free or paid) assembly, it will probably be worth the cost. I managed to assemble the Ironwood 885 with the help of my wife. We were able to maneuver it thanks to a furniture dolly and strategic lifting. Assembling the grill isn't difficult; it's the handling of its weight that is the most challenging. Traeger acknowledges this throughout its assembly guide by pointing out when to grab a drink.
If you do get stuck with the paper instructions that come with the grill, the Traeger app can assist with the setup, as well. The whole app experience is well done and worth keeping handy on your phone.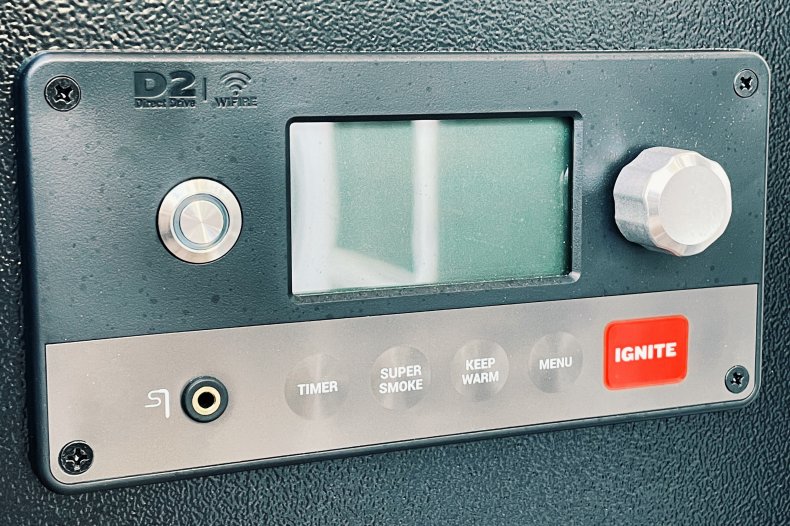 Once the grill is assembled, it's ready to be connected to Wi-Fi. You need to use the grill's monochrome LED screen to start the process. I got it connected fine, but navigating the screen with the twist knob caused me to accidentally delete the connection twice. Although using the control knob and display screen becomes more familiar with each interaction, it's nice that most controls are available in the app, too.
Turning the grill off in the Traeger app is easily discoverable with a button front and center. On the grill itself, the function is harder to find. You need to push and hold the silver button for a few seconds until it begins its shutdown sequence.
First Wood-Pellet Smoke
The grill is extremely versatile, whether you plan on conducting 16-hour meat smokings or not. The cooking options with a smoker are endless. To figure out my first meal on the new grill, I opened the app and scrolled through the hundreds of options. There is a recipe section integrated alongside the grill's controls that will help newcomers get up to speed much faster than they likely would on their own.
The app has a long menu of items to select between, categorized by beef, chicken, pork, vegetables and more. It even has a cocktail section that can help you do things like roast salt for 24 hours for a smokey margarita. You can save favorite recipes for later and even add notes or see what other people have said about the directions. This section of the app works well and is genuinely helpful.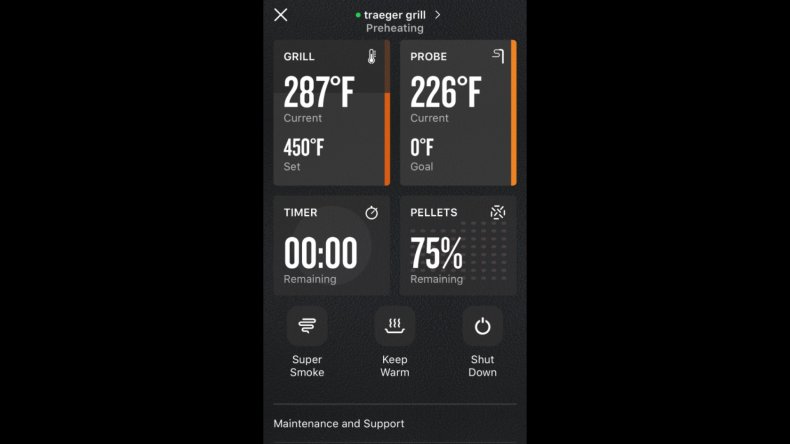 Getting to cooking your first meal requires some prep. The initial steps outlined in the instructions include priming the auger and seasoning it.
Cooking in the Ironwood 885
After cooking my first meal of chicken wings on the smoker, I tried out New York steak, corn on the cob, hamburgers, rib eye steak, baked potatoes and more. With each use, the routine became easier and more familiar until it was second nature. Using the Ironwood 885 to smoke meats for long periods of time is made incredibly simple. Of course, the smoky flavor will vary on the temperature and the wood pellets used.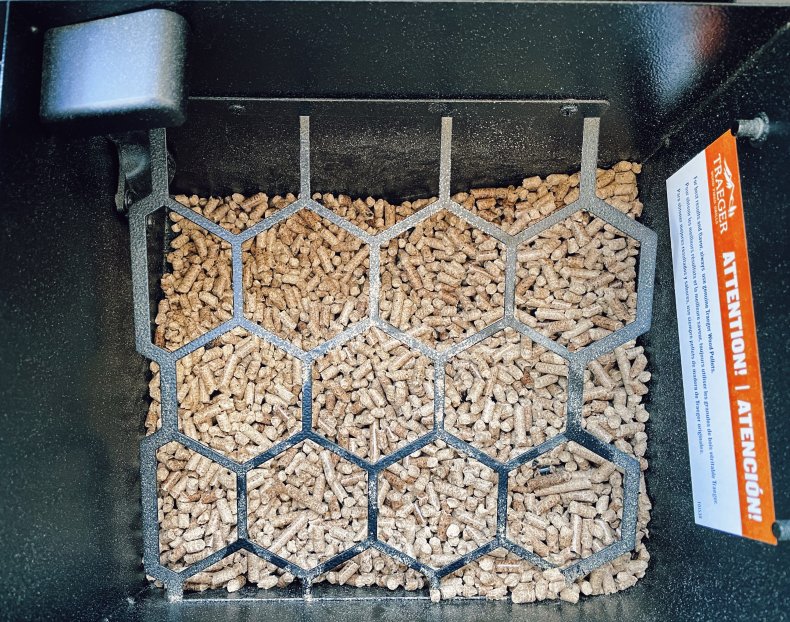 Traeger has plenty of recommendations for which pellets to use for different types of food. Matching wood and perfecting the flavor blending is a subtle skill that will likely take time to develop. The company also has a wood blend that it recommends for general use on all food that I started with and would suggest you should, too. This Traeger Signature Blend is a great jumping-off point.
Initially, I was turning to the app for recipes, to decide which meats to buy. But it didn't take long until the situation was reversed. I was buying different meats and then turning to the app to see if there were unique ways to prepare them. It feels like endless recipes are available in the Traeger app, and basically, anything you would want to cook on the grill is available. It's a great resource for people starting off. One of the ideas it gave me, I wouldn't have otherwise considered, was salt-crusted baked potatoes. They turned out really well.
The real treat with the Ironwood 885 grill is the technology included. Having a connected grill offloads a lot of the worry about whether everything is OK and puts it in a handy notification. For example, after igniting the grill and setting a temperature, you can walk away until you get a notification that the temperature has been reached. It's the same situation for the meat probe with a target temperature.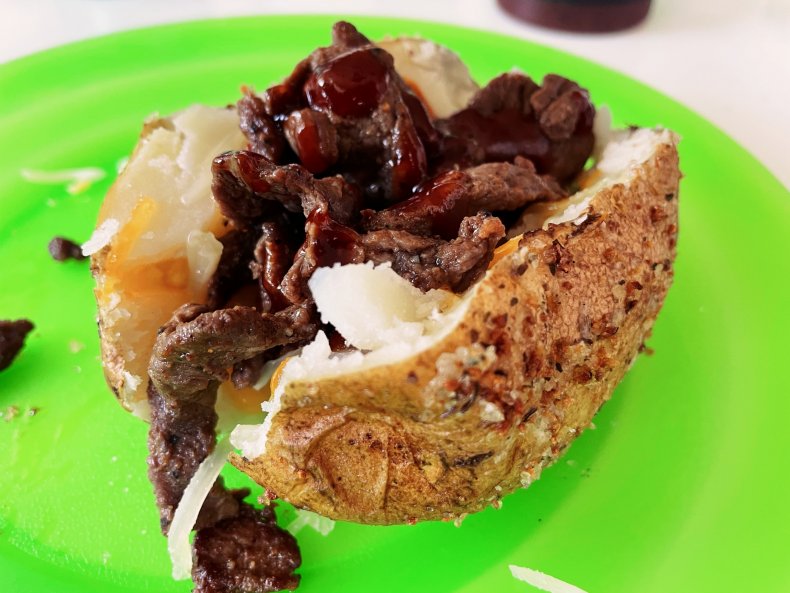 Those are nice, but the Ironwood 885 goes much further. It has a pellet sensor and displays a visualization and percentage readout in the app. I even began getting notifications for things I hadn't considered, such as when the grease trap needed to be cleaned, or when other parts needed to be addressed.
Having a thoroughly modern, tech-savvy grill is really convenient. Most people will still consider buying this Traeger model because of the rich, smoky flavor it can unlock, but the technology perks shouldn't be overlooked.
Sure, the grill will beep and make noises to indicate something needs attention, but having the Traeger app clearly let you know what's up would be hard not to have.
Should You Buy the Traeger Ironwood 885?
The Ironwood 885 is a capable grill, suitable for longtime barbecuers and beginners alike. Its baked-in technology was rock-solid in my use and is a differentiator in deciding between models. Of course, the 885 is also a larger grill with 885 square inches of grill space that retails for $1,499.99. If you like the idea of everything the Ironwood 885 offers but want to save some money or space, the Ironwood 650 comes in at $1,199.99, with 649 square inches of grilling space. From burgers to brisket, it's a grill that has an impressive range.
Newsweek may earn a commission from links on this page, but we only recommend products we back. We participate in various affiliate marketing programs, which means we may get paid commissions on editorially chosen products purchased through our links to retailer sites.