Tragedy Led 'Vanderpump Rules' Stassi Schroeder to Transfer Colleges, But It Landed Her in the 'Perfect Place'
Looking back on her experience transferring colleges, Vanderpump Rules star Stassi Schroeder wouldn't change a thing because starting out at the wrong school gave her a greater appreciation for the right one.
Before enrolling at Loyola Marymount University in Los Angeles, Schroeder attended Louisiana State University at her father's behest because she received a scholarship. From the proximity to her home in New Orleans to the class sizes, it was never the right fit for her and after someone close to her died, she decided it was time for a change, so she moved to California.
In the years since she graduated with a degree in English, Schroeder's become a household name for any Bravo fan, started a podcast, become a New York Times best-selling author and even created her own holiday, National Outfit of the Day (OOTD) Day. While her degree wasn't integral to writing her book, transferring to a school in California has provided experience in putting herself out there that's proved beneficial for her public speaking tour, Straight Up With Stassi Live.
The interview is part of the "College Credit" series, which focuses on how college experiences affected a person's ability to achieve his or her dreams. It has been condensed and edited for length.
Why did you choose Loyola Marymount?
After Hurricane Katrina, in my freshman year of college, someone close to me committed suicide and I fell into a huge depression. I didn't show up to any of my classes, I locked myself in my apartment and after that, I needed a change. So, I moved out to L.A. and went to a semester or a year at Santa Monica College to get my grades up again and that's when I decided to go to Loyola Marymount.
Do you think transferring was more difficult than if you'd gone out to California at the beginning?
Honestly, I'm glad I had the experience I did at LSU because I realized that big auditorium classes are not for me. When I was going to all my classes, I never felt like I was being held accountable. There was no raising your hand and talking to people, there weren't any discussions.
It's a pain in the a** to transfer but I'm glad I did it because it's also how I realized I would be better at a smaller school where classes are smaller and I'm more involved. Loyola was the absolute perfect place for me.
There's a lot of people who have to choose between going to their preferred school and where they were given money to attend. Do you have any advice for those people?
Honestly, that's really tough. But, I would say, transferring schools wasn't as daunting as it sounds. If there is a school where you've gotten a scholarship or it's easy on someone financially, I think it's pretty good to try that out. If you end up not liking it, then you can commit to student loan debt.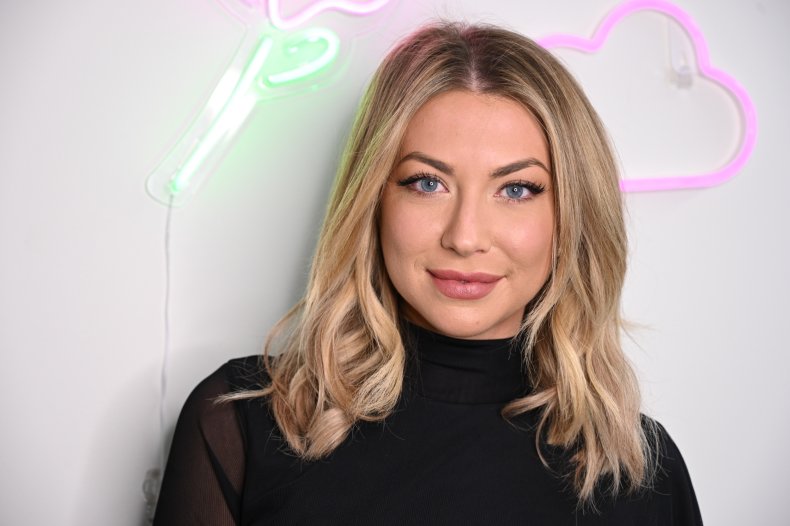 When you moved out to California did you know anyone?
No. I moved here on, I think, my 19th birthday—June 24th—to go to summer school and it was the loneliest thing in the world.
I met my first roommate, who's still one of my good friends, on Facebook. Someone met me in a class and told her there was this new girl and I think you might get along with her. She reached out to me on Facebook. We ended up hitting it off and moving in together, so she kind of introduced me to a lot of people at LMU.
Some kids aren't sure if they can make that geographical jump. Did going away to college without knowing anyone help you learn to put yourself out there and talk to strangers, which I assume would be helpful as a public speaker?
That's such an interesting question. I've never even thought of that. But, yeah, it's kind of like you're forced to just get in there. You're forced to talk to people. You're forced to get out of your comfort zone.
Now that I'm thinking about it, moving here by myself had to have helped me have a "give zero f***s" attitude because you're not going to want to be out here by yourself forever. You have to just put yourself out there and if people don't like it, then move on to the next and hopefully make a friend somewhere else.
Is there any success that you've had that you think wouldn't have happened without going to college?
I think by taking different types of classes, learning different types of things—even if I haven't retained the information—having those conversations has made me more well rounded and I think that helps me in anything I do. I miss college. I'm so thankful for it. I loved every second of it when I was at LMU.
Knowing how your life has turned out, is there anything you know now that you wish you knew in college?
As much as I like to plan and prepare for things, sometimes it's the most random, weird thing that's going to set you on a whole different path. Every single day there are opportunities to meet someone new, who might introduce you to someone, who might introduce you to somebody else, who then gets you to a certain point.
In college, I was like, "What the f*** am I gonna do with an English major? How am I going to have a career after this?" I wish I knew tomorrow you're going to meet someone who's going to figure that out and that's just going to continue to happen.
If you have thoughts of suicide, confidential help is available for free at the National Suicide Prevention Lifeline. Call 1-800-273-8255. The line is available 24 hours every day.