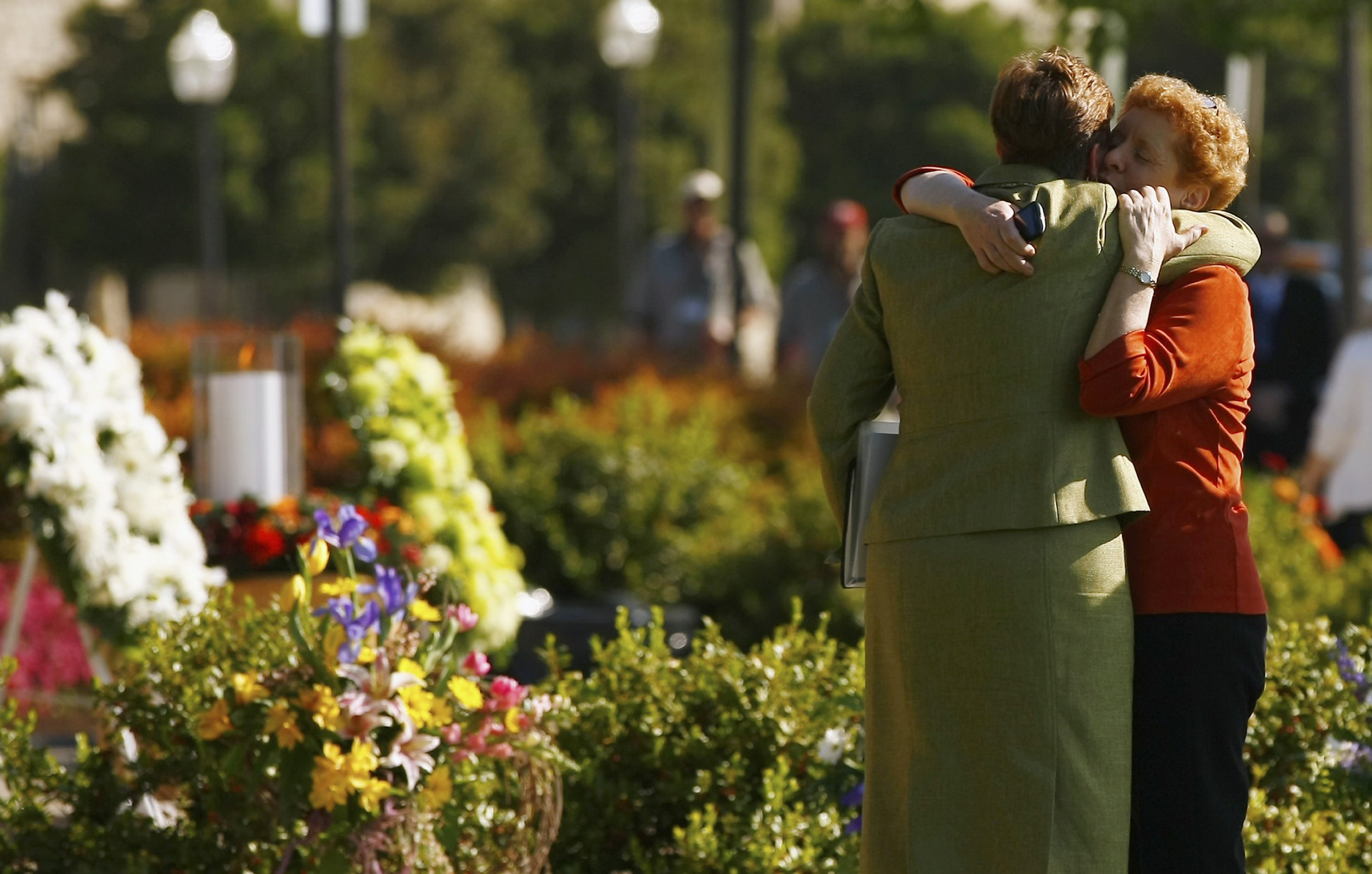 It takes a while to adjust to getting shot at, certainly if you are a 20-year-old sophomore biology major sitting in German class. At first, Derek O'Dell thought the slight young man dressed in dark clothes and holding a gun was playing some kind of bad joke. Then he saw the shell casings popping out of the pistol as the shooter opened fire. "I saw his eyes, too," O'Dell recalled to NEWSWEEK. "That's probably the scariest thing. There was nothing there, just emptiness almost. Like you can look in people's eyes and you can see life, their stories. But his—just emptiness."
Cho Seung-Hui had a life and a story, but he seemed determined not to share it with anyone, except in dark dreams and then in a final spasm of killing. At Virginia Tech, and possibly at home long before he went away to college, Cho lived in his own bleak little world. He rebuffed the efforts of teachers and roommates to reach out to him and scared away the rest. He imagined a supermodel girlfriend named Jelly, and as her fantasy lover called himself Spanky. Other times he called himself "Question Mark." He slept with his lights on and moaned in his sleep. And yet he was weirdly expressive, scrawling on the wall of his dorm room the yearning lyrics of a song called "Shine." ("Give me a word/Give me a sign/Show me where to look ... Tell me what will I find/Oh, heaven, let your light shine down.")
In between murdering two students a little after 7 a.m. and 30 more shortly after 9:30, Cho went to the post office to mail a package to NBC News in New York (delivered a day late because he had the wrong zip code). The package included a rancid manifesto in which Cho casts himself as a kind of avenging angel against the "Christian Criminals" who have raped and sodomized, humiliated and crucified him and others he describes as the "Weak and Defenseless." He seems to blame the wealthy for his suffering. "You had everything you wanted," he taunts. "Your Mercedes wasn't enough, you brats? Your golden necklaces weren't enough, you snobs? Your trust fund wasn't enough? Your vodka and cognac weren't enough?"
But his rantings are largely incoherent. He poses as "Ishmael Ax," possibly a reference to Abraham's son, cast from the wicked. He is a terrorist who calls himself an "Anti-terrorist," and pays homage to "Eric and Dylan," the two videogame-addled teenagers who killed 13 students at Columbine High School in 1999 and seemed to set the standard for the depressingly American pattern of school and workplace shootings. (Until Cho came along, the record holder for campus carnage was Charles Whitman, who in 1966 climbed to the top of the University of Texas Tower in Austin and murdered 16 people and wounded 31 others with a hunting rifle.)
Somehow, somewhere, someone planted an evil seed in Cho—if not the Devil himself, then conceivably some stranger or relative. Any private harm done was deeply exacerbated by the feelings of alienation and humiliation a Korean boy can feel caught in the desperate race for academic success.
Cho was trapped in a generational warp, neither quite Korean like his parents nor American like his peers. His parents turned to the church for help with his emotional problems, but he was bullied in his Christian youth group, especially by rich kids. "Cho was a smart student who could understand the meaning of the Bible," recalled his boyhood pastor at Centreville (Va.) Korean Presbyterian Church, who asked not to be identified in an interview with NEWSWEEK to avoid further media inquiries. But the pastor doubted that Cho believed the words. In his diatribe, Cho castigates Christians—and compares himself to Jesus Christ, martyred on the cross. Cho's progression from lonely boy to mass murderer is full of omens and portents and twists—a modern tragedy that might have been avoided, if only anyone had been able to see what he saw with those dead eyes.
Cho was born in South Korea; his parents lived in a grim little two-room apartment in Seoul. Cho's maternal uncle, identified in the Korean press only as Kim, said he was a quiet boy, certainly compared with his older sister, Sun-Kyung. Like tens of thousands of South Koreans, Cho's family immigrated to the United States in 1992 to pursue the American Dream (the Chos have been living in a cream-colored row house in suburban Virginia worth $400,000), but, most important, to get an education for their children. Cho was 8 years old at the time.
It is hard to exaggerate the premium that many Korean immigrants place on admission to highly selective American universities. The Ivy League is preferred. "Local Korean TV [in the United States] will even broadcast who gets into which college," says Jeff Ahn, president of the League of Korean Americans in Virginia. Sun-Kyung went to Princeton and majored in economics (she turned down Harvard). Cho's father worked 12 hours a day as a presser in a dry cleaner to help pay for it, going to the parking lot to eat his lunch while sitting in his car. The elder Cho rarely spoke, except to say how proud he was to have his children in college. (Uncle Kim recalled to Korean reporters that his sister talked a lot about her daughter who went to Princeton, but not much about the son at Virginia Tech.)
Virginia Tech is a fine school, but it's not the Ivy League. (Nor, despite Cho's rants against rich kids, are its students very affluent.) Interested in writing moody and sometimes violent plays and poetry, Cho doesn't appear to have been the dutiful son. A friend of Cho's father told Ahn that he had visited the family when Cho was in high school and had been offended when the boy refused to say hello. "He's supposed to bow his head; instead he just walked down into the basement and played videogames," recounts Ahn. Cho was equally aloof at his affluent, mostly white high school. One classmate, Chris Davids, described to an Associated Press reporter how Cho was mocked in class for reciting an assignment in an oddly guttural accent. "As soon as he started reading, the whole class started laughing and pointing and saying, 'Go back to China'."
At Virginia Tech, some of his classmates tried to include him. His suitemates took him to a frat party, and he indulged in drinking games, downing vodka and Kool-Aid and playing beer pong. He was adept, if a bit joyless, at lobbing Ping-Pong balls into cups of beer. "Down to the last shot, he made it, without any expression in his face," one of his suitemates, Andy Koch, tells NEWSWEEK. Cho set up his own groups on Facebook with names like "The Cool Kids" and "Be Cool," though he clearly felt he was not. His dorm room was as affectless as he was—no posters or photos, just bare cinder block.
Most of the time, he hardly spoke. "I would see him walking to class, and I would say 'Hey' to him, and he wouldn't even look at me," Joe Aust, 19, his randomly assigned roommate this year, tells NEWSWEEK. Cho did not appear to have any real friends. He ate alone and rode his bicycle in circles in the parking lot. "He just seemed strange," says Karan Grewal, 21, who shared the same dormitory suite. "He didn't seem dangerous in any way."
And yet there were signs. In the fall of 2005, Cho frightened his English teachers and some of his classmates. Writing about death, surprising other students by sneaking photographs of them (he aimed his cell-phone camera at women from underneath his desk, reportedly), Cho almost never spoke in class himself. When some students began avoiding class because of him, his poetry professor, Nikki Giovanni, interceded. Either, she said, he had to change the sinister content of his poems or drop the class. "You can't make me," Cho responded to her, according to an account that Giovanni gave The Washington Post.
Cho was a particular trial to the codirector of the creative-writing program, Lucinda Roy. In a series of media interviews last week, Roy wearily described trying to help, or get help for, Cho. She found him "arrogant" and "obnoxious," and so withdrawn that she felt as if she were speaking to a "hole." Yet she tried to tutor him one-on-one and offered to walk him to counseling. He refused to go with her, saying only that he would think about it. Alarmed, Roy waved red flags around the Virginia Tech bureaucracy. She tells NEWSWEEK that she notified the Division of Student Affairs, the Cook Counseling Center, the Schiffert Health Center, the Virginia Tech police and the College of Liberal Arts and Human Sciences. (A police source who did not wish to be identified discussing a sensitive matter says that Roy did not ask for help, but rather suggested she would take Cho "under her wing.")
Roy ran smack into the higher-education version of "Catch-22." To encourage students to seek help and to protect their privacy (after 18, they're adults for all purposes save drinking beer), universities will not release much, if any, personal or health information about a student, even to his parents. Short of a direct threat of violence, a university will not insist on the student's getting help.
Cho was not threatening violence to anyone—not exactly. However, he was creeping out at least two female students. First, the otherwise stone-silent Cho began chatting up one woman by instant message. Then he went to pay her a visit. In a rare, revealing conversation with a roommate, John Eide, Cho explained that the reason he went to see the girl was "to look in her eyes to see how cool she was." "When he looked in her eyes," the roommate recounted to CNN, "he saw promiscuity." At the girl's room, Cho introduced himself as Question Mark. "That really freaked the girl out," said Eide.
The woman called the campus cops. On Nov. 27, 2005, Cho was interviewed by police, but the female student did not press charges. The matter was referred to the Office of Judicial Affairs, the university's disciplinary system, which did nothing. Undeterred, Cho began bothering another girl, who also called the cops. Again: no charges. A police source who read the police reports said that the incidents seemed minor and did not qualify as "stalking." Cho, apparently, was shaken enough after the second incident to tell a suitemate, Andy Koch, that "he might as well kill himself." Koch called the police.
This time, Cho was swept into the community mental-health system. A judge ordered him confined briefly at the Carilion St. Albans Behavioral Health Center in Radford, Va., as "an imminent danger to self or others as a result of mental illness"—the boilerplate legal language a judge uses for temporary involuntary commitment. The next day a psychiatrist noted that Cho's "affect is flat and mood is depressed." But Cho denied that he was suicidal, and the psychiatrist concluded that "his insight and judgment are normal." He was released that same day. Eric Earnhart, a spokesman for the facility, says, "We have no wish to impede the investigation and are cooperating fully with authorities, and therefore we have no comment."
It is not clear whether Cho followed his court-ordered treatments. He may have received counseling and medication. In any case, there were no further reported incidents that year. But his addled mind still churned. In the fall of 2006, he wrote a play titled "Richard McBeef" for Prof. Ed Falco's playwriting class. The protagonist, a 13-year-old boy named John, reacts with disgust when his stepfather, Richard, rests his hand on John's lap. "I will not be molested by an aging, balding, overweight pedophiliac step dad named Dick!" says John. "Get your hands off me you sicko!" Back in his room, John mutters to himself, "Must kill Dick. Must kill Dick. Dick must die. Kill Dick." John does try to kill Dick, by stuffing a breakfast bar down his throat, but instead Dick kills John with a "deadly blow."
In another of Cho's plays, called "Mr. Brownstone," a teacher molests his students and robs them. In an interview with NEWSWEEK, Falco described Cho's work as "very adolescent, a silly kind of playwriting." In class, Falco and the students "tried to deal with him with kid gloves," says Falco. Interestingly, Falco found Cho's written commentary on the plays of other students to be lucid and thoughtful. Falco even thought he detected in Cho a faint hope of affirmation from other students when they discussed Cho's plays. But it was just "a glimmer."
Falco knew he had a problem. He conferred with Roy, and with another writing professor, Lisa Norris, who also had the troubled Cho in class. Norris told Falco that she had alerted the associate dean of students, Mary Ann Lewis. Norris e-mailed NEWSWEEK to say that Lewis tried to be helpful, but that the administrator had told her that she could find "no mention of mental health issues or police reports" on Cho. (Lewis did not respond to requests for comment.)
Cho had apparently dropped through the cracks of the university bureaucracy. University counseling services at big schools like Virginia Tech get a lot of traffic and do their best to hold their own. Hemming and hawing, university officials struggled last week to explain how Cho's earlier run-ins with the police and mental-health authorities seemed to be missing from his student records. It appears that the police reports were not passed on to the university's counseling program. Administrators talked circumspectly about "looking into things"; Gov. Tim Kaine appointed a commission.
The students knew Cho was trouble. He was memorable, says Anna Brown, 23, who was in his playwriting class. "But not in a good way," she tells NEWSWEEK. Wearing dark clothes, hiding behind dark glasses and a baseball cap pulled low, Cho never showed any emotion. Brown was "disturbed" by the violence and "grotesque jokes" in his plays. "I found myself quite curious as to why he would write something like that because, usually, you take something from your own life and sort of do a spin on it."
Brown recalled walking out of class and joking to her friends that Cho was "the kind of guy who might go on a rampage killing," she says. "He was just off, in a very creepy way."
Buying a gun is easy in Virginia, a state with a strong gun-loving population. There's no waiting period and only a minimal background check. On Feb. 9, Cho walked across the street from the Virginia Tech campus to a pawnshop, where he picked up an Internet-purchased Walther.22, a cheap handgun often used for target practice. (Cho's brush with the mental-health system may not have made it into state-police records. Under federal gun laws, background checks disqualify anyone found to be mentally impaired. The fact that Cho was released and deemed "normal" by the psychiatrist who evaluated him may have kept him off the state police's radar.) He began buying ammo at stores like Wal-Mart, and on March 13, he went upscale. At Roanoke Firearms, he used a credit card to purchase a Glock 19 and a box of 50 cartridges for $571. The semiautomatic, lightweight Glock, a favorite of police and gangbangers alike, can fire five rounds a second. A magazine of ammo, holding up to 33 hollow-point bullets (effective at tearing up internal organs), can be swapped out for another in under two seconds.
Back in his room and in his car, Cho filmed the 30 minutes of video and the 43 photos he would later mail to NBC. In the videos, he poses with guns drawn, his face grimly snarled. In one photo, he holds a hammer. Movie buffs immediately connected the dots to a particularly gruesome Korean gore flick called "Oldboy," about a man who wreaks his vengeance with a hammer and other utensils after he has been kidnapped and held for 20 years for no particular reason. Film aficionados also detected the work of director John Woo ("Face/Off") and the movie "Taxi Driver." It's not known if Cho had seen any of those films.
Cho began to spend time at a local target range. He reportedly began bulking up at the gym, and shaved his head military style. Actually, he rode the stationary bike "like a 70-year-old woman," says Koch. Still, he was sleeping even less, rising earlier, getting ready to make his dark fantasy a reality.
At 5:30 a.m. last Monday, Cho's suitemate Karan Grewal was just finishing an all-nighter studying when he crossed paths with Cho in the bathroom. Cho looked away, the same blank expression on his face. Grewal recalls that Cho brushed his teeth and applied acne cream to his skin. That was the last Grewal saw of him.
It's not clear why Cho picked Emily Hilscher as his first victim. They shared no classes, and her room was in a different dorm, tucked away behind the elevator, hard to find unless you were looking for it. But Hilscher was a very pretty girl with bright blue eyes, and Cho may have seen her saying goodbye to her boyfriend, Karl Thornhill, when he dropped her off at the West Ambler Johnston dorm at about 7:05. Cho may have followed Hilscher back to her room and shot her, then shot the resident adviser, Ryan Clark, who lived next door and may have tried to intervene. Cho vanished, leaving only some bloody footprints.
When Hilscher's friend Heather Haugh, 18, returned to her dorm room at West A.J. from her boyfriend's at around 8 a.m., she was questioned by detectives. She mentioned that Hilscher's boyfriend, Thornhill, owned guns and that he'd recently taken Hilscher and Haugh to the shooting range. The detective seemed to seize on these facts. "They assumed it was something domestic, that he was after her," Haugh tells NEWSWEEK. Haugh protested that her friend and Thornhill had "an amazing relationship" and that he "wasn't violent," but the police seemed "convinced" that Thornhill was the prime suspect, says Haugh. The police were soon questioning Thornhill and searching his home for the murder weapon. The manhunt would prove to be a catastrophic diversion. (In homicides, the first suspect is usually the boyfriend or spouse. Police have said that they were doing the best they could with the information they had at the time.)
Virginia Tech's president, Charles Steger, had been through campus emergencies before. Early last fall, a prison convict had escaped near the university's sprawling, 2,600-acre campus in rural Virginia, and gunned down a hospital guard and a sheriff's deputy. Steger had ordered some students to evacuate their classroom building. But as he discussed what to do this time around with other top university officials, he recalled having some second thoughts about that earlier decision. What if an evacuation meant sending the students right into the cross hairs of the shooter? Maybe it was better to keep them where they were and not arouse panic.
As Steger and his lieutenants debated in the University Board Room in Burress Hall at around 9:45 a.m., a police report came in: there had been another shooting. Steger thought he heard something that sounded like gunshots. He looked up, he recalled to NEWSWEEK. He wondered if the noise was coming from a nearby construction site. Then he noticed police running toward Norris Hall. Steger ordered security to lock the doors to the president's office. "I thought it could be a target," he says.
Derek O'Dell, the sophomore biology major taking Elementary German, also thought the popping sounds were coming from nearby construction. Someone in the class wondered aloud if the noises were gunshots, but someone else said no; gunshots are a lot louder. Then a man dressed in a black leather jacket, dark-colored jeans and a cap entered the room. He did not say anything or hesitate.
He shot the teacher, Christopher James Bishop, in the head. Then he gunned down the people near the front of the classroom, room 207, and started down the aisle, executing students. O'Dell dove under his desk and began to crawl toward the back of the classroom. He could feel tingling where a bullet had entered and exited his upper arm. O'Dell heard the shooter reload his gun ("in like two seconds") and methodically and purposefully resume his killing.
And then he left. O'Dell looked up at his few surviving classmates. "Their faces were white," O'Dell recalled. No one spoke, lest the killer return.
Next door, in room 211, Madame Jocelyne Couture-Nowak was teaching Intermediate French when the banging began. "Please tell me that's not what I think it is," she said. "We told her it was no big deal," Colin Goddard, 21, later recounted to NEWSWEEK. "There has been a lot of construction going on at Norris—people were complaining about it all semester." Still worried, Couture-Nowak opened the door and peeked into the hallway. She immediately shut the door. "She had this terrified look on her face," Goddard recalled. "Call 911," she said.
Goddard was clutching his phone, talking to the 911 operator (who was having trouble understanding him), when he glimpsed the killer. "He just started down the rows of desks, shooting people multiple times," he says. "He didn't say anything. He didn't demand anything. He was just shooting." Goddard dropped the phone, fearful the shooter would hear the 911 operator. A classmate picked it up and begged the police to hurry. The killer turned toward the woman and shot her in the back; hearing a voice could have gotten his attention, Goddard thinks. Then he shot Goddard in the leg. Goddard played dead. "Nobody tried to get up and be a hero," he recalled.
Back in room 207, O'Dell scrambled over the desks and sprinted to the door. "I knew if he got back through that door we would all be dead," he recalled. He and three other survivors took turns trying to brace the door with their feet and hands, while trying to keep their bodies away from it. It was awkward, but there wasn't much else they could do. The podium was bolted to the floor, and the chairs and desks were too light to use as bulwarks. The second-story windows seemed too high to jump from (though some students did leap out of other classrooms). The students spoke in hushed whispers. They could hear blood gurgling from someone's throat and another gasping for breath.
Within two minutes, the gunman was back. He beat loudly on the door and budged it open an inch. Firing about five shots around the door handle, he gave up. There were still plenty of other targets.
In room 211, the door burst open again. The killer had returned. "He came in and started going around the room again, shooting people," Goddard recalled. Up one aisle, down another, until he reached Goddard. Still feigning death, Goddard felt a bullet punch into his shoulder, another into his buttocks. Lying still, he heard a few more shots. Then a single shot. Then quiet.
The police arrived, yelling at the survivors to put up their hands. Cho had chain-locked the main doors of Norris Hall, and police had to use a shotgun to blast their way in. It may have been when Cho heard the shotgun blast that he put his pistol to his head and blew his face off. He had fired as many as 200 bullets.
Virginia State Police Sgt. Matthew Brannock, 31, had taken cover behind his car. He had felt vulnerable without his bulletproof vest and ran up into a breezeway that connects the two sides of the H-shaped Norris Hall. When the shooting stopped, he ran in. "The amount of blood in the hallway—" Brannock later recalled, groping for words. "There were bodies all over. It was just overwhelming. I had never been in a war environment, but I thought, this must be what it's like. Disaster and chaos. People screaming and crying, sobbing out in panic."
Snapping out of it, Brannock helped carry out a badly wounded woman, while trying not to slip on the blood. Three more times he went back to pick up the wounded, until they were all evacuated. The shock began to sink back in. He has not slept much since.
From the hospital, Colin Goddard reached his mother by cell phone. He told her he had been shot. "Come," he said. Anne Goddard, the newly installed CEO of the Christian Children's Fund, flew from Richmond to Blacksburg, Virginia Tech's home, in an executive jet borrowed from a board member. In gusting, 40-mile-an-hour winds, she recalled, "it was the scariest ride of my life." Colin's sister, Emma, tried to calm her mother by getting her to sing "99 Bottles of Beer." Anne found her son badly wounded but alive and even alert from adrenaline. By Thursday, Goddard had gone for a brief walk, a steel rod in his leg. "I never thought I'd be shot three times and still be here. I guess if I can live through something like that, then I can do a whole lot more than I thought I could."
Anna Brown, the playwriting classmate who had found Cho to be ominously "off," was working at her job at the Inn at Virginia Tech when she heard that Cho had been identified as the gunman. "I just started bawling, I started crying. I had this gut feeling that it was him." Andy Koch, Cho's suitemate from 2005-06, was not entirely surprised. After trying to include Cho in parties, Koch had tired of Cho's weird and standoffish behavior and, along with John Eide, begun to snoop in his belongings (they had found nothing more threatening than a pocketknife). "We always said if someone were to shoot the school up, it would be Seung," said Koch, using Cho's given name.
Watching the TV replay the clip of Cho spewing his hateful rant at the camera, Cho's boyhood pastor was in a state of near disbelief. "This is not Seung," he told himself. For one thing, he had never seen Cho complete sentences. "When I asked him to pray, he waited for a minute to start speaking, and prayers were always short, very short," he recalled. He had worried about Cho's getting bullied as a boy. But he had never been rebellious. "I felt him a little autistic and advised his mother to take him to hospital. But she did not agree with me. I now repent for not urging her strongly." (Medical experts say there is no link between autism and violence.)
"We feel hopeless, helpless and lost," said Cho's sister, Sun-Kyung, in a statement last week. "This is someone that I grew up with and loved. Now I feel I don't know this person." There had been a time, family friends remembered, when Cho had been just an 11-year-old boy, good at math and basketball, quiet, but still in the range of normal—a boy who still had a future.
Shot in the arm, Derek O'Dell was well enough to walk, though not run, in a Relay for Life at Virginia Tech last Friday. He said he would be back in class on Monday. "Once you're a Hokie, you're always a Hokie," he said, using the school's nickname. But he can't watch the tapes of Cho shown on TV. The memories of the gunman's hollow eyes still haunt.