'Trailer Park Boys' Animated Series Kills Lahey: Death is a Sh*t Hawk
While the end of Trailer Park Boys Season 12 includes a moving dedication and goodbye to series regular John Dunsworth, who died in 2017 after a brief illness, it's only with the March 31 release of Trailer Park Boys: The Animated Series that the final fate of Dunsworth's character has been revealed. Dunsworth played Sunnyvale Trailer Park supervisor Jim Lahey, a former cop whose over-the-top alcoholism complicated his mission to enforce order. In the premiere episode of the series, Lahey is carried away by a literal sh*t hawk, a fitting end to a character known almost as much for his scatological musings as for his superhuman liquor consumption.
The last episode of Trailer Park Boys Season 12, the fourth and final live-action season to premiere on Netflix, ended with a dedication to Dunsworth: "In Loving Memory of Our Friend, Our Mentor, Our Hero," followed by a message from Dunsworth himself, in costume as Lahey, but not in character.
"You know what the best currency is? And I just thought about this yesterday. The best currency, the most valuable of all, is gratitude," Dunsworth says to the camera. "When you're dead, you're dead, but you're not quite so dead if you contribute something."
His character Lahey is last seen on-screen in a prison cell with the other main Trailer Park Boys characters, including Lahey's boyfriend Randy (Patrick Roach) and the small-time crooks they frequently tried to bust—Julian (John Paul Tremblay), Ricky (Robb Wells) and Bubbles (Mike Smith). To avoid a longer jail sentence, they had collectively eaten two gallon bags of hallucinogenic mushrooms before their capture by police. The episode ends as the psychedelic drugs kicking in, transforming them into the animated avatars now appearing in Trailer Park Boys: The Animated Series.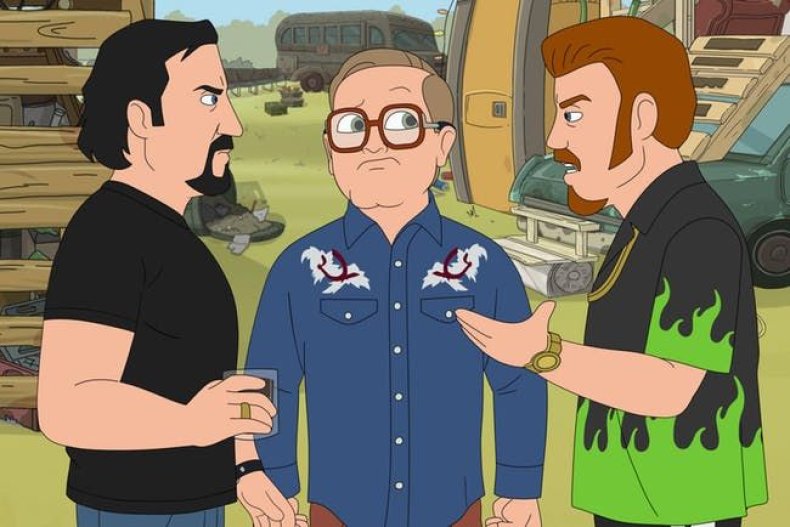 While Season 12, which premiered five months after Dunsworth's death in 2018, includes Lahey throughout, the animated series only briefly features the character in its first episode. According to Sarah Dunsworth-Nickerson—Dunsworth's daughter who also plays the character Sarah on Trailer Park Boys—Dunsworth's real voice is used in the animated series.
Shortly after getting out of jail in the premiere episode of Trailer Park Boys: The Animated Series, "Long Story Short… A Bear Ripped My C**k Off and Ate It," Lahey and Randy wait at a bus station for a ride back home to Sunnyvale trailer park.
"Sh*t hawks, big sh*t hawks, look Randy," he says, before a giant bird of prey swoops down and carries him away. "I love you bud," he shouts down to Randy.
While Lahey often invokes sh*t-based analogies, including "the sh*t tornado to Oz," "your hemisphere of sh*t," "sh*t rope," "the old sh*t clock is ticking," "sh*t flowers," "sh*t typhoon," and "a hair-trigger double barrel sh*t machine gun," this time the expletive was literal. Sh*t hawks have also been previously invoked, which suggests that Lahey's lines in The Animated Series are recycled from existing audio recordings.
Lahey makes one more appearance in the premiere episode, when Randy finds him in the bottom of a bottle (where else?), "I'm in a good place, not a care in the world," Lahey tells Randy—after curling out of a whiskey bottle like a genie—before gifting him control of the trailer park and advising him to let the liquor figure everything out for him. It's a half-sentimental, half-absurdist sendoff for Lahey.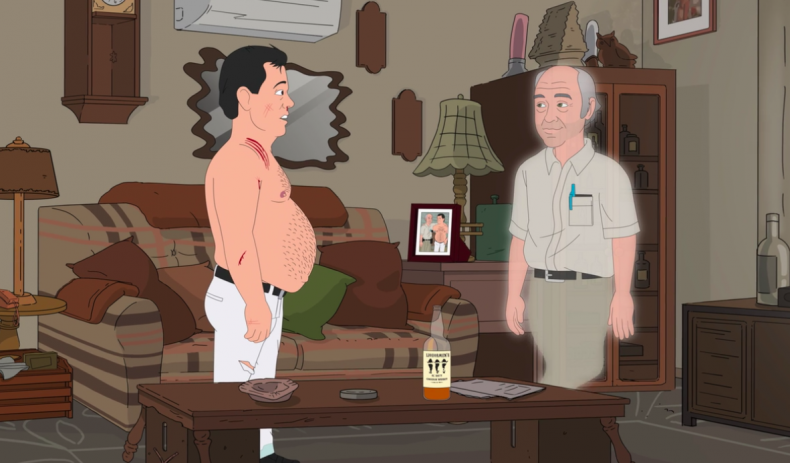 Trailer Park Boys: The Animated Series is now streaming on Netflix.