Train Operator Hosts Seat-Yoga Sessions for Stressed Commuting Passengers
Heathrow Express commissioned a yoga instructor to host 12-minute yoga sessions on Wednesday in the 'tranquil train' in an attempt to ease stress levels for travelers.
Celest Pereira, a yoga influencer, was commissioned by Heathrow Express to host live yoga classes after a study showed more than half of commuters are stressed about public travel. The session involved 12 minutes of seat-yoga, breathing exercises, and a guided meditation for relaxation. It is a beginner course that allows travelers of all ages and abilities to participate.
When passengers walked into the 'tranquil train' they were met with fresh eucalyptus and lavender decorations filling the luggage storage. The lavender and eucalyptus exuded an aromatherapeutic scent for passengers.
The idea was commissioned after a study found that over half of passengers felt stressed while traveling during the pandemic. The study, also commissioned by Heathrow Express, involved 2,000 adults, 72 percent said they wanted conductors to make the travel experience more relaxing, SWNS reported.
According to multiple studies, yoga is proven to reduce stress levels and encourage presence. One study conducted in the Netherlands found that yoga helped some people who suffered from chronic depression. Other studies also show that yoga can help people suffering from PTSD.
"Right now people are really struggling," Pereira told SWNS. "We've gone through the pandemic, they're going through actually a post-pandemic flux syndrome where we've been on the highs of being released into the world but also the lows of having a depression of being stuck and not being connected to other people."
Pereira said this is an important time to reconnect with people and focus on mental wellbeing. "Travelling can get very fraught," she said. "By hosting these classes we're hoping to alleviate those pressures and help passengers be in the present moment, feel less overwhelmed, and relieve any muscle tension."
Some of the stretches included in the session were neck stretches, controlled slow breathing to lower heart rate, ankle circles, and stretches for the shoulders, hands, chest, and hips.
The study commissioned by Heathrow Express identified some of the most stressful aspects of public transport. 52 percent of respondents said it was delayed departures and 48 percent said it was the crowds. The study also found that 47 percent of respondents got aggravated when missing public transport.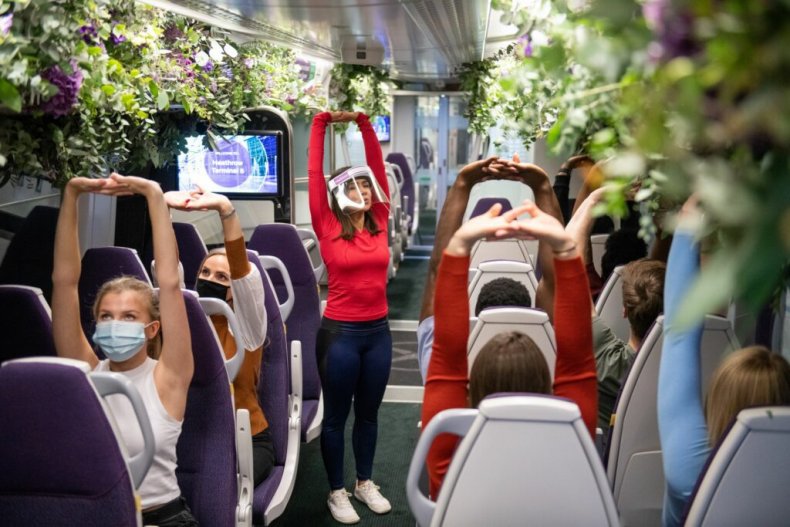 About 43 percent said attempting to find a seat was agitating, and 40 percent reported worrying that they forgot something such as a ticket or passport.
"There's no reason why travel can't be tranquil – and often it's about training your brain to think a little differently," Pereira said. "That's largely what these meditation and yoga sessions are doing – they aim to help passengers clear their heads through breathing exercises and particular body stretches."
For future passengers who missed the live session, Heathrow Express will be playing a video of the 12-minute session for travelers onboard. "Hopefully initiatives like the 'Tranquil Train' will ease worries and help to relax passengers as they get back to traveling following the COVID-19 pandemic," a spokesperson for Heathrow Express told SWNS.