Passenger's Reason for Refusing to Give up Seat for Child on Train Praised
A post about a train traveler who refused to give up their seat for a kid has gone viral on Mumsnet, the U.K.-based online forum, receiving over 3,200 votes and 300 comments.
In a post shared on Mumsnet's Am I Being Unreasonable (AIBU) subforum, user TrainSitu wrote that they recently had shoulder surgery but "don't look injured" because they are no longer wearing a sling.
The user explained they were in a seat with a table on a train when a mother told the passenger: "I've got 3 children who need a seat, please can they have yours." When the poster explained they recently had shoulder surgery, "so standing on a packed train would be too painful," the mom kept pointing out that she had three kids.
The poster asked: "AIBU for not moving?"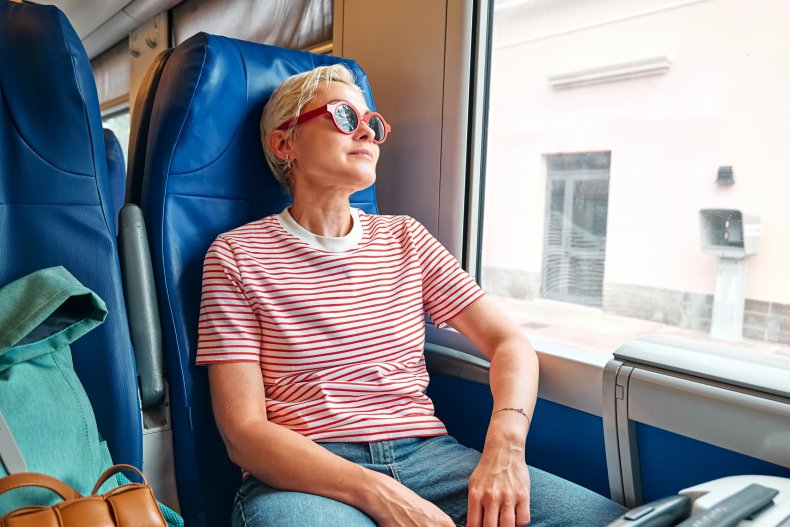 While the user in the latest post was dealing with a temporary condition, "nearly one in three people in England have a long term condition, and many of these conditions are 'invisible' or not easily noticeable to someone else." This is according to the Care Quality Commission, the independent regulator of health and adult social care in England.
Invisible disability expert and optometrist Dr. Diana Driscoll wrote an article for Disabled World, the online community and information resource for people with disabilities. She explained that "approximately 157 million Americans were afflicted with a chronic illness in 2020, and the U.S. Census Bureau estimates 96 percent of chronic illnesses are invisible."
In a later comment, the user in the latest Mumsnet post explained: "She [the mother] asked me to give up my seat so that she could sit with her kids/kids have a seat. I was sat at a table, so two either side."
The user wrote that the "issue was though asking me to stand would have meant I had absolutely nowhere to sit as the train was absolutely packed and I would have been standing for an hour."
The user didn't give up their seat and told the mom: "I'm not particularly bothered by the amount of kids you have but I will be staying in this seat as I need it too. If you have any issues please go speak to the train conductor." The poster wrote: "The look she gave me could kill!"
A man who helped put the poster's large bag on the overhead rack above the seat earlier ended up telling the mom to leave the passenger alone, "as she kept repeating about her three kids," the user explained.
Both Parties Were 'Antagonistic'
Laura Windsor, an etiquette and protocol consultant and founder of the Laura Windsor Etiquette Academy in London, told Newsweek that both exchanges in the latest Mumsnet post were "rather antagonistic."
Windsor, who received her etiquette training from a former member of The Royal Household of Queen Elizabeth II, said: "Both gained nothing by their comments—the mother was furious, and the other person probably was not proud of what she had said. It just creates negativity all round, even to those sitting or standing around them.
"Kindly behavior leads to a more comfortable and pleasant atmosphere—it helps individuals become nicer through the use of empathy and consideration towards others."
The mom's question was posed "without any sense of politeness," and she "expected" the person to get up. "Manners dictate that we do not expect people to do things. We do not tell others what they should and should not be doing," Windsor said.
She added that the mom was being "totally dismissive and lacking in empathy" by repeatedly stating that she had three kids, "assuming that her needs were more important than the other person's."
The etiquette expert said the poster was "also rather rude in her last response." They could have responded instead in a way that "helps validate the request [from the mom] and shows empathy for her situation at hand."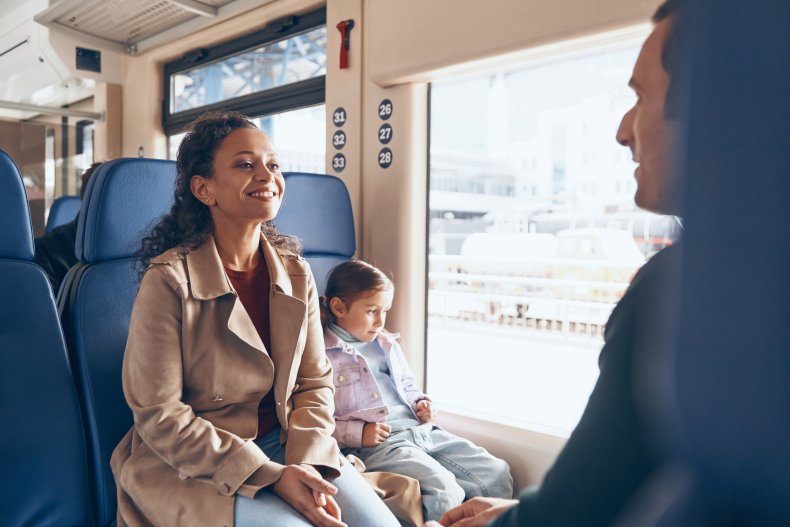 'Never Engage or There Could Be Rage'
Etiquette expert Lisa Mirza Grotts, the author of A Traveler's Passport to Etiquette, told Newsweek: "It's common courtesy to give up your seat if someone needs it more than you. The list goes on: a pregnant woman, a woman with a baby, or the obvious–an elderly passenger or disabled person."
But could the situation in the latest Mumsnet post have been handled better on all parts?
The author said: "One of my favorite etiquette idioms is 'Never engage or there could be rage.' The mother of three could have handled this better by asking the driver for help.
"However, a young child is someone who is not in need of a seat. Not knowing the exact scenario, my guess is the mother was overwhelmed and wanted seats to try to get a handle on her family," she added.
Resist the Urge to 'People-Please'
Life coach Annie Henderson, who "specializes in working with people-pleasers," told Newsweek: "Giving up seats on public transport can be something that was taught to us from childhood, something we just naturally do, or something we are compelled to do out of guilt and compliance."
Henderson said that the poster "handled the situation very well," especially given "the repeated commentary and ignoring of" their reasons for having to stay seated.
The life coach added: "The fact that another traveler even spoke up for them gives us some additional insight of what it may have been like to actually have been there. They were supported by others and the way they handled it allowed the situation not to escalate."
'No Reason Why You Should Need to Move'
Several users on Mumsnet sided with the original poster.
User Indáirire wrote: "You were absolutely in the right. Really cheeky to ask you to move," while Lkydfju added: "There's no reason why you should need to move in that scenario. Unless they're little kids then kids are more able to stand than adults and if all three were little (under 5 for example) I'm sure they could have shared."
Hbh17 posted: "YANBU [you are not being unreasonable]. As children, our parents always made us stand on public transport if adults needed a seat. I don't see any reason why that should have changed."
Newsweek was not able to verify the details of this case.
Have you experienced a similar dilemma? Let us know via life@newsweek.com. We can ask experts for advice, and your story could be featured on Newsweek.