Three Dead After Train Derails in Scotland
Three people have died after a train in Scotland derailed, causing the engine to burst into flames.
The train is said to have derailed on the line between Aberdeen to Dundee at around 9.45am today, with emergency services at the scene.
Video footage and pictures from the scene showed flames and smoke billowing from the site of the crash.
Around 30 emergency service vehicles responded to the incident, including an air ambulance.
Four passenger carriages are reported to have come off the track at Carmont near Stonehaven in Aberdeenshire.
British Transport Police tweeted: "We're currently responding to an incident on the line in Stonehaven, Aberdeenshire, where a train has derailed.
"Officers were called to the scene at 9.43am and remain there alongside paramedics and the fire brigade."
The First Minister of Scotland Nicola Sturgeon described it as an "extremely serious incident" and said there were early reports of "serious injuries".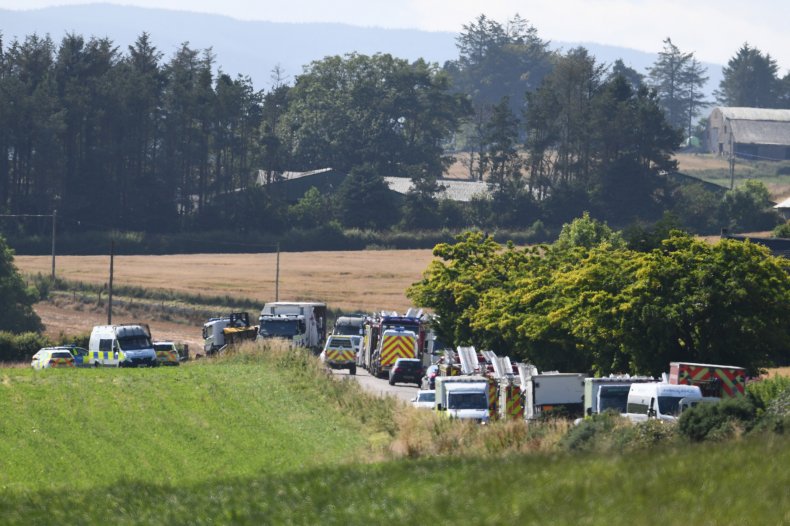 Prime Minister Boris Johnson has said his thoughts are with those affected by the derailment.
He tweeted: "I am saddened to learn of the very serious incident in Aberdeenshire and my thoughts are with all of those affected.
"My thanks to the emergency services at the scene."
The derailment comes as heavy rain and thunderstorms caused widespread travel disruption across parts of central and eastern Scotland.
Kevin Lindsay, the Scottish organiser for train drivers' union Aslef, said: "We are aware that this is an extremely serious incident and our thoughts are with everyone involved."
Transport Secretary Grant Shapps has said that he has met with Network Rail to discuss the incident and that the U.K. government will provide every support that is needed.
Mick Lynch, the assistant general secretary of the Rail, Maritime and Transport union (RMT), said the facts behind the cause were yet to be established.
He said: "RMT is aware of the major incident at Stonehaven and our reps are liaising directly at senior level with both ScotRail and Network Rail.
"Our priority at this time is to support our members, their colleagues and their families and to do all that we can to assist the rescue operation which RMT members are currently involved in.
"The facts behind this incident will need to be established in due course but at this stage we are focused on support and assistance and our thoughts are with all those impacted by this tragedy."