Train Workers Detail the Dangers of Life on the Tracks and Call for Help
When a train carrying hazardous materials derailed near East Palestine, Ohio, last month, there were three people on board who were the first to witness the crash.
The Norfolk Southern train running 151 cars long and covering more than 9,300 feet of track burst into flames when over a dozen cars hurtled off the tracks on February 3. In addition to carrying a slew of hazardous materials released into the surrounding area, the train was carrying a three-man crew left to face the fiery crash—a conductor, an engineer and a trainee.
The derailment has brought safety for rail employees into the spotlight in recent weeks, including the launch of a special investigation by the National Transportation Safety Board (NTSB) into Norfolk Southern's safety culture. But rail workers and unions have been warning of incidents like East Palestine for years, arguing that the precision scheduled railroading (PSR) model that many companies have adopted ultimately leads to additional safety risks for employees.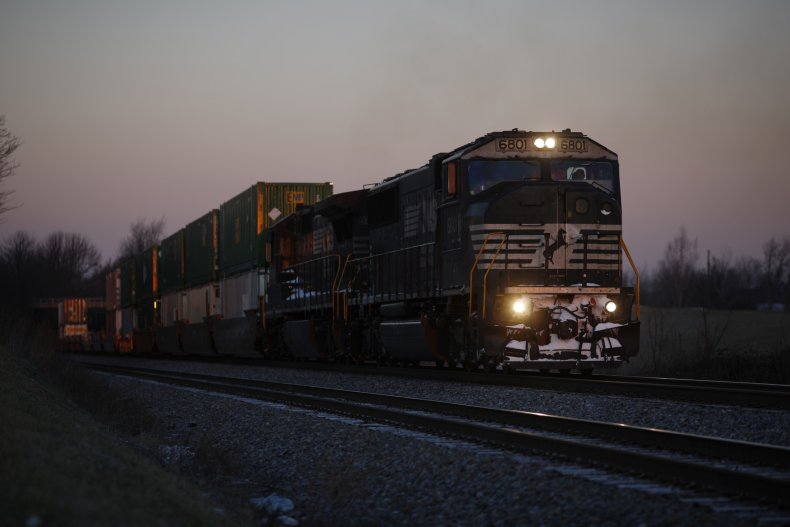 "Since all the Class I carriers started going to this PSR model of railroading, they've cut so many jobs across the spectrum," Gabe Christenson, Class I freight conductor and co-chair of Railroad Workers United (RWU), told Newsweek. "Conductors, engineers, track maintenance, signalmen, everything."
According to a December 2022 report by the U.S. Government Accountability Office (GAO), an independent watchdog working for Congress, six of the seven largest freight railroads have adopted the PSR model—a strategy intended to increase efficiency and reduce costs.
But Christenson told Newsweek that under the business strategy, train lengths have continued to grow longer and longer, and crews are often responsible to conduct safety checks with much less time and resources.
"Where guys used to take four to seven minutes per car to inspect it correctly, now they're getting like 1 1/2 minutes or less to do it," he said. "So there's a ton of safety issues that railroad workers like myself ... have been trying to fight with the [Federal Rail Administration] and state regulating boards, because we see this happen so much."
Derailments as 'Cost of Doing Business' Unacceptable
Derailments are part of life for rail workers, with the Department of Transportation (DOT) reporting over 1,000 per year since 2019. And while not all derailments are as eye-catching as the one in eastern Ohio, Christenson told Newsweek that even crashing one or two cars is a "shocking" event for conductors and on-board crew members.
"I can't imagine the people who were like right there," Christenson said about the crew aboard the Norfolk Southern train. "It's a massive, massive bang. Even if it's just a couple of cars, I mean, it's super, super loud."
According to Christenson, crew members often act as "first responders" to the scene of a train crash, contacting emergency services and determining if the derailed cargo is too hazardous to approach. In the case of East Palestine, five of the derailed cars contained vinyl chloride, a chemical used to make PVC plastic that, when burned, morphs into phosphene gas.
"You can't get too close to the cars because, you know, every good conductor before you even leave, you look at your train list," he said. "You're like OK, this is bad hazmat, that's bad hazmat ... and you have a mental note in the back of your mind where that's at."
Rail transportation is considered the safest method to move large amounts of hazardous materials across the country, reports the DOT. That conclusion is also largely agreed upon by rail workers, such as Matt Weaver, legislative director in Ohio for the Brotherhood of Maintenance of Way Employees (BMWED) and a ways and maintenance worker.
"Don't get me wrong, I don't think that these chemicals should be on the highway," Weaver told Newsweek. "On-rail is the safest, but we can do better."
"The business is good, moving freight in America is good and vital," he added. "And we keep all that stuff off the highways."
As far as the frequency of derailments go, however, Weaver said, "It should not be an acceptable cost of doing business. Not for the people, not for society."
Including the derailment in East Palestine, Norfolk Southern has had three significant accidents in Ohio alone in little over a month. On Saturday, a 2.55-mile-long train derailed near Springfield, and on Tuesday, 46-year-old freight conductor Louis Shuster was killed near Cleveland after a dump truck smashed into the Norfolk Southern train he was operating. The NTSB is looking into both incidents as part of its special investigation.
Following Shuster's death, Norfolk Southern CEO Alan Shaw released a statement online that the company will fully cooperate with NTSB's investigation.
"Moving forward, we are going to rebuild our safety culture from the ground up. We are going to invest more in safety," Shaw said. "This is not who we are, it is not acceptable, and it will not continue."
When asked for additional comment, Norfolk Southern directed Newsweek to a six-point safety plan that the company released Monday, which includes initiatives "based on the preliminary findings of the [NTSB] following the East Palestine, Ohio, derailment." The railway said it will immediately begin implementing the initiatives.
A Plea for Government Intervention
Both Christenson and Weaver said that in order to heighten employees' safety, there has to be additional intervention by the federal government to enforce regulations that are implemented both now and in the future.
"You're foolish if you think a company is going to do the right thing over profits," Christenson told Newsweek. "That's not the world we live in."
Rail unions were particularly vocal about safety concerns in the fall while the largest unions threatened a nationwide strike if demands regarding paid sick days and increased personal time off were not met. Ultimately, Congress passed a measure that forced rail workers to accept a deal with freight companies that did not include the demands to improve employees' quality of life.
Since the derailment in East Palestine, the federal government has shown a renewed focus on rail safety, including the introduction of a bipartisan rail safety bill that would ramp up requirements for freight companies.
Christenson told Newsweek that he invites any regulations from the federal government, but expressed concerns about parts of the bill that could offer freight companies "loopholes" around the new requirements, such as companies exempted from the new train crew safety standards if they have "fewer than 400,000 total employee work hours annually and less than $40,000,000 annual revenue."
"Any kind of safety and regulation, you know, I support for the most part," he added. "But not when there's loopholes like that. We're just kind of giving [companies] a way to navigate around the regulation."
Weaver echoed a similar sentiment, adding that workers need agencies like the Federal Rail Administration or the Occupational Safety and Health Administration to "enforce the laws that are there and perhaps buckle down" on freight companies.
"What I've told people is it feels like it's deferred maintenance," Weaver said to Newsweek. "They wait until something breaks or derails or there's a calamity to fix things. That's like a Band-Aid on a broken leg situation."
Update 3/9/23, 4:56 p.m. ET: This story has been updated with additional comment from Norfolk Southern.