Trains Collide in Kentucky, Derailed Cars Cause Hazardous Material Scare
Two trains in Kentucky crashed into each other and then derailed, injuring four people and prompting concerns about a potentially hazardous material.
The Sunday-night crash in Georgetown occurred when one train unexpectedly came to a stop and the other rammed into it, causing the derailment and also a fire, WLEX reported. The crash initially prompted officials to evacuate nearby residents, because it was unclear what substance was leaking from a tanker on one of the trains, raising concern that it was a potentially dangerous material. But that substance turned out to be vegetable oil.
Residents have since been allowed to return to their homes.
"There are cars with chemicals, but none of them have been damaged, [that] we know of at this point," Georgetown Police Department Chief Mike Bosse told WLEX. "And the only fire that we have is from the diesel fuel from the locomotives themselves."
Newsweek subscription offers >
The four people who were hurt in the crash, reportedly with minor injuries, were all on the train. That included the two train engineers.
Newsweek subscription offers >
Georgetown is just east of the capital, Frankfort, and just north of Lexington, in the northern part of the state. It is also a few dozen miles east of Louisville, Kentucky's biggest city and the location of the Kentucky Derby.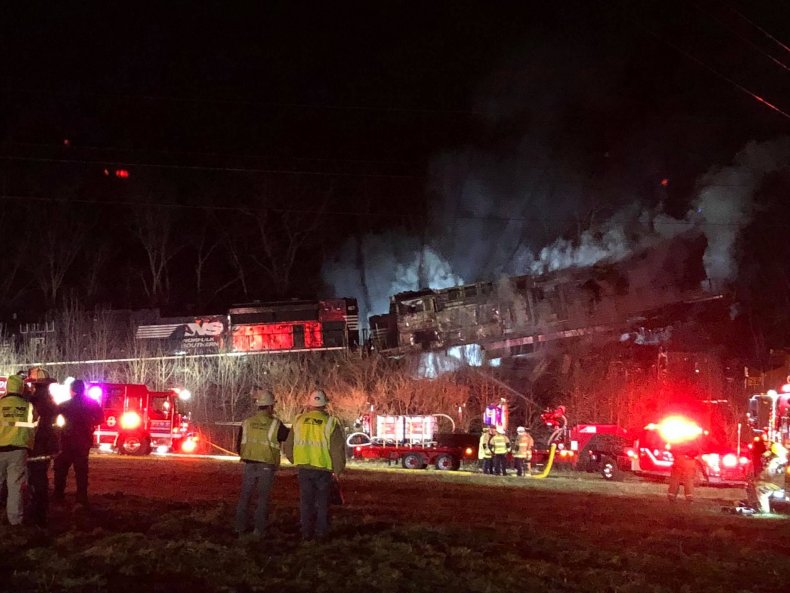 The Georgetown Police reported in the early hours of Monday morning that the "initial fire has been extinguished," but officials and emergency workers were still working at the scene of the crash at that time.
According to WLEX, between the two trains involved in the incident, there were eight locomotives and about 200 train cars.
The emergency call about the crash came in shortly after 11 p.m., Lexington Fire Department spokeswoman Lieutenant Jessica Bowman told The Associated Press. The people who were evacuated were picked up by a bus and brought to a nearby school for shelter.
Trains Collide in Kentucky, Derailed Cars Cause Hazardous Material Scare | U.S.