Trains Delayed as Officials Investigate Smoke in World Trade Center
New York commuters were sent into a panic Monday evening as a subway train under One World Trade Center hit an object and filled the station with smoke, according to officials.
Although no injuries were reported, the incident caused multiple train delays and occurred at a Manhattan subway station serving a location that's been the target of previous terrorist attacks.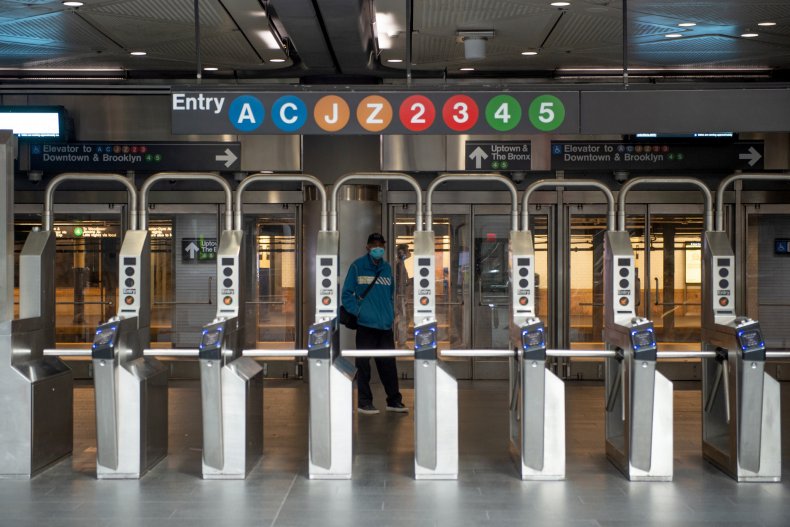 At 7:23 p.m. local time, a crew operating a southbound 4 train reported hearing a "bang" noise followed by smoke, a spokesman for MTA told Newsweek. There were no injuries and no fire was seen by anyone, but smoke did enter the Fulton Street Station in lower Manhattan, according to the spokesman. The cause of the incident has not been determined and could possibly be because of a mechanical issue, he said.
Social media posts show a cloud of smoke wafting through the station and commuters scurrying upstairs away from it.
MTA said on Twitter earlier Monday evening that the investigation delayed service for the 4 and 5 trains while crews conducted an investigation. Service for the 2 and 3 trains was also affected.
Firefighters responded to the Fulton Street subway station at about 7:20 p.m., officials told WABC-TV. Service was restored shortly before 8 p.m., according to the MTA spokesman.
Newsweek has reached out to the New York Fire Department for comment.
The One World Trade Center is the main building of the World Trade Center, which was rebuilt after the 9/11 terrorist attacks. Standing at 1,776 feet high, One World Trade Center is highest building in the western hemisphere and houses offices including Newsweek's.
On September 11, 2001, al Qaeda terrorists hijacked planes and crashed them into Pentagon and the World Trade Center. Another crashed into a field in Pennsylvania. Although the North Tower of the World Trade Center was the first to be hit, the South Tower collapsed first. Nearly 3,000 people were killed in the attack.
In 1993, the World Trade Center was targeted by terrorists when a bomb exploded in a parking garage in the building. The bombing resulted in six deaths and over 1,000 injuries.
The U.S. State Department issued a $2 million reward looking for information, but it would be nearly two years until officials make an arrest.
It wasn't until 1995 when a team of Pakistani law enforcement officers and agents with the U.S. Diplomatic Security Service arrested Ramzi Yousef, the driver of the truck carrying the explosives in the bombing.