'Traitor Jeff Sessions' Slammed in New Ad as Former Attorney General Launches Senate Bid
As Former Attorney General Jeff Sessions announced a run for his old U.S. senate seat, a new campaign ad accusing of being a "traitor" over his relationship with President Donald Trump had already appeared online.
Sessions was appointed attorney general by Trump and sworn in February 2017. He was fired from the position in November 2018, after many months of public disparagement by Trump due to Sessions recusing himself from the Mueller investigation on Russian interference in the 2016 election.
By the time Sessions announced his run Thursday, multiple negative ads disparaging the former senator were online. The ad calling Sessions a "traitor" uses a portion of speech where the president has harsh words for his former attorney general.
"The attorney general said, 'I'm going to recuse myself,' and I said, 'Why the hell didn't he tell me that before I put him in?' He's bad, he's a bad, bad guy," says Trump in the video.
"Time for Jeff to hang up the cleats. Say no to traitor Jeff Sessions," adds a narrator at the end of the clip.
The ad was released by GRIT PAC, a conservative expenditure committee supporting the candidacy of former Auburn University football coach Tommy Tuberville.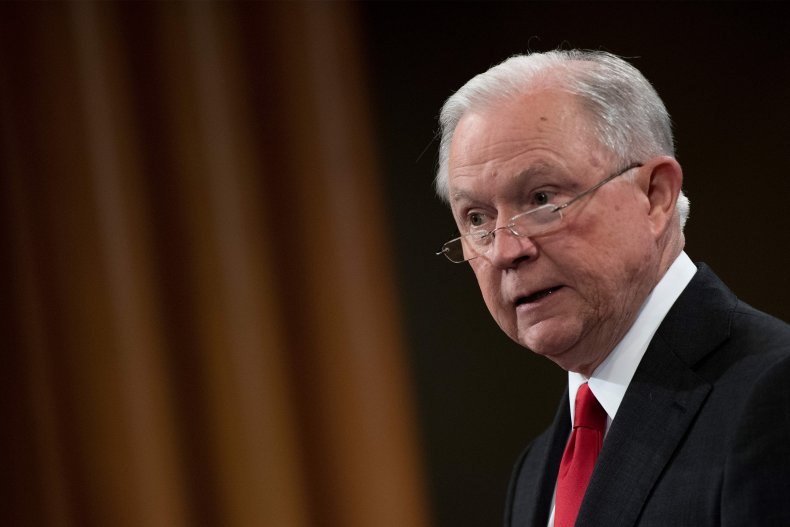 Despite his rocky past relationship with the president, the election strategy of Sessions seems to include praising his former boss. Alabama is a heavily pro-Trump state, and so far the candidates appear to be competing over who is the most devoted to Trump. Sessions lavishes compliments on the president in his announcement, claiming to be his "strongest advocate."
"When I left President Trump's cabinet, did I write a tell all book? No. Did I go on CNN and attack the President? No. Have I said a cross word about President Trump? No.," said Sessions in a statement announcing his run.
"When President Trump took on Washington, only one Senator out of a hundred had the courage to stand with him: me. I was the first to support President Trump. I was his strongest advocate. I still am. We must make America great again."
Tuberville released a different ad against Sessions Thursday that also appears to hinge on Trump's opinion of the former senator. The ad quotes Trump calling Sessions an "embarrassment to Alabama" and a "total disaster." Tuberville then appears, praising the president and stating that he wants to "help Trump fight the swamp" before expressing his desire to "save this country with Donald J. Trump."
Recent reports suggest the president privately sent a message to Sessions making it clear that he does not support him and will "publicly attack" the former attorney general upon entering the race. Senate Majority Leader Mitch McConnell is also said to be less than pleased with Sessions becoming a candidate.
The senate seat is currently held by Democrat Doug Jones, who is seen as one of the most vulnerable incumbent senators in the 2020 election. Sessions held the seat from 1997 to 2017, when he became attorney general.
The primary is expected to be contested by multitude of Republican candidates other than Sessions and Tuberville. Additional candidates include Rep. Bradley Byrne, Alabama Secretary of State John Merrill, state Rep. Arnold Mooney and Roy Moore, the former judge who previously lost the special election to Jones in 2017 amid allegations of sexual misconduct towards underage teens.
As of this writing, Trump does not yet appear to have commented on the candidacy of Sessions.