'Traitors': Dem Lawmakers Call for Removal of Republicans Reportedly Involved in 1/6
Democratic lawmakers have expressed outrage at some of their Republican colleagues reportedly helping to plan the protest that immediately preceded the January 6 attack on the Capital, calling for them to be expelled from Congress.
Democratic members of Congress reacted strongly to a Sunday report from Rolling Stone that claimed multiple Republicans had worked closely with planners of the main Washington D.C. protest on January 6. Former President Donald Trump appeared at the event and urged his supporters to "fight like hell" and march to the Capitol as Congress was meeting to certify President Joe Biden's 2020 election win.
The Rolling Stone article claimed that protest organizers worked directly with Republican lawmakers or their top staff, as well as White House staffers. It also alleged that Arizona Representative Paul Gosar told organizers that Trump was prepared to issue them a preemptive "blanket pardon." The report was based on anonymous interviews with the purported organizers and Newsweek has not independently verified the article's claims.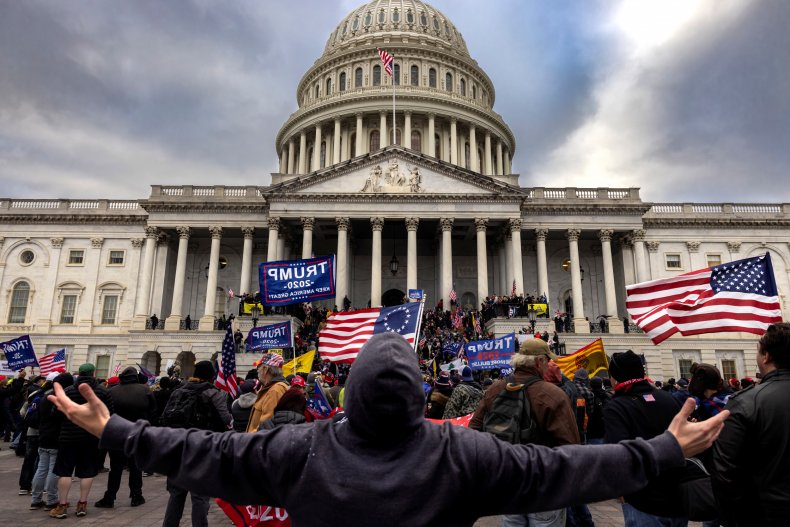 "I have angry tears right now," tweeted New York Representative Grace Meng, a Democrat. "During 1/6, I, like many, texted loved ones goodbye. Countless people have asked if I've been ok since & I've always answered truthfully that i was fine. But this article was triggering. How could colleagues be traitors? This makes my blood boil."
"And this is why i push to #EndTheFilibuster," Meng added. "Isn't saving our democracy more important than procedure? If we don't pass voter reform and other important legislation, we could lose more lives and we could have another 1/6, but this time one where the traitors actually win."
"Any member of Congress who helped plot a terrorist attack on our nation's capitol must be expelled," tweeted New York Representative Alexandria Ocasio-Cortez. "This was a terror attack. 138 injured, almost 10 dead. Those responsible remain a danger to our democracy, our country, and human life in the vicinity of our Capitol and beyond."
"This Rolling Stone article about January 6 is highly disturbing," California Representative Ted Lieu tweeted. "No one should be above the law, including Members of Congress and former White House Staff. And if pardons were indeed discussed in advance, why would that be? Because folks knew crimes were about to be committed."
Arizona Representative Ruben Gallego argued that the article was "further reinforcement" in support of the January 6 committee, while tweeting that if "any current members of Congress worked with the insurrectionists who threatened the very government they are a part of, they should be removed from office."
"Every Member of Congress that helped to plan the attempted coup of our government shouldn't be allowed to serve in Congress," tweeted New York Representative Nydia Velazquez. "I'm joining the calls for those who helped plan the deadly January 6th insurrection to be immediately expelled."
"Any Member of Congress who plotted with Jan. 6 terrorists must be removed from Congress," California Representative Eric Swalwell wrote.
"My resolution to investigate and expel the Members of Congress who helped incite the deadly insurrection on our Capitol is just waiting for a vote," tweeted Missouri Representative Cori Bush. "It's inexcusable to wait any longer."
Newsweek reached out to the Republican National Committee for comment.