Ten-Minute Conversation Can Help Reduce Transphobia: Study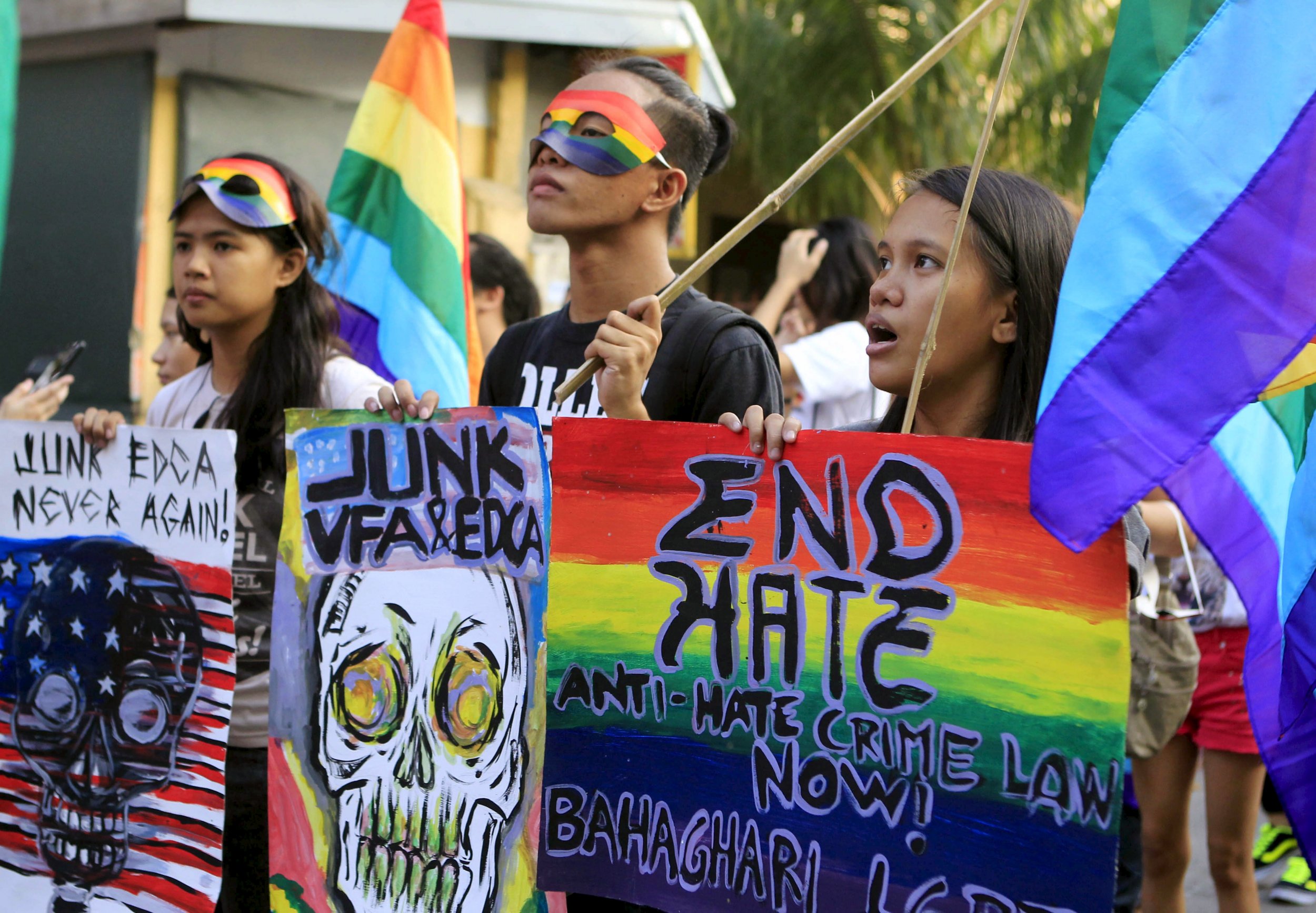 Just one 10-minute conversation is enough to reduce bias against transgender people, according to a new study from two California universities.
Published in the journal Science, the study involved canvassers engaging in conversations with hundreds of people on the doorsteps of their Miami homes. Not only did the conversations improve attitudes toward transgender people, but "markedly reduce[d] prejudice" was seen even after three months.
The doorstepping experiment saw 56 canvassers—both transgender and non-transgender—speak with 501 voters in conservative areas of Miami-Dade County. In addition to increased support for transgender people, there was more support for anti-discrimination laws that protect the transgender community, according to the study.
"A lot of research suggests that in voter mobilization, personal conversations are the best way to turn people out to vote," David Broockman, assistant professor of political economy at the Stanford Graduate School of Business, tells Newsweek. "I thought it would be really great to study how this sort of activity could change minds."
Broockman and Joshua Kalla, a Ph.D. student in political science at the University of California, Berkeley, were asked by the Los Angeles LGBT Center and SAVE, a gay rights group in Florida, to measure their canvassing efforts. After Miami-Dade County passed a city ordinance in December 2014 to protect transgender and gender nonconforming people from discrimination in housing, employment and public accomodation, the two groups were concerned about a potential backlash and wanted to try to reduce anti-trans bias.
Transphobia is "extremely pervasive" in the U.S., according to the study, which says "reducing transphobia is a recognized public health priority because it puts transgender people at up to 25 times greater risk of abuse, assault, and suicide."
"The situation today against transgender people reminds me of where we were 30 and 40 years ago," when there was widespread prejudice against gay men, says Dave Fleischer, director of the Leadership LAB at the Los Angeles LGBT Center, one of the organizations that initiated the study.
During the course of the study, the authors uncovered irregularities in a now-retracted 2014 study that looked at marriage-equality canvassing. That study's author, Michael LaCour, was found to have falsified data that showed only members of an affected group—in this case, gay people—could effectively lower prejudice against that group.
"What we found is that it doesn't seem to matter all that much" if canvassers are from a particular group, said Broockman.
The 10-minute doorstep conversations "led to a large and enduring reduction" in prejudice, according to the study. Before the conversations took place, voters were played a video showing both sides of the argument: a TV news item featuring Florida Representative Ileana Ros-Lehtinen speaking about her transgender son, and members of the public who opposed the transgender protection act.
Then it got a little deeper. Fleischer recalled a conversation with a 40-year-old Cuban woman who has a Muslim husband. Fleischer asked her about instances of prejudice directed against her and her husband; the woman spoke about frequent stares at the airport. Fleischer then showed her a photograph of his friend, a transgender woman, and told her about the difficulty she had finding housing in Michigan. Then he asked the woman if she saw any connection "between the kind of feelings that people direct your way and maybe the way you'd be tempted to feel" about his transgender friend.
"When I left the door, I don't know if she had changed her mind or not, but my impression was that this is how people begin to change their mind," Fleischer says.
The authors say that the average reduction in prejudice seen in the participants in Miami was comparable to the average change in the U.S. public's opinion toward gay and lesbian people over a 14-year period between 1998 and 2012.
Three months after the doorstepping, voters were shown three television advertisements, from Alaska, Washington and Michigan, that opposed allowing transgender people to use locker rooms and restrooms that align with their gender identities. On average, people became less supportive of transgender people after watching the ads, but the effects of the canvassing endured, says Broockman.
"What that suggests is that even in a world where people are being exposed to [negative advertising], this canvassing would still provide a positive bump over and above those ads," he said.
The study was published at a crucial time in the U.S., as many states are moving to limit transgender rights. Last month, House Bill 2, which bars transgender people from using public restrooms that align with their gender identities, was signed into law in North Carolina. Earlier this week, Mississippi Governor Phil Bryant signed a bill that does allows people and organizations to justify discrimination based on their religious beliefs.
"The purpose of our work is to speed the day when this kind of prejudice is reduced," says Fleischer. "To me, the great lesson of this study is that we can speed the day."