Trans Figure Skater Makes History, Then Slips On Ice
History has been made at the European Figure Skating Championships in Espoo, near Helsinki, Finland, with the world's first transgender national figure skater.
Speaking to reporters ahead of the opening ceremony, 59-year-old Minna-Maaria Antikainen said it was a "childhood dream" to represent her country on the ice.
After a few seconds, Antikainen slipped during the performance and was unable to get back onto her feet, with one of her Finland teammates coming to the rescue and lending a helping hand.
The unprecedented scenes, during the flag presentation part of the ceremony, were captured on video and have since gone viral, being viewed more than seven million times.
Outi Wuorenheimo, executive director of the Finnish Figure Skating Association and secretary general of the ISU European Figure Skating Championships, had promised the representation of skaters from all backgrounds and abilities in the opening ceremony.
In a statement released ahead of the championships, she had said: "The spectacular opening ceremony praises equality and diversity.
"The theme, 'Just be you,' will be a visible part of the opening ceremony with performers from various backgrounds.
"The opening ceremony will present skaters at various levels from non-professionals to top athletes."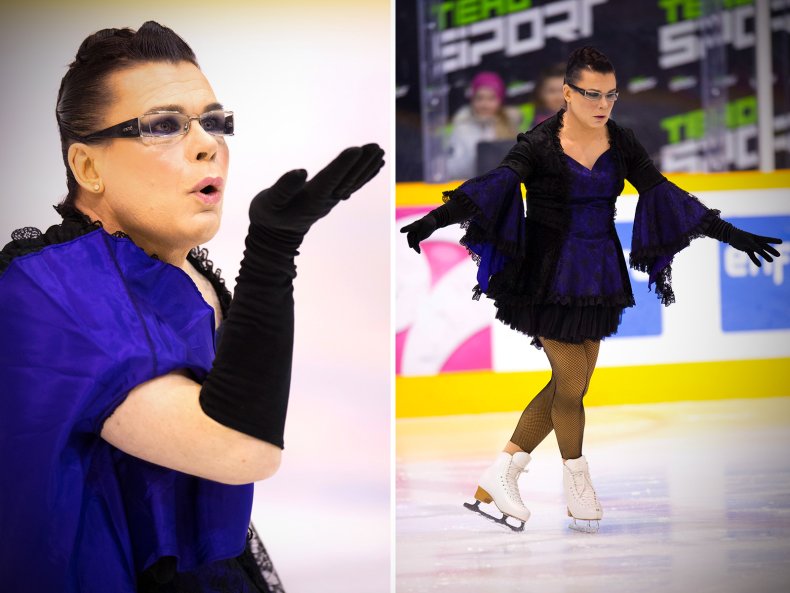 Wuorenheimo added: "Often, only the top skaters in the country are seen in figure skating shows. With this diverse group of performers, we want to show that the ice has space for everyone. Especially in uncertain and difficult times like these, it is meaningful to create an accepting and positive experience for all."
Antikainen has been an adult figure skater and ballet dancer since 2014 and practices both disciplines six times a week.
She had originally begun skating 17 years ago and in 2014, Elise Luovula, the 1985 Finnish figure skating champion, became her coach.
Her performance in the opening ceremony brought a mixed response on social media, with many posting cruel comments about her slipping on the ice.
There was some support for the skater, with one person tweeting: "Stunning and brave. That's all I have to say."
There were also others who pointed out that she shouldn't have been included in the ceremony as she lacked enough talent—overlooking the vision set out by those choreographing the opening ceremony.
One sarcastically posted on Twitter: "Who also happens to be a terrible skater and promptly falls down... Stunning and Brave!"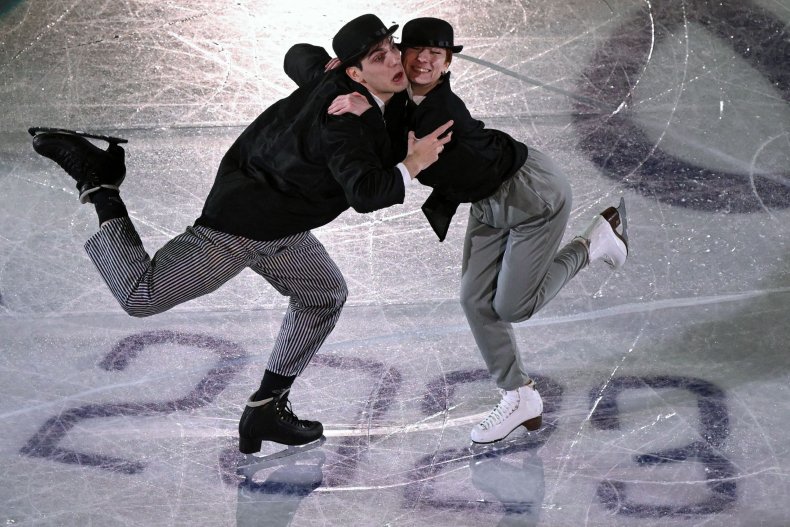 Prior to her transition too, Antikainen has been an adult figure skater and ballet dancer who took third place at the informal World Amateur Figure Skating Championships in Oberstdorf, Germany.
She was banned from collecting her medal at the time because she attended the ceremony in a skirt.
When not skating, Antikainen is a farm owner in Siilinjärvi, Finland and in 2017, she won the Farmer of the Year award in the South Karelia region.
Do you have a tip on a sports story that Newsweek should be covering? Do you have a question about figure skating or transgender rights? Let us know via entertainment@newsweek.com.