Terra Field, Suspended Trans Netflix Employee, Feels 'Vindicated' After Being Reinstated
A transgender Netflix employee who was suspended this week after tweeting about the Dave Chappelle stand-up special and attending a company meeting uninvited has spoken of her "vindication" at being reinstated.
Terra Field had crashed a quarterly business review (QBR) meeting in protest at the offensive content in Chappelle's new show for the streamer.
The software engineer at the streaming giant made headlines this week when her tweets about the new comedy special went viral.
However, as of Wednesday, Field has been fully reinstated with her employers agreeing that she did not join the QBR meeting with "ill-intent."
"Netflix has reinstated me after finding that there was no ill-intent in my attending the QBR meeting. I've included the statement I requested below," Field tweeted.
"I'm going to take a few days off to decompress and try to figure out where I'm at. At the very least, I feel vindicated."
Field included a screenshot of her correspondence with Netflix on the matter, which read: "Our investigation did not find that you attended the QBR meeting with any ill-intent and that you genuinely didn't think there was anything wrong with seeking access to this meeting.
"Additionally when a director shared the link it further supported the idea that this was a meeting you could attend."
Newsweek has reached out to Field for further comment.
Netflix confirmed to Newsweek on Tuesday night that Field's suspension was not due to her viral thread about Chappelle.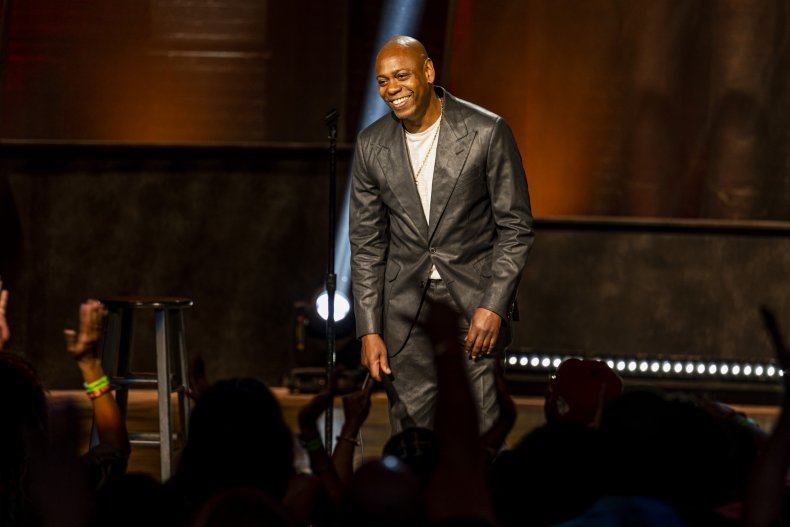 "It is absolutely untrue to say that we have suspended any employees for tweeting about this show. Our employees are encouraged to disagree openly and we support their right to do so," a spokesperson said.
Chappelle has been widely criticized for the transphobic content and identification with so-called "TERFs" in his latest comedy special, The Closer.
"TERF" stands for trans exclusionary radical feminist and in the show, Chappelle made a number of anti-LGBTQ+ comments. The comedian commented that a trans woman's genitalia is "not quite what it is" and declared himself to be "team TERF."
He said: "Gender is a fact. Every human being in this room, every human being on Earth, had to pass through the legs of a woman to be on Earth. This is a fact."
Field railed against these remarks and explained how such thinking is harmful to the trans community in her viral thread.
"Promoting TERF ideology (which is what we did by giving it a platform yesterday) directly harms trans people, it is not some neutral act. This is not an argument with two sides. It is an argument with trans people who want to be alive and people who don't want us to be," Field said.
The software engineer said that trans people's "existence is 'funny' to him—and when we object to his harm, we're 'offended.'"
However, Netflix has come out in defense of Chappelle, with CEO Ted Sarandos sending a memo to staff.
"Chappelle is one of the most popular stand-up comedians today, and we have a long-standing deal with him. His last special Sticks & Stones, also controversial, is our most-watched, stickiest and most award-winning stand-up special to date," Netflix CEO Ted Sarandos said in a memo to employees, per Variety.
He added: "As with our other talent, we work hard to support their creative freedom—even though this means there will always be content on Netflix some people believe is harmful."