Democrats and Republicans Poised to Clash on Trade at Conventions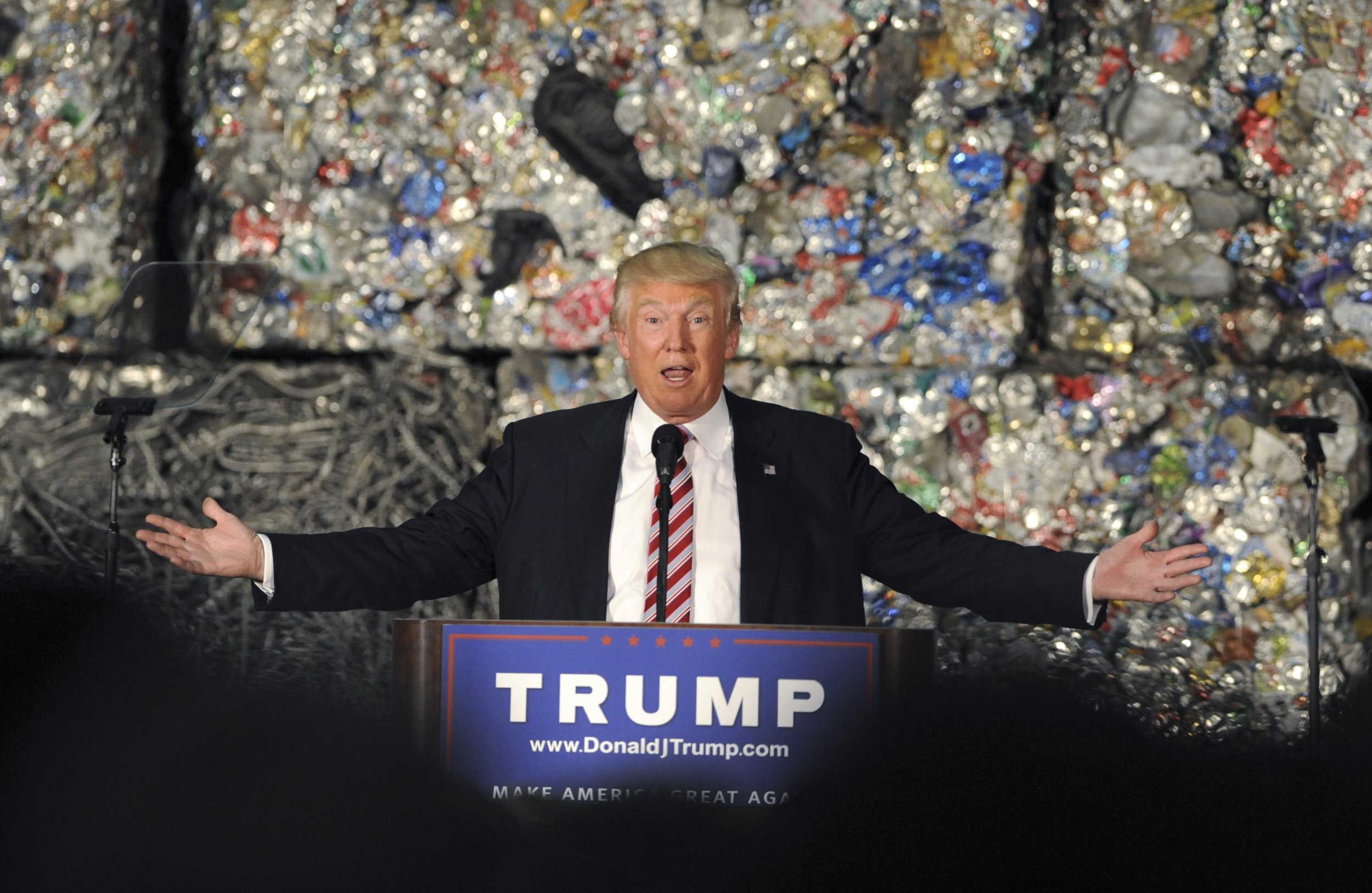 Conflict is coming to a head in both parties ahead of the upcoming Republican and Democratic national conventions, and it's likely that one of the most explosive disputes there won't take place among protesters outside the conventional halls in Cleveland and Philadelphia, but among delegates looking to shape their party's official position on free trade.
The bipartisan consensus forged in the '90s that foreign trade is good for America is quickly vanishing. The fiery populism that has fueled the 2016 presidential campaign has elevated candidates like Donald Trump and Bernie Sanders, who are blaming free trade deals for the country's economic malaise. This has pushed presumptive Democratic nominee Hillary Clinton in the same direction, though she remains more equivocal about specific deals like NAFTA and the yet-to-be approved Trans-Pacific Partnership (TPP), a trade agreement between 12 countries in Asia and the Americas. Clinton supported the TPP as secretary of state, but now opposes it "in its current form."
Their divergent opinions put the likely presidential nominees at odds with prominent voices in their own parties back in Washington—most notably President Barack Obama on the Democratic side, and a majority of Republican members of Congress—who continue to argue the merits of free trade, if it's done correctly. This trade policy discord is also setting up another clash, as Republicans and Democrats set about writing their 2016 platforms, which will then face a vote from party delegates at the national conventions in July.
While Sanders has no mathematical chance of winning the Democratic nomination, the Vermont senator is keeping his insurgent campaign alive with the express purpose of influencing his party's platform. Earlier this week, Sanders told MSNBC's Andrea Mitchell that he was pleased with the progress being made on Democrats' platform draft, but added, "there is some language that is still lacking." Specifically, Sanders wants the party to make clear that it opposes voting on the TPP, in 2016 or in the future, warning that, like past free trade deals, it will boost big business while destroying good paying jobs and the American manufacturing sector. "I was really quite surprised to see that Secretary Clinton's delegates rejected our proposal to kill the TPP, despite the fact that she has indicated she does not want to see it get onto the floor," he told Mitchell.
One member of the drafting committee, who agreed to speak only on background, said it's not Clinton, but the White House, that has strongly opposed that language. Enacting the TPP has been at the top of the president's second term agenda. "The president thinks for at least another six months, he is not only president, he still is the leader of the party. And he considers this…a priority," the member explained. According to a summary of the platform draft, it "strengthens the language on trade by pointing out that trade deals should not boost corporate profits while failing to protect worker's rights, labor standards, the environment and public health." The draft committee member says they sought to find middle ground by calling for more worker-friendly trade deals, but not explicitly condemning the TPP, because, "the least you could do is defer to the president's wishes on this, and not slap him in the face." Sanders's supporters on the drafting committee, however, believe "they're leading a revolution, they'll slap anybody in the face."
Warren Gunnels, the Sanders campaign's policy director and a nonvoting member of the drafting committee, probably wouldn't put it like that, but he makes it clear that Sanders and his allies aren't backing down. "The entire grassroots base of the Democratic Party is opposed to the TPP," Gunnels tells Newsweek. "That's who we should be listening to." On Wednesday, the Sanders campaign sent out an email to supporters urging them to sign a petition "to make sure the party's platform includes our amendment to prevent the disastrous TPP trade deal from ever coming up for a vote."
Allies now plan to take the fight to the Democrats' platform committee meeting in Orlando, Florida, on July 8 and 9. Out of 180 total members of that committee, Gunnels estimates that "72 members are on our side," which means they'll need to win over about 20 more to amend the platform to put the party on record against the TPP. If that fails, they hope to issue a minority report, making the case for their anti-TPP amendment, which would put the issue before all the party delegates in Philadelphia.
"We're hoping it doesn't get that far," Gunnels says. He and other Sanders aides are instead hoping to win over Clinton and her supporters on the platform committee to back the amendment, and they're pointing to the Brexit as just more evidence of the political momentum moving against free trade deals like TPP. "Surprise, surprise," Sanders wrote in a New York Times op-ed on Tuesday, "Workers in Britain, many of whom have seen a decline in their standard of living…have turned their backs on the European Union and a globalized economy that is failing them and their children. "
That sounds a lot like what Trump, the presumptive GOP nominee, has been saying this week. The real estate tycoon and reality television star rode working class angst over the disappearance of American manufacturing to win the party's nomination, but it wasn't until Tuesday that he laid out in any detail how he would got about curbing free trade. In a speech at an aluminum scrap plant just outside of Pittsburgh, Trump crowed about being right about supporting Britain's vote to leave the European Union, and blamed "a policy of globalization" for "moving our jobs, our wealth and our factories to Mexico and overseas."
The first step Trump said he would take to right the ship? Withdraw the country from the TPP. And he challenged Clinton to also pledge to withdraw from the pact and rule out its passage in any form.
That is miles away from what the Republican Party has been saying up to now. Forty-nine of 54 Republican senators and 190 of the 246 Republicans in the House voted to give the president what's known as "trade promotion authority" in June 2015—essentially fast-tracking TPP. And the party's 2012 platform says, simply, "A Republican President will complete negotiations for a Trans-Pacific Partnership to open rapidly developing Asian markets to U.S. products."
Republican National Committee spokeswoman Lindsey Walters points out that the party's 2012 platform also calls for a get-tough approach with China, who regularly flouts international trade rules, which is something that Trump also emphasized in his speech. But that's was just one plank in the trade agenda Trump laid out, which also included withdrawing from NAFTA if Canada and Mexico don't agree to renegotiate its terms. That's the kind of line you might hear from a left-wing Democrat, but rarely, if ever, from a Republican.
The GOP has been cautious about confronting Trump directly on trade, the way Sanders has been on the Democratic side. But pro-trade members of the party are starting to stir. Ways and Means Committee Chairman Kevin Brady of Texas, a senior House Republican, issued a statement Wednesday to voice his support for free trade. "It lies at the heart of free enterprise, and I believe Republicans must expand that freedom," Brady said. When asked if the statement was prompted by Trump's anti-free trade speech, Brady's spokeswoman replied, via email, "I don't have anything to add to his statement."
Wyoming Senator John Barrasso, Republicans' 2016 platform committee chairman, told Newsweek Wednesday that "there's certainly going to be a plank related to trade" in the party's platform this year, but declined to speculate on how the language will get hashed out or how contentious it will be.
"There are 112 members of the platform committee, we're going to be meeting less than two weeks from now," on July 11 and 12 in Cleveland, Barrasso said. But when it comes to the party's principles on free trade, "We'll decide exactly how to deal with that at the convention."