The Trans-Pacific Partnership: An Alliance of Money Over Guns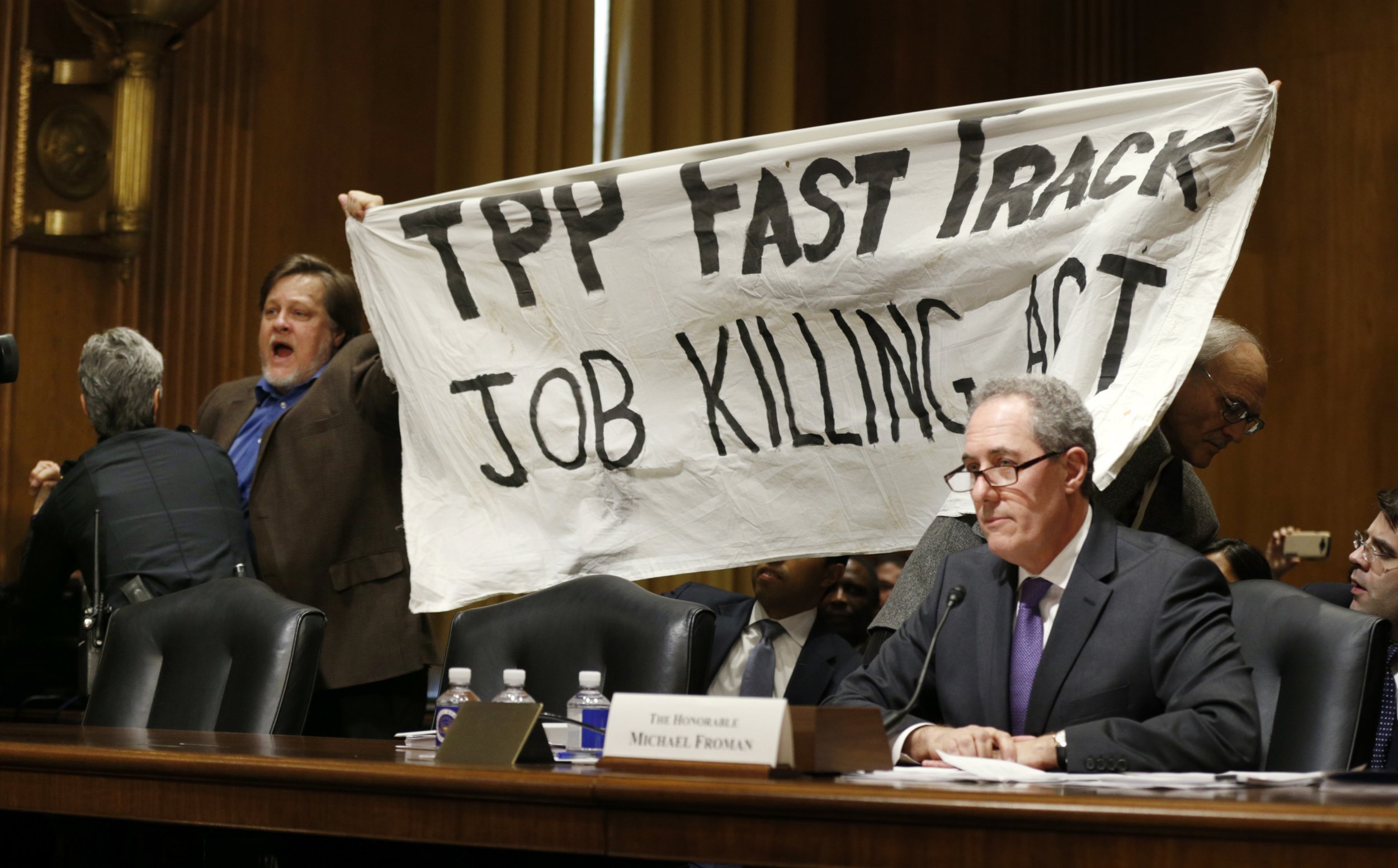 Congress and the presidential candidates are weighing in on the Trans-Pacific Partnership (TPP). But what is this trade deal, and what are its prospects?
Well, the TPP promises to be one of Washington's most contentious fights during this Congress. But in an unusual way. Most business interests, Republicans and the Obama administration back the agreement, while virtually all of organized labor, most Democrats and environmental groups oppose it. The arguments about whether the pact is a job destroyer or a job creator echo the debate over the North American Free Trade Agreement (NAFTA) forged by the U.S., Canada and Mexico in the 1990s —an argument that continues decades after it passed.
But the TPP is a much bigger deal not only because it has the potential to rewrite American rules about labor and environmental standards, intellectual property rights and other important aspects of the American economy, but also because the countries involved make it nothing short of a major international economic alliance. Here's a quick breakdown:
What is the Trans-Pacific Partnership?
It's an agreement, among 12 nations bordering the Pacific, aimed at reducing trade barriers and promoting greater economic cooperation. The idea has been negotiated since 2006, and it got started with relatively small economies like New Zealand and Brunei. It now includes very big economies as well. Among the participants: the United States, Japan, Australia, Chile, South Korea and Peru. The 12 nations make up close to 40 percent of the world's gross domestic product. Other Pacific-facing nations could join at a later date.
What would the agreement do?
Some of that is unknown since the treaty has not been made public, although draft sections have been leaked. But the goal has been to remove regulatory obstacles to trade. For instance, a leaked chapter appears to show that the agreement would give greater patent protection to pharmaceutical manufacturers, perhaps at the expense of consumers. The specifics of what it would do to, say, lower barriers for financial services or insurance or auto companies remain unclear, but they will be significant. The various components of the agreement will touch on everything from food safety to cybersecurity.
Opponents of the agreement have decried the secrecy involved in its formation, but the Obama administration has likened it to any treaty negotiation that requires privacy until final wording is agreed upon. The deal is different from other trade agreements in that it doesn't pertain to tariff rates. And it doesn't have a mechanism for dealing with so-called currency manipulation—a major issue in the U.S.-China relationship. It's more about what's called "harmonizing" other aspects of international trade.
Each side has its share of studies to bolster its argument about the benefits and costs of the agreement. Critics have pointed to the loss of manufacturing jobs over the past generation. The Economic Policy Institute, a think tank critical of many major trade deals, has determined that non-college-educated Americans have lost $1,800 annually in wages in recent decades because of international trade agreements.
Proponents of the TPP and other trade deals argue that certain manufacturing jobs would have migrated overseas regardless but that agreements such as the TPP can open markets for American businesses. The historical evidence suggests that NAFTA's benefits were hyped for both the American and Mexican economies.
Who is for it and who is against it?
Supporters and detractors of the agreement live in what sometimes sounds like alternative universes. Most Democrats and unions are extremely wary of the agreement based on prior experience with NAFTA, which the U.S. joined in 1994. They're convinced the results will be calamitous for American workers, while the Obama administration and most business groups see it as a boon—one that will open growing Asian markets. Leading Democrats have taken positions against it, including Massachusetts Senator Elizabeth Warren, who has decried the agreement's secrecy and has declared it a raw deal for workers.
The vast majority of Democrats are expected to oppose the TTP. Environmental groups are against it too. President Barack Obama favors the agreement, and Hillary Clinton backed it when she was secretary of state. Where she stands right now is unclear, although a campaign statement seems to hint that she's likely to seek a middle ground calling for greater protections for workers and the environment but not calling for the deal to be scrapped.
High technology, financial services, entertainment, the agricultural sector and most businesses are enthusiastically backing the measure, as is the Business Roundtable, an advocacy group representing the CEOs of some of the largest U.S. companies. Republicans are mostly for it, but many are concerned about what they see as ceding sovereignty. Also, many more House Republicans now represent blue-collar districts that have been hurt by the exportation of American manufacturing jobs. Voters there are wary of international trade agreements like the TPP, and their GOP representatives may feel pressure at home to vote against it.
Wait, where's China in all of this?
The TPP is in many ways a response to China's growing economic power: The nations involved hope that by working together, they can more effectively deal with China's growing strength. The TPP doesn't exclude China, and Beijing hasn't ruled out trying to join at some later date. But to do so, it would have to do much more to, say, crack down on intellectual piracy and open up aspects of China's shadowy state-run industries. The Obama administration calls the TPP a global trade agreement for the 21st century, but in some ways it's the NATO of the 21st century—an alliance of money instead of guns.
What happens next?
The rules for passage of a trade agreement like the TPP are somewhat complex. Unlike a regular diplomatic treaty, which requires two-thirds approval in the U.S. Senate, this kind of trade deal requires just majority approval, but in both chambers. Before a vote on the agreement itself, Congress must respond to the president's request for so-called fast track authority. Fast track, as the name implies, eliminates the possibility of any modifications Congress might want to make to a trade agreement that comes before it for approval. Last week the top tax-writing committee heads in the House and Senate agreed on a fast-track bill, and it easily passed the Senate committee. The Obama administration enthusiastically endorsed it. It's also expected to clear the House committee.
The fast-track bill is likely to pass Congress, but it's not going to be easy. Many top Democrats are unafraid to buck the president on this issue. Senator Charles Schumer of New York, almost certain to be the next Democratic leader in the Senate, voted against this fast-track bill in the Senate Finance Committee this week. Meanwhile, House Democratic Leader Nancy Pelosi is backing a fast-track idea that's not to the administration's liking.
President Bill Clinton needed Republican votes to pass NAFTA, and, likewise, Obama will need to lean on Congress's top Republicans—Senate Majority Leader Mitch McConnell and House Speaker John Boehner—to get the TPP passed. Both men back the accord enthusiastically, which is one piece of good news for the president.