'Trans People Deserve to Live' Banner Unfurled During World Series Game 5
A pro-LGBT community organization briefly stole the show during Game 5 of the World Series on Sunday night, when it unfurled a huge banner in support of transgender people.
Reading "Trans People Deserve To Live", the banner made its appearance in the upper deck of Dodger Stadium above left field during the fifth inning of the game.
TransLatina Coalition claimed responsibility for the stunt and posted a video of the demonstration on its Facebook page.
The group describes itself as a nationwide organization that "advocate[s] for the specific needs of the Trans Latina community that reside in the U.S.A. and to plan strategies that improve our quality of life."
According to Sports Illustrated, the banner was quickly removed from the stadium, although whether that was because of the message it carried or simply because it blocked the view of the fans sitting in the section below remains unclear.
The protest comes only a week after President Donald Trump's administration announced plans to tighten the legal definition of one's gender specifically to the genitals they have at birth, in a move many say is intended to erase the recognition of transgender Americans.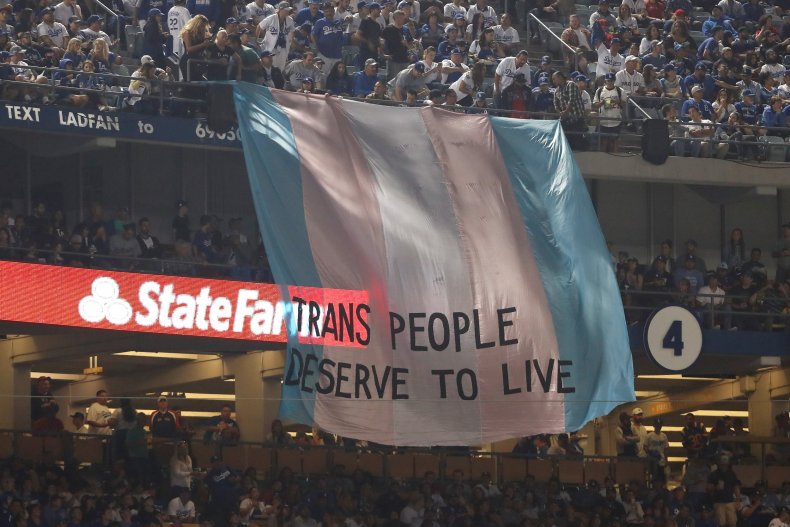 According to a memo obtained by The New York Times, the new policy aims to re- interpret Title IX so it "would define sex as either male or female, unchangeable, and determined by the genitals that a person is born with."
The proposal aimed for a binary definition of either "male" or "female," which would be directly determined by the individual's genitals at birth.
The "male" or "female" definition would be legally unchangeable after being clearly defined by one's genitals present at birth. Any disputes regarding one's sex would require genetic testing.
Civil rights activists see the potential Trump administration move as a way to eradicate federal protections for transgender people by erasing the transgender identity entirely. An estimated 1.4 million Americans have opted to recognize themselves, either through surgery or another means, as a gender different than the one they were born with.
Title IX is currently enforced by four federal agencies—Labor, Education, Justice and Health and Human Services —and the memo suggested the Department of Health and Human Services has urged them to adopt the new definitions and regulations.
The Trump administration's approach has previously tried to prevent transgender people from serving in the U.S. military. The approach is diametrically different from that adopted by former President Barack Obama, whose administration played a major role in bringing gender issues into the public arena.