Who Is Lia Thomas? Trans Swimmer Breaking College Records Sparks Debate
Lia Thomas, a 22-year-old trans woman from Pennsylvania, is breaking numerous college records in swimming but is the subject of fierce debate because of her status as a transgender athlete.
At the Zippy Invitational in Akron, Ohio, over the weekend, she finished the 1,650-yard freestyle 38 seconds ahead of her teammate Anna Sofia Kalandaze.
Thomas—who's competing as a senior after the Ivy League establishment canceled the previous swimming season due to the pandemic—won three events and swam the fastest time in the country in two of those races.
On Friday, she won the 500-yard freestyle in 4:34.06, setting a new record, Akron pool record, Penn school record, and the Ivy League record.
The next day she won the 200 freestyle with a pool, meet and program record time of 1:41.93, seven seconds ahead of second place.
On Sunday, Thomas won the 1,650 freestyle in a record time of 15:59.71, ahead of Kalandaze, who finished with a time of 16:37.44.
This season is the first time Thomas—who was previously named Will—has competed in the swimming in the University of Pennsylvania's women's team.
As Will, Thomas competed on the University of Pennsylvania's men's team for three years. Thomas' last known men's event was November 16, 2019.
The NCAA Policy for Transgender Student-Athlete Participation guidelines say Thomas would only be allowed to compete as part of a women's team "until completing one calendar year of testosterone suppression treatment."
This means her treatment occurred during the 2020-21 school year in order for the NCAA to rule her eligible for this season.
Thomas told Penn Today last June: "(Swimming) is a huge part of my life and who I am. I've been a swimmer since I was five years old.
"The process of coming out as being trans and continuing to swim was a lot of uncertainty and unknown around an area that's usually really solid.
"Realising I was trans threw that into question. Was I going to keep swimming? What did that look like?
"Being trans has not affected my ability to do this sport and being able to continue is very rewarding."
However, the swimmer has received criticism on social media because of her transition, and it has re-ignited debate about whether it is fair for trans athletes to compete against cis rivals of their chosen gender.
Mail Online columnist Piers Morgan wrote a column saying that Thomas was "unsuccessful as a male swimmer" and said it was "shockingly unfair" that she should compete in women's swimming.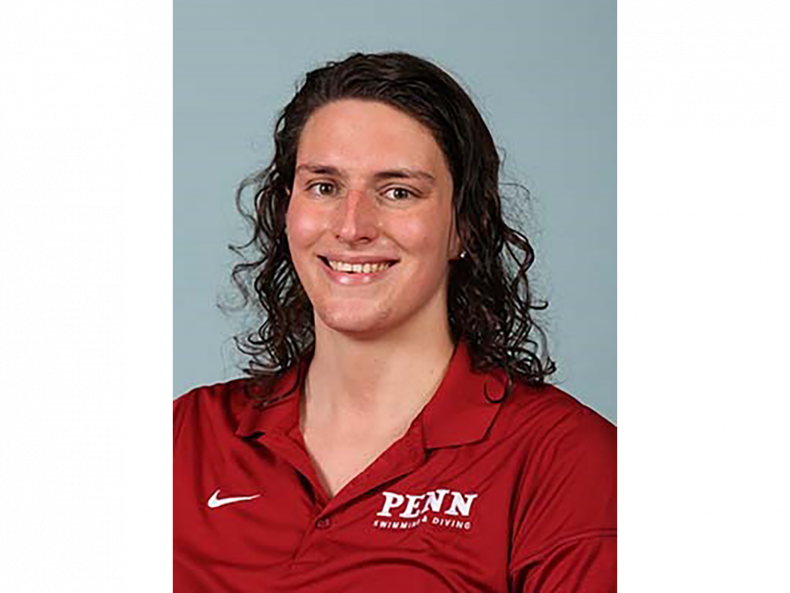 "Lia Thomas is on her way to irrevocably disintegrating women's swimming records. Not because she's a natural-born brilliant swimmer, because when she competed as a man, she was mediocre at best. No, she will do it because she's got a hugely advantageous physique over her female rivals," Morgan wrote.
Sport performance coach and author of "Unsporting: How Trans Activism and Science Denial are Destroying Sport" Linda Blade responded to Thomas' recent wins by tweeting: "Well of course women's records are being smashed! Lia competed as male for first three years in #NCAA. This is not right!
"We need to return to #SexBasedSports! #SexNotGender to preserve fairness for female athletes."
University of Pennsylvania's Penn Athletics told Newsweek it "fully supports Lia as a person, student and swimmer" and that it "remains excited to watch her compete."
"Lia, our coaches, and administration have collaborated over the past two years with Penn campus partners, the NCAA and the Ivy League to advance her success in and out of the pool," it added.
"Her coaching staff, led by head coach Mike Schnur, and Penn Athletics have been behind Lia every step of the way and we look forward to the team's continued success this season."
Thomas' wins occurred shortly after ten states in the United States, including Arkansas, Florida, Idaho and Texas, decided to ban transgender athletes from competing in female sports at schools.
Trans students in those states will now be forced to play on sports teams that correspond to the gender assigned to them on their birth certificate. LGBTQ+ rights groups have criticized these bills, saying they are discriminatory.
Update 12/09/21, 09:48 a.m. ET: This article has been updated with comment from Penn Athletics.