The Unexpected Way the Coronavirus Is Hurting Some Members of The Trans Community
Shelter in place orders, widespread work closures and health authorities recommending people stay inside to slow the spread of the COVID-19 virus have made isolation the new normal for millions of people. With empty toilet paper aisles and shuttered businesses, some of the effects of social distancing and other pandemic measures have been readily apparent. But the pandemic has less visible consequences unique to vulnerable communities, like the additional burden placed on transgender people.
Widespread closures and the strain placed on health care systems have thrown up obstacles to trans people like Tally the Witch author Molly Landgraff, who has experienced disruptions to her hormone replacement therapy (HRT) as a result of the coronavirus pandemic.
"Many trans women use oral doses of hormones, but everyone's body responds in a different way to the hormone treatments and some, like myself, are unable to metabolize the hormones effectively via pills," Landgraff told Newsweek.
"Heading to the hospital to get my HRT shots administered is undesirable both for putting the additional workload on already strained staff and for the dramatically increased risk of exposure during the inevitable wait times at the emergency or urgent care clinics."
While some trans women administer injections at home, many, like Landgraff, receive injections at clinics that are subject to the kind of disruptions many businesses have experienced, while receiving HRT shots at overburdened hospitals means risking exposure to COVID-19. For trans people, this could mean losing the pathways to drug access they've previously depended on, a problem exacerbated by shipping disruptions. Landgraff anticipates border closures and other medical supply shortages presenting additional challenges.
"I have to obtain my hormone doses from a compounding pharmacy lab, and I have, even under normal circumstances, been obligated to wait for weeks or even months for them to get supplies," Landgraff said.
While less of a concern for Landgraff, who lives in Canada, less than a third of U.S. employers offer transgender inclusive healthcare benefits, the International Foundation of Employee Benefit Plans found in 2019. But with an explosion in unemployment in response to COVID-19, even those trans workers with adequate benefits are at risk of losing their insurance coverage, adding to an already disproportionate status quo, where transgender people experience triple the rate of unemployment of the general population, according to GLAAD.
Dr. Alexis Chávez, psychiatrist and medical director of The Trevor Project—an organization focused on preventing death by suicide among LGTBQ youth—shared with Newsweek some of the less visible likely effects for trans people pursuing gender affirming medical support and medication during the coronavirus pandemic.
"We know that trans people are less likely to have a primary care provider. They are more likely to delay necessary health care, because of all the negative outcomes that they and their peers have experienced: providers using the wrong names, or genders, or refusing to serve them," Chávez told Newsweek. "People really need a relationship with their primary health provider; more than any other time, people need that. So it's something that can be really difficult for trans people."
The minority stress model developed by social psychologists and employed by public health officials explains how the extreme stress experienced by members of a stigmatized minority group can create adverse health outcomes even under normal circumstances. Not only does exterminal discrimination lead to members of minority groups internalizing the negative messages they hear, but also preconditions people to anticipate challenges to their identity in advance, placing pressure on otherwise routine social interactions.
Self-quarantine isolation imposes a psychic burden that can be especially acute for trans youth.
In a further response to the novel coronavirus pandemic, more than 40 states have closed schools, affecting more than 52 million students across the country. Beyond homework and virtual classwork, school closures also result in the suspension of social activities, including sporting events, theater and after-school clubs. School is the nucleus of a young person's social life.
"For LGBTQ youth who aren't supported by their family, their area of support may be peers at school. Now that they don't have that, it's an extra layer of social isolation, because they don't have people supporting their identity. They could be around people who are misgendering them," Chávez told Newsweek. "In the worst case scenario, youth who have families who are not accepting or explicitly hostile to their identity, they may now be experiencing that every day."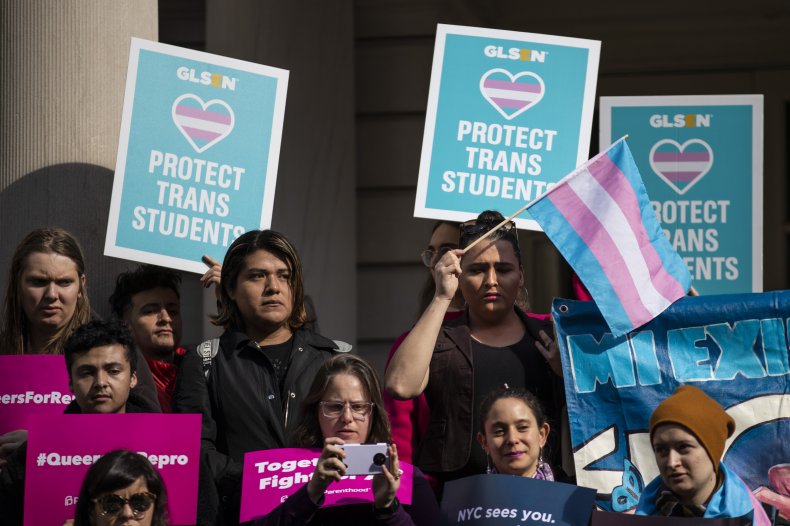 A 2019 survey conducted by The Trevor Project found that more than half of transgender and non-binary young people have considered attempting suicide in the past year, while nearly a third reported a suicide attempt.
The Trevor Project provides support via free and confidential crisis intervention services across a variety of platforms:
TrevorText - Free, confidential, secure texting with a trained Trevor counselor for LGBTQ youth in need of support. Text "START" to 678-678. Standard text messaging rates apply. Available 24/7.
TrevorChat - Free, confidential, secure instant messaging with live help for LGBTQ youth provided by trained volunteers. Visit TheTrevorProject.org/Help. Available 24/7.
TrevorLifeline - Nationwide, 24/7 crisis and suicide prevention lifeline offering free and confidential counseling for LGBTQ youth. Call 1-866-488-7386.
In preparation for COVID-19, The Trevor Project has moved all lifeline call centers to remote operations, ensuring service will continue uninterrupted throughout the pandemic.
"It's okay to admit that it's a stressful time and it's okay to admit what's going on. Nobody has to be in this alone," Chávez said. "We are all in this together, and if you feel like you are alone, feel free to reach out."
Chávez also recommended TrevorSpace, the Project's social network, exclusively for LGBTQ youth, "where they can specifically come and feel validated, especially if they don't have access to their usual support."
There are steps parents can take in supporting their trans kids as well. Chávez said it's crucial for parents to understand "they don't have to solve everything," instead emphasizing the importance of checking in.
"Have a system of checking in, so their kids can let them know how they're feeling and if they're in trouble," Chávez said. It doesn't have to be in-depth conversations. Instead, parents can compensate for a pre-teen or teenaged reluctance to speak about their feelings with a number system check-in, one through five, from bad to good. Or, colors: are you feeling green or red today?
Supportive and affirming parents can make a big difference in a transgender kid's life. While The Trevor Project has found that transgender and non-binary youth overall suffer from anxiety and depression at ten times the rate of cisgender peers, making a social transition to their preferred gender identity leads to significant improvement, with self-worth and depression outcomes equal to those of cisgender kids.
"Even having one supportive adult can reduce suicide risk by 40 percent," Chávez said.
Support at home is especially crucial as prejudice against trans people continues apace. State legislatures across the country have introduced bills discriminating against trans people by denying medical treatments—including hormones and puberty blockers—revoking workplace protections for LGBTQ people and rollback bans on medically unfounded conversion therapy. This week, Idaho lawmakers passed bills preventing transgender people from amending their gender identity on their birth certificates and banning trans women and girls from competing on female sports teams.
Our hope would be that in a time of pandemic the focus is on everyone coming together and finding a common cause and that people would set aside their differences," Chávez said. "It's so incredibly frustrating that people are using this pandemic as essentially a cover, to say, 'Let's try and pass these things through, let's try to make these really discriminatory laws happen while no one is paying attention.'"
"In the midst of a global pandemic, Idaho legislators are focused on singling out and excluding transgender student-athletes—it is shameful," The Trevor Project's Head of Advocacy and Government Affairs Sam Brinton said in a statement released to Newsweek. "The Trevor Project condemns H.B. 500, an unfair and unnecessary bill, and urges Governor Little to reject it. Our elected officials should be expanding opportunities for trans students, not further marginalizing a group already at high risk for bullying and discrimination."
While nearly everyone has experienced disruption to their plans during the coronavirus shutdown, for trans people the disruptions can be central to their identity and relationship with wider society. In the absence of a supportive government, transgender people turn to their own community and networks of mutual support, whether for a video dinner date with friends or help picking up groceries and other supplies. Like with so many people around the world, where the coronavirus has spread to more than 160 countries, social distancing doesn't have to be isolation. Instead, it can be an opportunity to band together and strengthen bonds of community.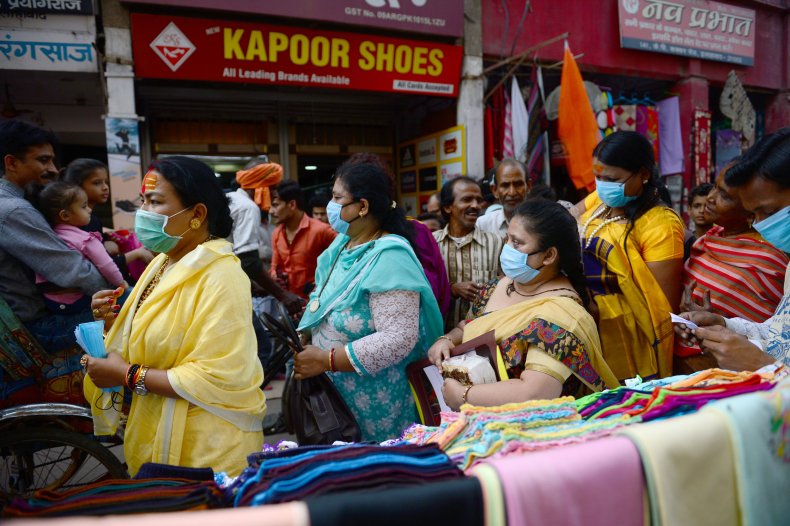 "A lot of support and outreach comes from other members of the community," Landgraff said. "Trans folks tend to band together to help one another with problems in general. There is a hashtag on twitter, #TransCrowdFund, where those of us in need can post explaining our situation and needs, and this hashtag is going to be of increasing importance in the coming weeks."