'I'm a 20-Year-Old Trans Woman Sharing My Journey on TV'
Between the ages of 11 to 13 when I began puberty, I hit a brick wall. I started taking notice of how uncomfortable I was with the way my body was changing; I was growing leg hair, getting taller and developing a deeper voice. As a pre-teen I hadn't been educated about the LGBTQ community at school, besides knowing that people are gay and straight, so I really didn't understand what I was feeling or why I was feeling it. I closed myself off from my family during what was already an awkward stage because, I didn't really have many friends and I was getting bullied a little. It got to the point where my mental health was in a bad place. I was having suicidal thoughts.
Then, at the end of 7th grade, when I was 13, a friend sent me a funny YouTube video by Gigi Gorgeous. I began to explore her content and came across the video where she comes out as a trans woman. I felt so connected to what Gigi was saying and I felt so heard. From there, I began to research and educate myself, because I was so curious about what it was to be trans. I really came to terms with the fact that coming out as trans was something I needed to do to be my true, authentic self.
The hard part was coming out to my family. Even though I'm so lucky to have such a loving and supportive family, I held myself back for a while until I finally came out to my grandmother at the age of 14. She accepted me and made me feel loved. The next day I told my mom, and eventually I told the rest of my family at the start of 8th grade. I think the hardest person to come out to was my dad because I look up to him. I got to a point when I kind of shouted, "I'm trans!" and he just said, "I don't care." He meant that it didn't matter as long as I was happy. It was a very emotional experience. But I didn't come out to my school or my friends until 8 months later when I was close to finishing middle school. During that time I was going to therapy, meeting with medical professionals and starting the process of going on hormone blockers and changing my name legally. We took that time to really think about it and decide it was what I wanted. Because it's a big decision.
My first year of high school was my first year coming out as Jane. I didn't go to my district high school in New Jersey, I went to a trade school. So I was able to start anew, meet new people and study cinematography. I was never really confident with my looks, I had, and still have, a lot of gender dysphoria. So modelling had always been a dream for me but I never thought it was achievable and being trans, I didn't know what the scene was like. Would I even be accepted? It wasn't until after I got into my senior year that my mom encouraged me to just try it.
But a TV show about me was never supposed to happen. I had been accepted to compete in a Slay Model Management competition to find new models and the 20 girls taking part had met in New York City for the first time in November 2019 for a photoshoot and interviews.
A director, Jonathan C. Hyde was filming the whole process and my mom and I were the first to be interviewed by him. We sat in a studio with Jonathan and just talked about everything I had been through. He was really passionate about my story and how privileged I am to have such an accepting family. I think he was inspired that day. He then gave me little handycams to take home and self film with between December 2019 and February 2020; the months leading up to the modelling competition.
At the time, I was 18 and in a high school where I was trying to learn film and I was going through a lot. I was starting my modelling career, meeting a lot of amazing people and I was enjoying documenting it all because I wanted to have the memories to look back on. It kind of turned into something more as time went on because Jonathan was so inspired and wanted to push to have my story seen. Then, COVID happened and eventually I was graduating high school, going through my gender reassignment surgery and trying to figure out college. I just wanted to film everything. Whether that was having fun or my sad moments, it was almost my diary and therapy for me.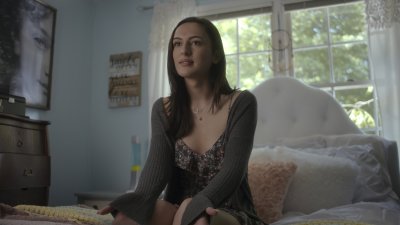 One funny story from the show is when I turned 19 and was about to have my surgery. My family threw me a vagina themed birthday party. We had extremely realistic vagina cupcakes. I remember my mom making some very funny comments about them! It was hilarious and they were, surprisingly, pretty good cupcakes.
But a four part docuseries really wasn't something that was supposed to happen. It was a very surreal moment when I found out about a year ago that Amazon wanted to share my story. My family and I had long conversations about what we wanted to eventually share on screen, but they really left it to me, because it's my story. They said that if it was what I wanted to do, they were all for it and were there for me every step of the way. They said they would support me but they also wanted me to be aware of the consequences and be prepared. A big part of me wasn't sure if I wanted to document my surgery. Because that's something that is so personal and sensitive and it didn't have anything to do with the overall message of the story, which is about a loving, supportive family.
But it was all in my power. I was also an executive producer on the show and I had every right to not film it. I just felt like it was something I needed to do. Not because people have to get surgery or it's a requirement to be trans, but because it was a big part of me and I wanted to have the memory of it. For five years I was waiting for this surgery and, though people won't necessarily understand this when they watch the show, there was a lot of heartbreak, patience required and lessons I had to learn to get my surgery. There is also an intense recovery period and people need to be educated about that.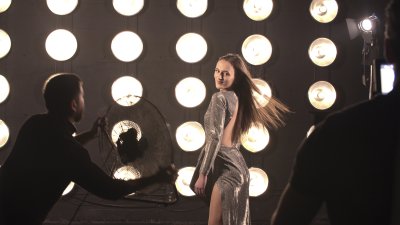 And, there is life after surgery, if it does happen for a person. You are still going to have your issues, it's not going to fix everything. I would just say that people should be more respectful about what they ask, because when someone shares that they are trans, it doesn't automatically allow you to ask their whole medical history.
Right now, I have received nothing but love and acceptance, and my modelling career is starting to take off. Appearing in the third Savage X Fenty show was a dream come true. To be a part of such an inclusive and positive brand was everything for me. Rihanna does it best when it comes to that. Everyone was so nice too, you could really feel what a safe environment you were in when you were on set. I didn't get to meet Rihanna, but seeing her at the New York premier was enough for me. I just feel so lucky to have been a part of it.
But there is always going to be someone who is not happy, doesn't support you and is not willing to be open minded. But that's on them, that's not my responsibility. I can't tell people how to think, I can only share what I know. I know that a lot of people can thrive through love and acceptance.
I guess we'll wait and see if I regret filming my life from the ages of 18 to 20, but I hope not. I'm so happy with what we created and all the people I worked with. It's been such a crazy, exciting, emotional ride. But I already feel like I've changed so much in the two months I've been at college, so when I look back at being 18, at the gossiping and being cringey, I do think: "Who even is that person?" It's shocking, but I think that's how everyone feels when they see an old picture or video of themselves. I hope I have changed, I don't want to stay in one place or mindset; I always want to grow and educate myself.
I hope the trans community can connect with the show, I hope they feel seen in some type of way. I want people to feel loved and appreciated. I hope they laugh, cry and feel something. My journey is my own and their journey will be their own, but,
I want people to know they are not alone. There are people around who are there, you just have to be open enough to see that and you have to be patient with each other. Every relationship is a work in progress, even with yourself.
Jane Noury is the star of Always Jane, a four-part docu series premiering on Amazon Prime Video on November 12. You can follow Jane on Instagram @janenoury.
All views expressed in this article are the author's own.
As told to Jenny Haward.
f you have thoughts of suicide, confidential help is available for free at the National Suicide Prevention Lifeline. Call 1-800-273-8255. The line is available 24 hours every day.