'I Turned a Two-Storey Bus Into a Tiny House, Now It Makes Me $2,700 a Month'
I had been interested in building and renovating tiny houses for years. I grew up in Claremont, a city on the edge of Los Angeles, California and my dad taught as an elementary school teacher and amateur carpenter, so he taught me carpentry. I would often help build theater sets in junior high, high school, and college. Then, after college, I worked in video production for 10 years, but I became burned out from constantly sitting behind a desk.
In 2012, I moved to Portland, Oregon because it felt more spacious than where I was living, and because the mother of my children, and her family, lived there. In 2016, I met a friend called Cody, who helped me renovate my garage into a shop. Cody had an engineering degree, which helped me feel confident in my carpentry work. Once we started, I realized that building and renovating tiny houses, vans and sheds was more fun than anything I had been doing previously.
As we were working on my garage that year, we started talking about other projects. We were interested in the idea of building a treehouse to rent as an Airbnb property, but we didn't have the actual property to build it on. So, we decided to build a tiny house on wheels. We both took out credit cards and said that one of us would buy the trailer, and the other would buy the lumber. The tiny house took a year to build and after it was finished, we parked it in my backyard in Portland. I then built another tiny house in 2018.
I didn't know what I was going to do next. Luckily, I had a friend who was a general contractor, and he asked if I would help him with demolition. Whilst helping my friend in 2019, I had an Airbnb guest stay in the tiny house in my backyard. Her name was Amber, and she came with her daughter. I was divorced with two kids and we all hit it off spending time together that weekend, which happened to be the weekend of my daughter's fourth birthday.
Amber and I started speaking via FaceTime, then she came out for a visit to Portland again, and after that I went to visit her in Austin. After those first two visits I started making the trek back-and-forth between Portland and Austin regularly. Eventually we got married on New Year's Eve 2021.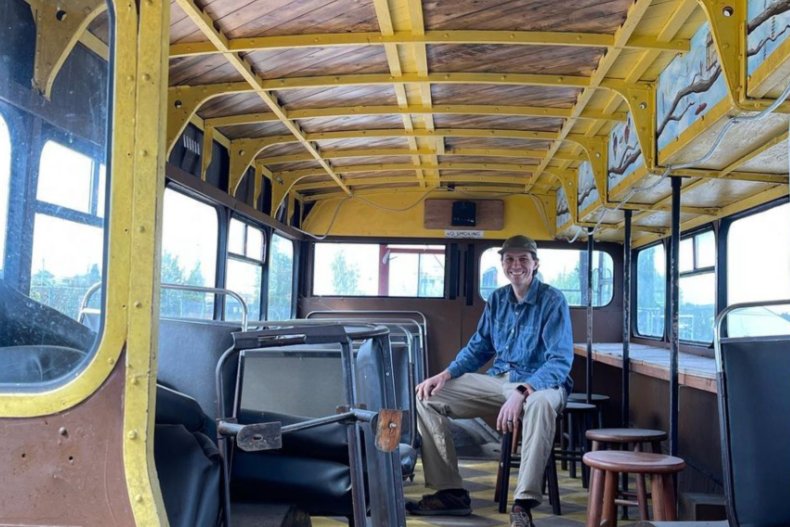 Things changed during the pandemic. I couldn't fly over to see Amber, so I bought a van, converted it, and drove it down to Austin. Whilst I was converting the van, I posted it on Instagram and a friend of mine asked if I could help him convert two vans into tiny homes. During the pandemic, the van and bus business took off as people weren't allowed to fly out, so it seemed like everybody wanted to be on the road.
In October 2021, I was looking for more vans to convert and sell, and I came across a two storey bus from the U.K. where they call them "double decker buses" and instantly knew that I needed it. I like working on out-of-the-box projects. In college, I wanted to own a bus like this. I played ultimate frisbee and I remember looking for buses that I could get for my frisbee team, for us to drive around in. To me, these British "double decker" buses are cool and nostalgic. So, I contacted the owner, who lived in Vancouver. He told me that I would love it, and although it had low ceilings, I would be able to renovate them. Before seeing the bus, I paid $1,000 upfront for it.
I did not know where I was going to place the bus and how I was going to work on it, as it was my first independent project, but I had been pulling on threads and letting things happen as they came along, rather than worrying about the future. Weeks later, I met a friend called Ian who allowed me to move my tiny houses onto his property, on a river right next to his sauna and bathhouse in Redwood Forest. The spot was beautiful and it was much better than my backyard.
The plan was for the bus to be a tiny house rental property for guests in my backyard. It was a lot of things before this, one of which being a well known food cart in Portland, called "The Grilled Cheese Grill" for some years. Before that, the bus was operating as early as 1953, in Huddersfield in Yorkshire, England.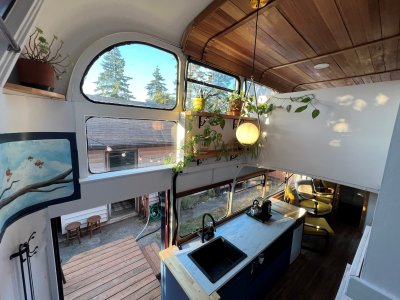 I knew that I had to work on the ceiling, as upstairs it was very low. So, I took out the floor in the entryway and turned that into the kitchen, and then took out the floor at the front of the bus and turned it into a bathroom. This gave me scope for a taller ceiling height upstairs. The cool thing is that because of this, I was able to put in a normal-sized double bed, which makes way for a bathroom downstairs. Altogether, the bus cost $8,000 and renovations cost $12,000. I also didn't pay myself to do it.
Whilst I was building the bus in the driveway, people would stop because I kept "The Grilled Cheese Grill" sign on the bus. Often, I would get asked if I was reopening "The Grilled Cheese Grill", and I would explain that I was turning the bus into a tiny house to rent out. People thought that it was amazing. At one point, the bus would get cat calls and honks because it looked monumental.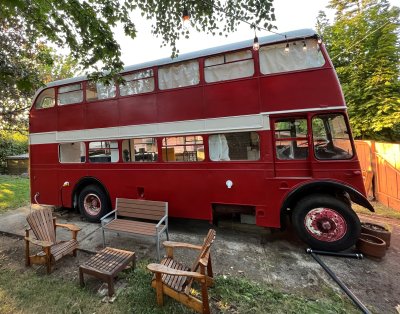 I got married in January 2022 and finished the bus renovations in August 2022. The first few weeks of renting out the bus were amazing. We only had three available days out of the month. I charge $79 to $149 a night depending on demand, but I have already made around $2,700 from renting it out, in a month, and it is already 80 percent booked up for the next few months.
I clean the bus on the days that people leave and I am in contact with everybody who stays there. People love it. One mom brought her two kids and she made them a fancy grilled cheese sandwich, in memory of "The Grilled Cheese Grill."
Renovating the bus was exciting for me. I was able to make decisions on my own, but having my family involved in the process was also good. My young daughter would help me move things around, which made it clear to me that she is going to be really interested in making things. Getting to be creative and watching everything coming together was a really fun process.
Whitney Royal Scott rents out his double-decker bus, The Royal Scott, on Airbnb. You can also follow him on Instagram @smore.life
All views expressed in this article are the author's own.
As told to Carine Harb.