Everlast, the 119-year-old fitness brand, has struck a blow for LGBT representation in sports by tapping transgender boxer Patricio Manuel as the face of its new "Be First" campaign.
Now in its second year, the "Be First" campaign "challeng[es] consumers to carve their own path to success," the company said in a statement. "The campaign is modeled after the well-known boxing term 'Be First,' which is associated with dictating the pace of a fight by making your opponent follow your lead. The Be First campaign embodies this concept, challenging people to carve their own paths, and dictate the pace of their life, goals, and personal journey."
In December, Manuel became the first transgender male boxer to compete in—and win—a professional bout. He had a successful boxing career before transitioning, being named a national female amateur champion five times. But a sidelining shoulder injury during the 2012 Olympic trials sent him into a depression—and forced him to reevaluate his priorities.
"When I was a little kid, I always thought of myself as a boy," says the 34-year-old boxer. "But you learn really early on that someone like me is immediately going to be told that they're a girl. So, I learned to be quiet, I learned to stifle that part of me. But the thing is anything that you push down long enough, it will have a bad reaction. And that reaction for me was that I completely disconnected from myself. I just mentally checked out so that I could continue coping through life."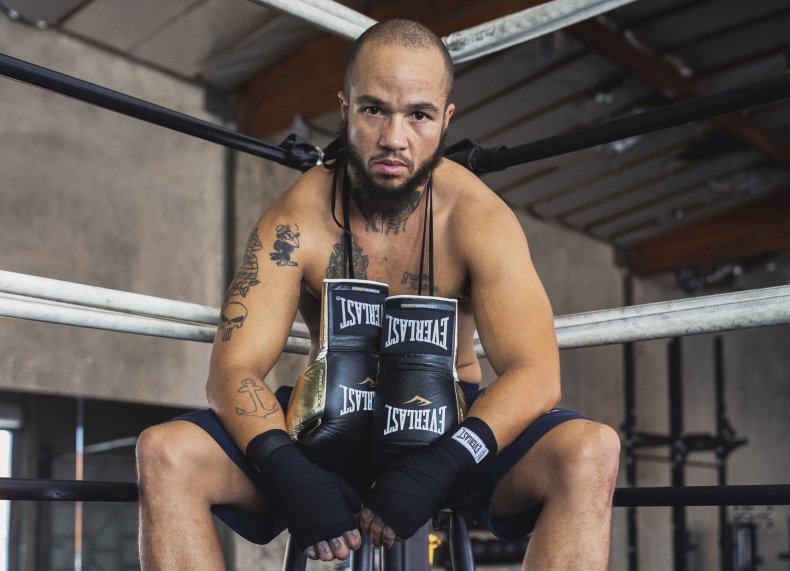 It became clear to Manuel that he had to live his authentic life—both as a man and a boxer—but the path was not easy: After he decided to transition, Manuel says, his trainers and gym abandoned him and he had to fight for recognition by official boxing commissions.
"A lot of people in boxing, they would come to me and say, 'You could've been one of the greatest female world champions, but you would throw it all away to be yourself?" he recalls. "And I tell them, "That's how bad I felt living that lie."
After a six-year journey to reclaim his identity, Manuel made history on December 8, 2018, when he climbed into the ring at the Fantasy Spring Resort Casino in Indio, California, as the first transgender male boxer in a professional bout. He climbed out victorious.
"There's so many people that said it's impossible for someone like me, a trans man to be able to compete against a non-trans man and win," he recalls. "And I proved them all wrong that night. I walked out of that fight with my first victory and it was a victory greater than just having my successful pro debut."
Manuel is excited to represent Everlast, and to bring his story to a wider audience. But he hopes society reaches a point soon where being yourself isn't viewed as a courageous act.
"I want all of us to be who we are and to be unafraid and to not have to deal with every obstacle just to be our true authentic self. So many of us are being forced into these restrictive boxes of identification but very few of us actually fit. And I want to see all of us be celebrated when we fight against those specific restrictive norms."
Joining him in the new campaign are Jinji Martinez, the only above-the-knee amputee to beat a fully bodied fighter, and Karlos and Jose Balderas, first-generation Mexican-American brothers who emerged from humble beginnings to become undefeated prospects.
"These fighters and their stories not only humanize the world of fightsports, but they also relate to many struggles people face around the world today," said Chris Zoller, Everlast VP of marketing and product development. "Whether you're an immigrant trying to make it in a new country, someone who feels displaced in their own skin and fighting to live their truth, or simply trying to prove others wrong, this campaign is for you. We hope these stories inspire you to rise above and be first."
Uncommon Knowledge
Newsweek is committed to challenging conventional wisdom and finding connections in the search for common ground.
Newsweek is committed to challenging conventional wisdom and finding connections in the search for common ground.