Ben Carson Defends Anti-Trans Comments, Says Critics Stirring 'Controversy Through Identity Politics'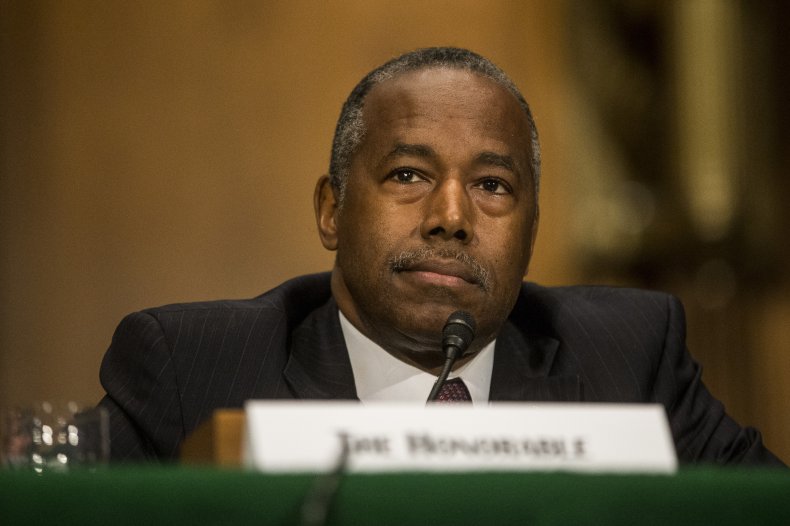 Cabinet secretary Ben Carson, who oversees the Department of Housing and Urban Development, sought to defend anti-transgender comments he reportedly made during a closed-door meeting with department officials in San Francisco.
According to The Washington Post, Carson raised concerns about "big, hairy men" gaining access to women's shelters, transgender people having "special rights" and society no longer being able to differentiate between men and women.
Then on Friday, Carson reportedly sent an agency-wide e-mail attempting to preempt the outrage brewing over his remarks.
"During a recent meeting with local staff in San Francisco, I made reference to the fact that I had heard from many women's groups about the difficulty they were having with women's shelters because sometimes men would claim to be women, and that HUD's policy required the shelter to accept—without question—the word of whoever came in, regardless of what their manifested physical characteristics appeared to be," he reportedly wrote.
Carson's invocation of these tropes has not only worried LGBTQ advocates, who believe they will perpetuate a culture of mistrust around transgender people, but it also contradicts the best available evidence about trans-inclusive policies.
A seminal study from 2018 on the matter found that there is no correlation between expanding bathroom access to transgender people and increased predatory incidents. Further reports of privacy violations in other public accommodations, such as locker rooms and changing rooms, were found to be "exceedingly rare."
"This study provides evidence that fears of increased safety and privacy violations as a result of nondiscrimination laws are not empirically grounded," the report by University of California Los Angeles School of Law's Williams Institute concluded.
"I think we have to look out for everyone, and we need to use our intellectual capabilities to find common good rather than attempting to always stir up controversy through identity politics," Carson concluded in his e-mail Friday, according to the Post.
According to data collected by Carson's department, over one million people participate in emergency, transitional and permanent housing programs that HUD sponsors each year. Homelessness among transgender people is an especially acute problem. A 2018 report commissioned by the department found that the number of transgender homeless people jumped 22 percent from 2017 to 2018, a disproportionate increase compared with the total homeless population, which grew 1.6 percent in the same period.
The HUD secretary and former Republican presidential candidate has a documented history of making anti-LGBTQ comments. At a hearing before a House subcommittee in 2018, he defended his agency's delay of prospective regulations protecting trans residents of homeless shelters.
"There are some women who said they were not comfortable with the idea of being in a shelter, being in a shower, and somebody who had a very different anatomy," he claimed.
In a 2015 interview, Carson agreed that being gay is a choice and claimed that incarceration has a determining factor on one's sexual orientation.
"Because a lot of people who go into prison go into prison straight, and when they come out they're gay," he said. "So, did something happen while they were in there? Ask yourself that question."
And in comments during a 2013 interview with Sean Hannity, Carson associated bestiality with the notion of legalizing same-sex marriage.
"Well, my thoughts are that marriage is between a man and a woman," he said. "It's a well-established, fundamental pillar of society and no group, be they gays, be they NAMBLA, be they people who believe in bestiality. It doesn't matter what they are. They don't get to change the definition."
A spokesperson for the Department of Housing and Urban Development did not return a request for comment.
Ben Carson Defends Anti-Trans Comments, Says Critics Stirring 'Controversy Through Identity Politics' | U.S.