Court Rules Transgender Man Can Sue Hospital That Canceled His Hysterectomy
A California appeals court has given the green light to a lawsuit filed by a transgender man who claims staff at a Catholic hospital violated his civil rights by refusing to all him to undergo a medical procedure as part of his transition.
On August 30, 2016, Evan Minton was scheduled to have a hysterectomy at the Mercy San Juan Medical Center in Carmichael, about ten miles from Sacramento. Mercy is a Catholic hospital, but it was close to Minton's home in Fair Oaks and was covered under his insurance. Additionally Minton's doctor, Lindsey Dawson, had performed numerous hysterectomies there.
Two days before the procedure, though, a nurse called to discuss the surgery and Minton mentioned he was trans. The next day, the hospital canceled the procedure.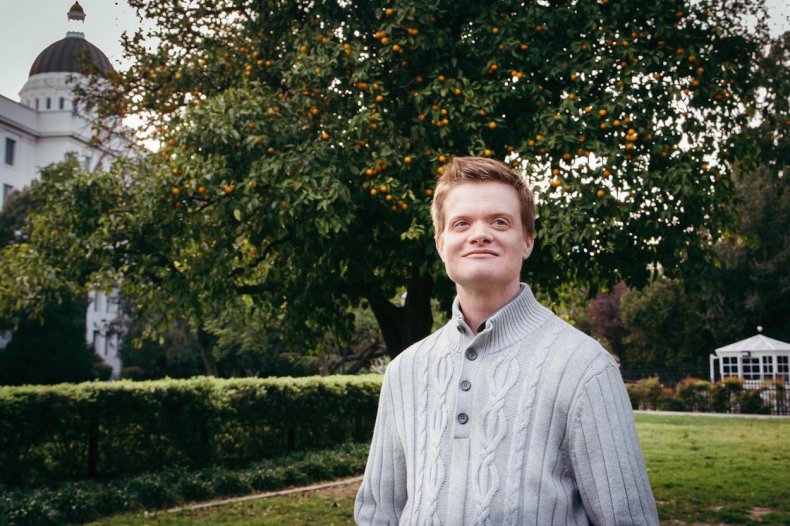 Mercy's president, Brian Ivie, reportedly told Dawson she would "never" be allowed to perform a hysterectomy on Minton there because "it was scheduled as part of a course of treatment for gender dysphoria, as opposed to any other medical diagnosis."
In 2017 the ACLU filed a suit on Minton's behalf against Dignity Health, the hospital's parent corporation, claiming that denying treatment because of a patient's gender identity qualified as sex discrimination under California's Unruh Civil Rights Act, which guarantees "full and equal accommodations, advantages, facilities, privileges, or services in all business establishments."
Dignity Health maintains the hospital's freedom of religion supersedes Minton's right to service. And initially, a San Francisco Superior Court granted its petition to dismiss the suit. But last week, an appellate court granted Minton's appeal, sending the case back to the lower court to be heard.
In his ruling on Tuesday, Justice Stuart R. Pollak deemed that "any burden [state law] places on the exercise of religion is justified by California's compelling interest in ensuring full and equal access to medical treatment for all its residents,"
Minton, 35, told KCRA Channel 3 the ruling told Dignity Health "they have to treat transgender people with dignity and care. That means the world to me."
Dignity Health insists it was the procedure, not Minton being transgender, that was at issue. "Catholic hospitals do not perform sterilizing procedures such as hysterectomies for any patient regardless of their gender identity, unless there is a serious threat to the life or health of the patient," the company, the largest hospital provider in California and the fifth largest healthcare system in the U.S., said in a statement.
"Dignity Health has a legacy of providing care to all people regardless of their background, sexual orientation, or gender identity. Our services are available to everyone without discrimination and all are welcome at our care sites."
The company argued that, as a Catholic hospital, Mercy San Juan is bound by the Ethical and Religious Directives for Catholic Health Care Services (ERDs). Issued by the United States Conference of Catholic Bishops, the directives "prohibit direct sterilization and require that bodily and functional integrity be protected and preserved."
While Dignity Health maintains it is "sensitive" to the medical needs of transgender patients, it also claimed that "courts have repeatedly recognized the right of faith-based hospitals not to provide services based on their religious principles."
Minton ultimately had the procedure done at another Dignity Health facility several days later, but he says the delay caused significant disruption in his life and put other gender-confirmation treatments he had scheduled in the coming months at risk. "I was forced to put my life on hold because of Dignity's discrimination," Minton said. "It was so emotionally stressful. The longer my treatments are postponed, the worse I feel about myself."
He also claims Dignity Health only suggested an alternative hospital after he and Dawson "exerted pressure... through the media and political connections."
Elizabeth Gill, senior senior staff attorney at the ACLU of Northern California, insists the decision was a clear case of discrimination: "This is a hospital that is open to the general public, so it's illegal for them to turn away someone based on gender identity."
"They're only excluding transgender people from this treatment because the Catholic Church, as a whole, does not recognize the existence of transgender people," Gill added.
In October, the Supreme Court is expected to rule on a case involving a Michigan woman who claims she was fired by funeral home after she came out as trans. In an amicus brief, the Trump administration maintained that federal anti-discrimination laws don't apply to LGBT Americans.
A new court date hasn't been set in Minton's case, but he says he's eager to defend his rights, and those of the transgender community: "Getting people and getting entities to do the right thing sometimes requires a fight, but we're in it for the long haul."