Why Trump Is Wrong: Diversity Makes Us Stronger
"Thank you to the LGBT community! I will fight for you while Hillary brings in more people that will threaten your freedoms and beliefs," declared Donald Trump on Twitter, June 14, 2016. That's the problem with the internet, it never forgets. Just over a year after extolling his LGBT-friendly credentials, President Trump has announced a shameful ban on transgender people serving in the U.S. military in any capacity.
On the same day as the U.S. Senate rejected Trump's proposal to repeal and replace Obamacare, the president has redirected his attention from healthcare to depleting diversity in the country's military. His exact words, tweeted out to over 34 million followers: "Our military must be focused on decisive and overwhelming victory and cannot be burdened with the tremendous medical costs and disruption that transgender in the military would entail."
Cost and an unspecified "disruption." Pitiful excuses for a policy that discriminates against a community that has fought and died for civil rights in the U.S. for centuries. 'Decisive and overwhelming victory' is deceptive and militaristic propaganda at a time when the world should be looking for peace more than ever.
President Trump's choice of words is designed to cast out a community that launched the modern LGBT movement when it began street battles with New York police as part of the Stonewall riots in 1969. It's the type of baseless discrimination that hurts people, tears communities apart and weakens society' sense of common humanity.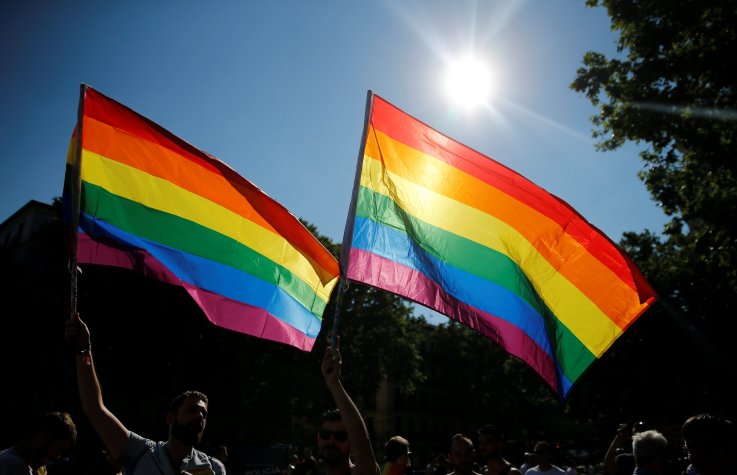 I grew up in Apartheid South Africa, and I have seen the demonization and segregation of people by powerful men based on nothing but arbitrary criteria. But Donald Trump's actions are not relegated to the history books like those of the demagogues that I grew up reading about. Trump is no pariah and the announcement will undoubtedly be greeted with approval by millions in the U.S. and across the world.
That's why his decision to ban brave, patriotic individuals from dedicating their lives to this country's military is opposed by freedom-loving Americans and condemned by the international community. His actions take the American military and American society in the wrong direction. It is an outdated view and we should treat it as such. Young leaders all over the world are already fighting for the rights of the LGBT community, and we owe it to future generations to protect tolerance and acceptance in every way we can. There was a time when the U.S. I knew as a youngster would have led the fight for inclusion. It's tragic to see the opposite – from a country that cannot be great, or become great, whilst it practices discrimination. So the U.S. cedes the right to be the leader of the free world.
For those scared to speak out, or fearful that politics is taking a never-ending prejudicial nosedive, there is comfort in recent events. In May Gauthier Destenay, the husband of Luxembourg Prime Minister Xavier Bettel, featured in the official photograph of NATO leaders' spouses. Last month, the U.S.'s northern neighbor passed Bill C-16, which makes it illegal to discriminate based on gender identity or expression. Reacting to the bill, Canadian Prime Minister Justin Trudeau, who opened One Young World 2016 Ottawa, tweeted #LoveIsLove.
In stark contrast, I was proud to read of the British Army's recent campaign that coincided with Pride London. Rather than peddling divisive myths, the Army celebrated openness and acceptance with their LGBTQ+ soldiers, and continue to be committed supporters of the LGBT charity Stonewall.
Evidently, the tide of progress will not be held back by administrations like President Trump's, whose bigoted actions have no place in the world's future. But it will take people to act out in order to show opposition and keep progress moving in the direction of positive change. And I am absolutely certain that the great corporations of the world will redouble their efforts at inclusion in obvious and effective protest. In this, business will not fail.
Failure to do so risks rolling back the decades of social progress that have liberated billions of people from discriminatory policies. Failure to do so would be a grave dishonor to the LGBT community, which has fought for the freedom of us all, and risks allowing a dangerous idea to gather credence around the world. First they came for the transgender servicemen…
Kate Robertson is the founder of One Young World, a U.K.-based not-for-profit organization that gathers young leaders to develop solutions to global issues.
Why Trump Is Wrong: Diversity Makes Us Stronger | Opinion