Transgender Military Ban May be Next as Biden Reverses Trump Policies
President Joe Biden signed a series of executive orders reversing key Donald Trump policies on climate change and the global coronavirus response, and is likely to overturn a ban on transfer people serving in the military.
Trump's administration undertook a number of controversial moves, including a ban on transgendered individuals in the military. The former president also initiated the U.S. withdrawal from the World Health Organization (WHO) amid the COVID-19 pandemic and pulled the U.S. from the Paris Climate Accords, which were designed to combat climate change on a global scale.
In July 2017, Trump announced a ban on transgender people serving in the U.S. Armed Forces. "Our military must be focused on decisive and overwhelming victory and cannot be burdened with the tremendous medical costs and disruption that transgender in the military would entail," the former president wrote in a since-deleted tweet.
Biden has voiced support for overturning Trump's ban, indicating in February that he would reverse Trump's order on the first day of his presidency.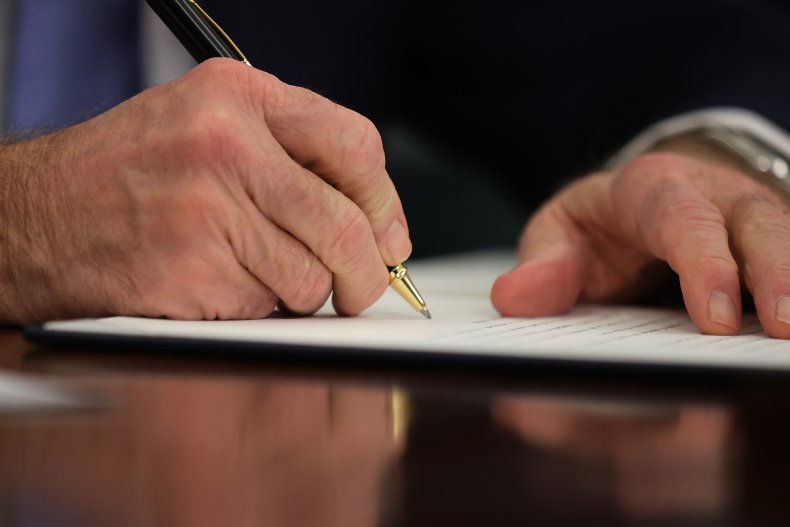 "On day one of my presidency, I will direct the Department of Defense to allow transgender service members to serve openly and free from discrimination," Biden told the Dallas Voice. "I know that this is not just the right thing to do, but it's in our national interest."
On Monday, White House Press Secretary Jen Psaki indicated that Biden would revoke the ban sometime within the "coming weeks and days."
Under Trump's policy, individuals with gender dysphoria on a hormone regimen and individuals that have undergone gender reassignment surgery were prohibited from enlisting in the military.
In a June 2019 interview, Trump told a British news program that he banned transgender people from serving because "they take massive amounts of drugs, they have to. You're not allowed to take drugs. You're in the military, you're not allowed to take any drugs. And they have to after the operation, they have to. They have no choice."
Trump announced his intention to withdraw from the WHO in May 2020, declaring that China had exerted "total control" over the organization. Over the past year, the former president repeatedly blamed China for the pandemic, often referring to COVID-19 as the "Chinese virus."
In a Wednesday press conference, Psaki said a U.S. coalition led by infectious disease expert Dr. Anthony Fauci would be sent to a WHO meeting on Thursday.
In remarks provided to Newsweek by the WHO, Director-General Dr. Tedros Adhanom Ghebreyesus welcomed the U.S. back into the organization on Thursday. "This is a good day for WHO," Ghebreyesus said, "and a good day for global health."
"WHO is a family of nations," Ghebreyesus added. "And we are all glad that the United States is staying in the family."
Trump announced the U.S. withdrawal from the Paris Climate Accords in 2017 as part of the administration's reconfiguring of environmental policies. The Paris Agreement represents an attempt by participating nations to reduce the global amount of greenhouse gases and limit the average temperature of the planet by roughly "2 degrees Celsius above preindustrial levels, while pursuing means to limit the increase to 1.5 degrees," according to the National Resources Defense Council.
Trump claimed that remaining in the Paris Accords would leave American taxpayers to "absorb the cost in terms of lost jobs, lower wages, shuttered factories and vastly diminished economic production."
Biden on Wednesday said that his executive orders would "combat climate change in a way that we haven't done so far and advance racial equity and support other underserved communities," adding that his new orders "are just all starting points"
Biden's decision to rejoin the agreement, which is expected to take effect after a 30-day approval process by the United Nations, pleased the president of France, Emmanuel Macron.
"To @JoeBiden and @KamalaHarris," Macron tweeted on Wednesday. "Best wishes on this most significant day for the American people! We are together. We will be stronger to face the challenges of our time. Stronger to build our future. Stronger to protect our planet. Welcome back to the Paris Agreement!"
Newsweek reached out to the Southern Poverty Law Center for comment.
Updated 01/21/2021 11:47 p.m. EST: This story has been updated with remarks from WHO Director-General Dr. Tedros Adhanom Ghebreyesus.