Support for transgender people serving in military service has grown among Republican ranks over the last two years, despite the Trump administration's ban on transgender personnel serving in the U.S. military, a new study shows.
The survey from the Public Religion Research Institute (PRRI), published Tuesday, found that compared to two years ago, Republicans are "notably more supportive" of transgender military service, with 47 percent of GOP members surveyed expressing support, compared to 37 percent in 2017.
The rise in support among Republicans comes alongside a drop in support from Democrats, according to the study, which saw 78 percent of Democrats in favor of transgender military service compared to 83 percent in 2017.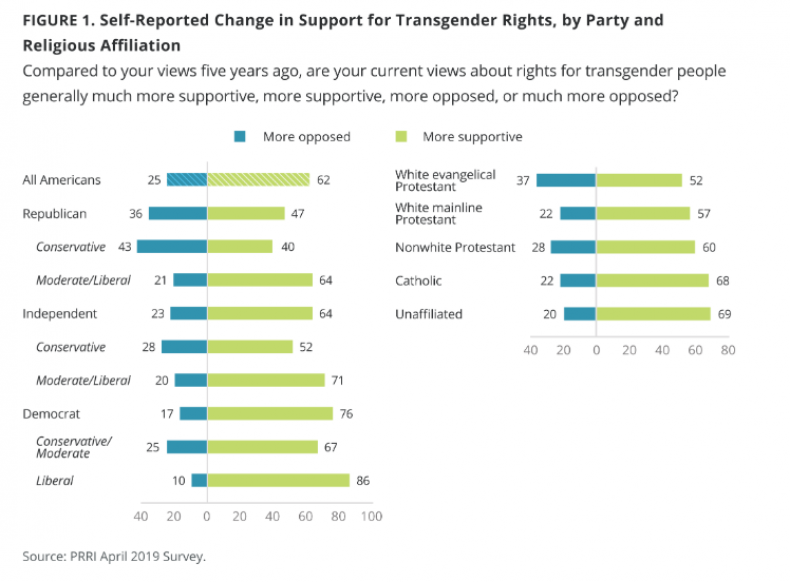 Meanwhile, Independents did not see any significant change in their views, with 66 percent standing in favor of transgender military service, compared with 67 percent in 2017.
Overall, the survey found that support among Americans for transgender military service had remained virtually unchanged from 2017, with nearly two thirds (63 percent) of Americans in favor of allowing transgender people to serve in 2019 compared to 64 percent in 2017.
The PRRI's study, which saw 1,100 U.S. residents aged over 18 surveyed, comes two months after the Trump administration brought its ban effectively barring transgender people from serving in the military into effect.
Last week, in an interview during his trip to Britain, President Donald Trump claimed that the U.S. military could not allow transgender troops to serve because troops aren't allowed to take "any drugs."
The Defense Department contradicted that statement, however, asserting that troops are allowed to take prescribed medications, including hormone treatments.
The poll is the second this year to find that a growing number of Republicans, which make up Trump's base, support allowing transgender troops to serve in the military.
A Quinnipiac University poll conducted in 2017 had found 32 percent of Republicans to be in support of transgender people serving in the military. However, by January of this year, that number had risen to 40 percent.
In a statement, PRRI CEO Robert P. Jones said "this broad and growing support for transgender rights from nearly every group and across party and religious lines demonstrates just how dramatically American attitudes have shifted across the last decade."
"This emerging consensus of support for transgender rights and increasing comfort with transgender people, especially among more conservative groups, is a sign that we may be seeing the beginning of the end of transgender issues being used as political wedges," Jones said.
In statements sent to Newsweek, organizations at the forefront of the legal fight against the Trump administration's ban said the PRRI's findings demonstrate that Americans understand how barring transgender troops from serving "weakens our military."
"The American public understands what top military leaders understand: qualification for military service should be based on the ability to meet military standards, not on singling out one group of people for different treatment," said Jennifer Levi, Director of the Transgender Rights Project at GLBTQ Legal Advocates & Defenders (GLAD).
"Banning transgender troops weakens our military, harms service members, and betrays the core values of equality and fairness that most Americans support," Levi said.
In a separate statement, Shannon Minter, the legal director of the National Center for Lesbian Rights (NCLR) said that the study's findings showed that "the President's continued attacks on transgender service members are not only dangerous and unprincipled, they are out of step with the American public."
"Polling on this issue has repeatedly shown that an overwhelming majority of Americans support transgender service members," Minter said.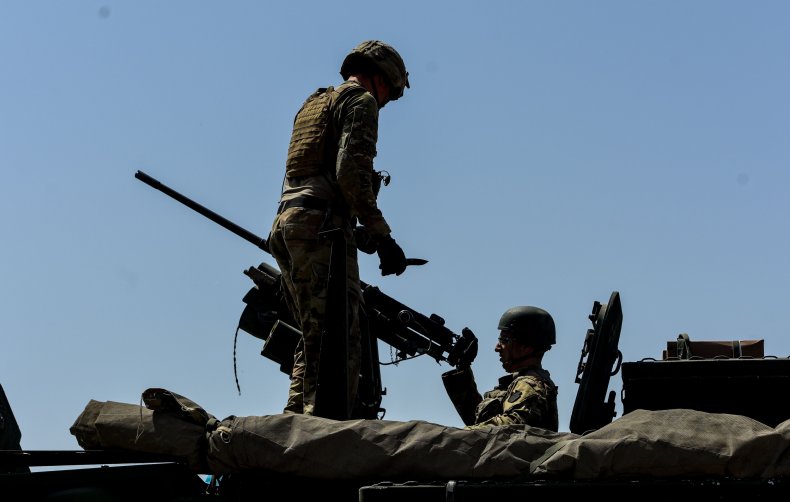 This article has been updated with statements from GLAD and the National Center for Lesbian Rights.