Transgender Activists at CPAC: We're Conservatives,Too
On Thursday afternoon, conservative celebrity Ben Shapiro used the main stage at the Conservative Political Action Conference in National Harbor, Maryland, to criticize the notion of transgender identity. "You don't get to tell little boys that they can become little girls," he said with audible relish.
The next day, outside that very same hall, stood three transgender conservative activists. They held the famous Gadsden Flag, adorned with a rattlesnake and the "Don't Tread On Me" logo that has become a symbol of individual liberty for many on the right. Only instead of the Gadsden's customary yellow background, this version was adorned with the rainbow colors associated with the LGBT movement. The activists also foisted signs that would have been unthinkable even five years ago at the nation's foremost gathering of conservatives:
Proud to be Conservative
Proud to be Transgender
Proud to be American
#SameTeam
"Frankly, one of the most conservative things you can be is transgender," explains Jennifer C. Williams, chairwoman of the Trenton Republican Committee in New Jersey and a delegate to the 2016 Republican National Convention. She aligns the transgender rights movement with conservatives' strong predilection for personal freedom."We don't need a government telling who we can be and how to do that," Williams says.
At the same time, it is hard to ignore President Trump's hostility to the transgender cause. Almost exactly a year ago, his Department of Education rolled back Obama-era rules allowing transgender public school students to use school facilities that accorded with their gender identities. Last summer, he used Twitter to ban transgender service in the armed forces (the decision reportedly took the Department of Defense by complete surprise). And his attorney general, the socially conservative Jeff Sessions, has indicated that Department of Justice workplace protections will not be extended to transgender individuals alleging discrimination.
Jordan Evans, an elected local official from Charlton, Massachusetts, says she "wasn't a supporter of the president on the campaign trail" and remains "highly critical" of Trump. But she hasn't forsaken her Republican convictions. "Trump is the head of my party," she tells me, "and it is my job as a Republican to do what I can to keep him in order and call him out when he makes mistakes."
Ironically, Trump's first invitation to CPAC in 2011 came from GOProud, a group of LGBT Republicans. Five years later, during his presidential campaign, he tweeted to "the LGBT community:" "I will fight for you while Hillary brings in more people that will threaten your freedoms and beliefs," in an apparent reference to Hillary Clinton's support of immigration from Muslim-majority countries, where discrimination against gays and lesbians is not uncommon. But he has done little to fulfill that promise, allowing social conservatives to take his administration in the opposite direction. The National Center for Transgender Equality has deemed Trump "the most anti-transgender President in American history."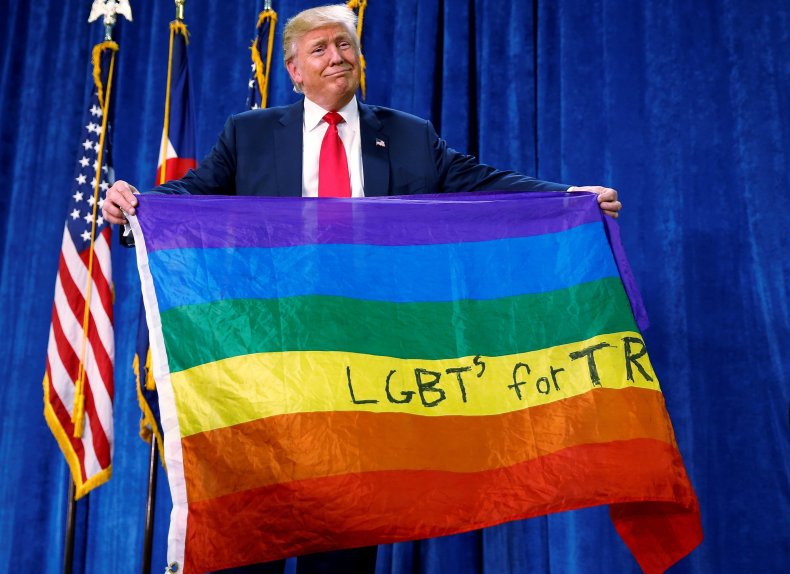 That made the presence of the transgender activists at CPAC on Friday afternoon all the more remarkable. They must find points of confluence with the Republican Party while ignoring distasteful aspects of the GOP's social agenda. And, as they explain, that erodes support from within the LGBT community, which views their conservative politics with suspicion.
The confluence with Trump's administration comes mostly in the realm of economics. "I've been happy with Trump's tax policy," says Adelynn Campbell, a college student in New York who is a campus Republican activist, "because I think that it makes my life easier, because I get to keep more of my paycheck—which is something that the trans community needs. We need jobs, and we need to keep our money." An analysis of social science studies by the Center for American Progress has concluded that "in addition to facing significant workplace discrimination in hiring and firing based on their gender identity, transgender women experience significant gaps in pay largely attributable to their gender." (Transgender men do not face similar earning disparities.)
Williams says that most CPAC attendees have been accepting of her and her fellow activists' presence, with perhaps one out of 30 evincing a negative reaction, such as a thumbs-down gesture. She believes that acceptance will only increase.
"I know," she says, "we can change hearts and minds."